Catch a Wave with a Kauai Surf School Lesson
Who wouldn't want to go to Hawaii and ride the waves? Our kids did for sure. When we planned our Hawaii trip, we asked the kids what one activity they most wanted to do. Our daughter insisted on taking a surfing lesson. After a lot of research, we booked a private lesson for both our kids with Kauai Surf School. Here's what you can expect when you book a lesson with the team at Kauai Surf School.
Where Kauai Surf School is Located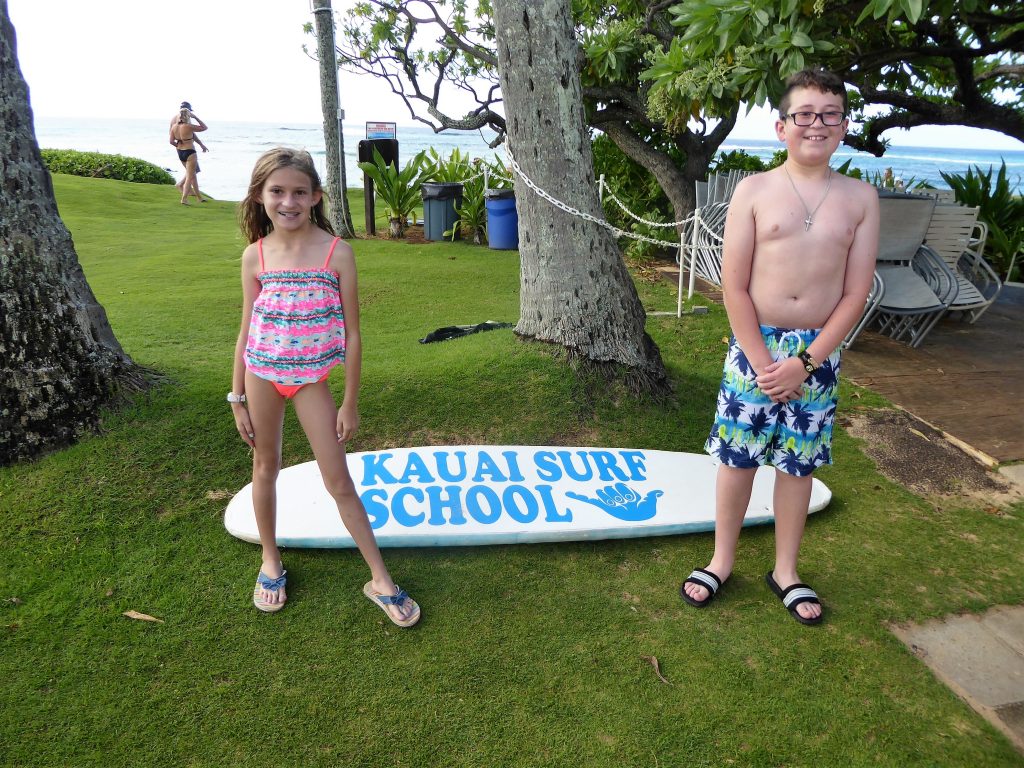 The Kauai Surf School is located on the south shore of the Garden Isle, near the towns of Poipu and Koloa. You'll meet the instructors near Kiahuna Beach, at the Kiahuna Plantation Resort.
You'll need to check in about 15 minutes before your assigned lesson time. During this time, you'll receive a rash guard shirt to use during the lesson.
Why We Selected Kauai Surf School
There are any number of surf schools on Kauai to choose from. So why did we select this one?
We did a lot of research and looked at so many reviews. We liked Kauai Surf School because they gave private lessons for our 10- and 12-year-old kids.
Honestly, we were a little concerned with our daughter's ability to surf successfully. She's an average swimmer. And she doesn't weigh a lot. We worried that she might be unable to navigate the waves, or be swept under by a riptide. Our concerns were alleviated when booking the private lesson.
Not every surf school provides private lessons for kids. But, Kauai Surf School did. We appreciated one instructor completely focused on our kids.
Before Hitting the Waves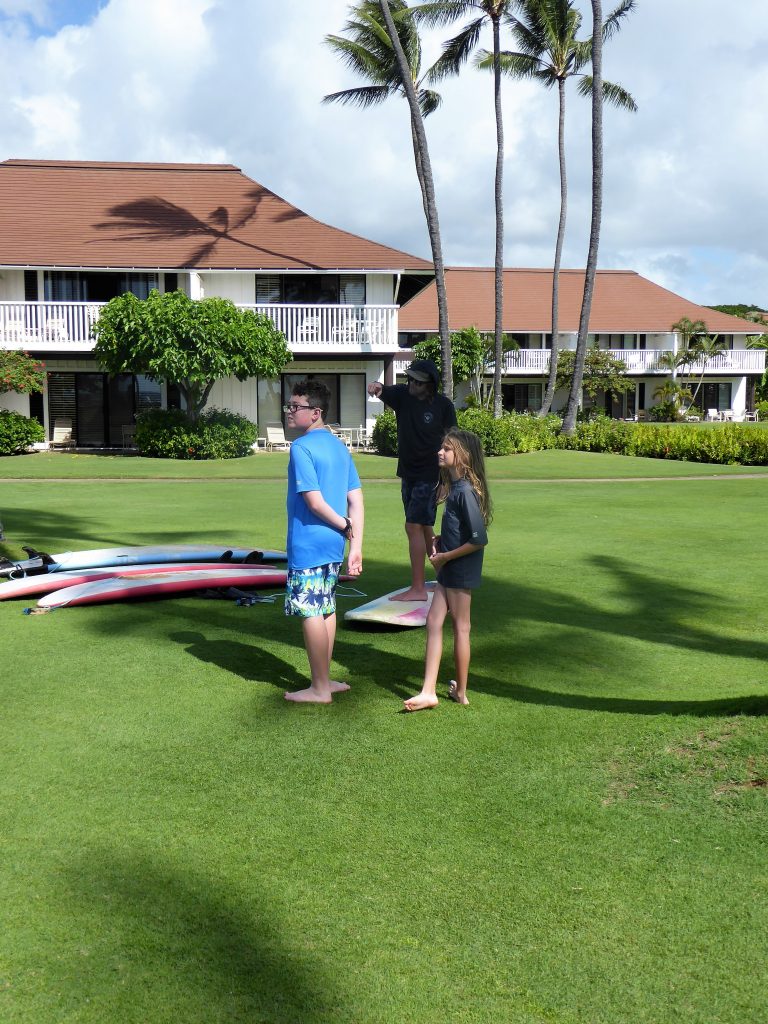 After checking in, putting on rash guards, and applying reef-safe sunscreen the kids were ready for their lesson with instructor Kyle.
But, they did not dive head first into the waves. First, Kyle got them set up with boards and they learned the fundamentals on land. They learned where to stand on the board, how to stand, and how to find their center of balance. Kyle had the kids practice this a few times until they felt comfortable, providing gentle reminders and suggestions throughout the time.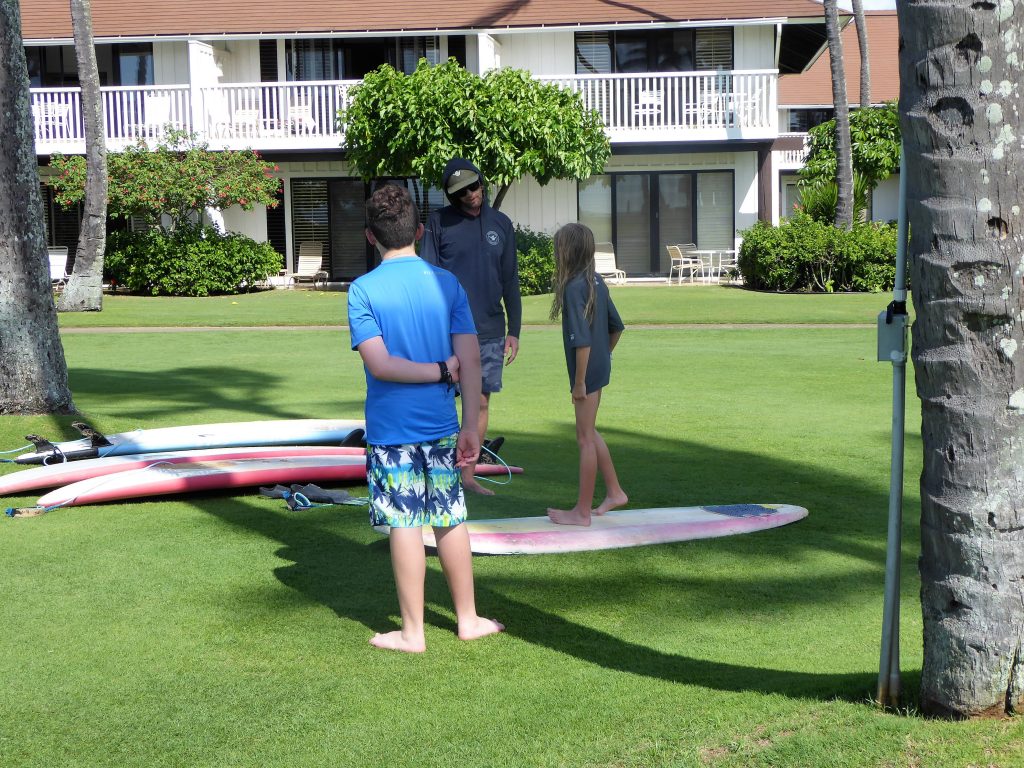 After about 15 minutes of instruction and practice, they were ready to carry their boards down to the beach and get in the ocean.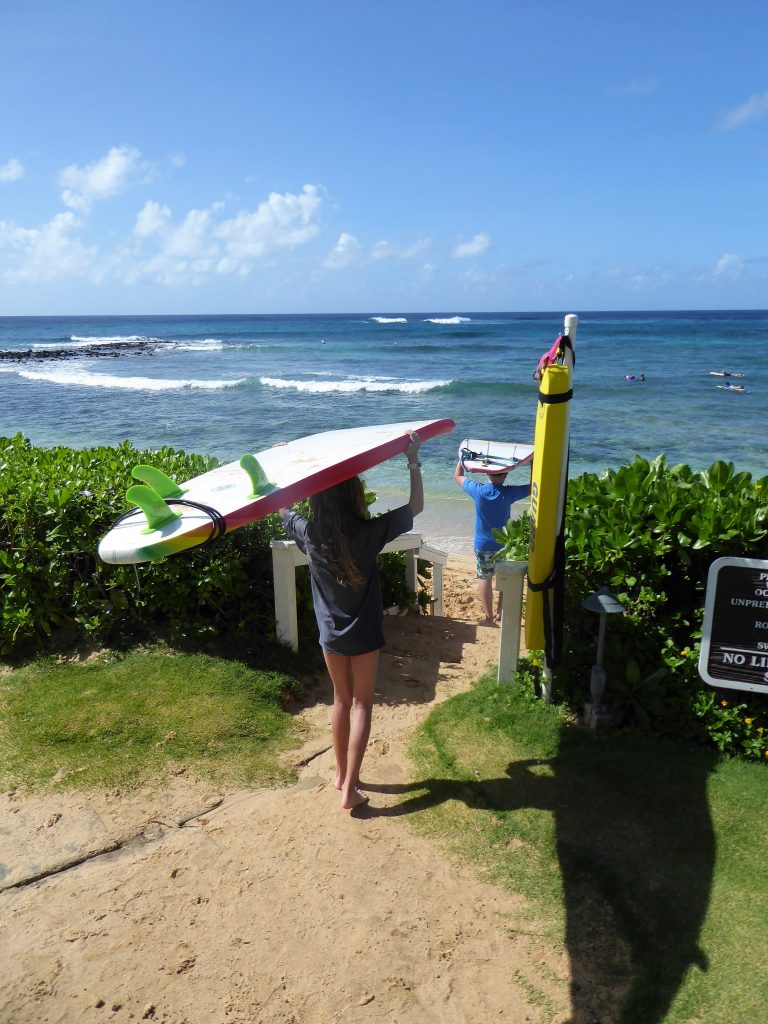 Let's Go Surfing
Our job as parents was pretty simple. We followed everyone down to the beach. We were available to help push the kids off if they struggled getting out to the ocean. It was an easy job because they never needed us. Kyle helped them with everything.
After practicing on land, the kids were more than ready to try their new-found knowledge at sea. Kyle carefully guided them out, watched for the right waves to form, and pushed them into the wave. They then did their best to stand on the board and ride the wave as long and as far as they could.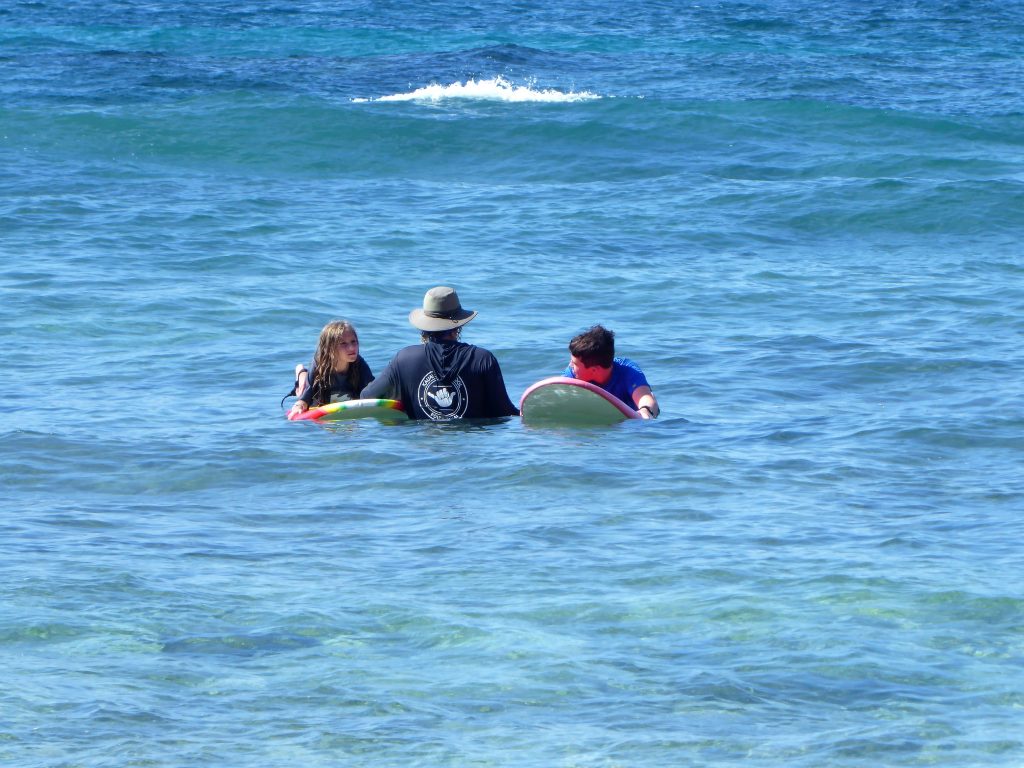 Our daughter had no problems, successfully standing on her board the first time out. Our son hesitated the first time, but was soon up and riding the waves.
From shore, we couldn't hear what was going on. We simply saw a lot of thumbs up and clapping from Kyle.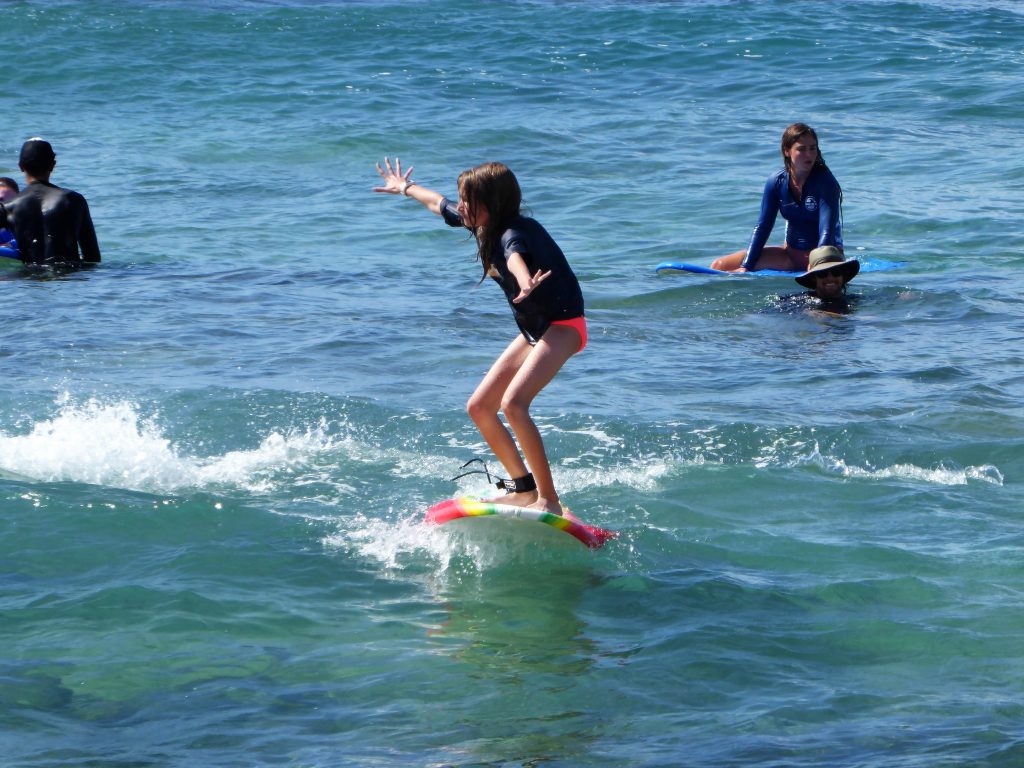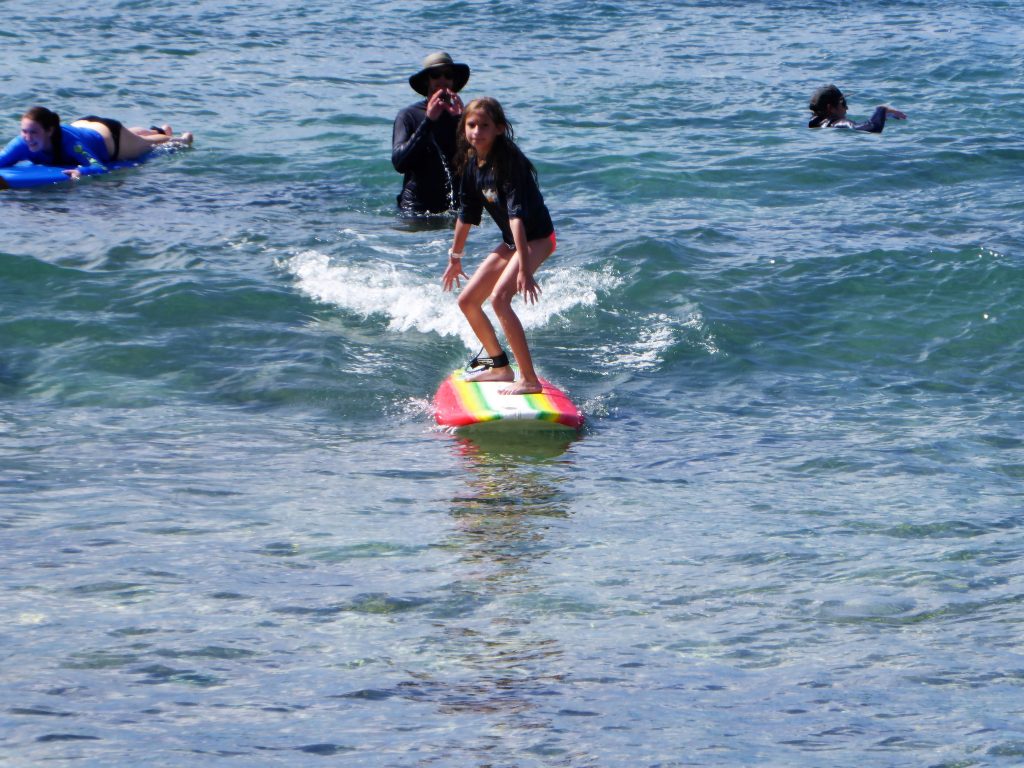 We later learned that Kyle continued with his instructions while they waited for the ideal waves. And he took a lot of time getting to know them, asking about our vacation (where we had gone, what we were planning to do etc.).
Kyle and our son had an amazing conversation. In fact, after the lesson, he had many suggestions for where to go during the remainder of our time on Kauai, and some suggestions for our subsequent visit to Oahu.
But, the more importantly than the conversation, was the experience. Both kids felt confident and enjoyed their time.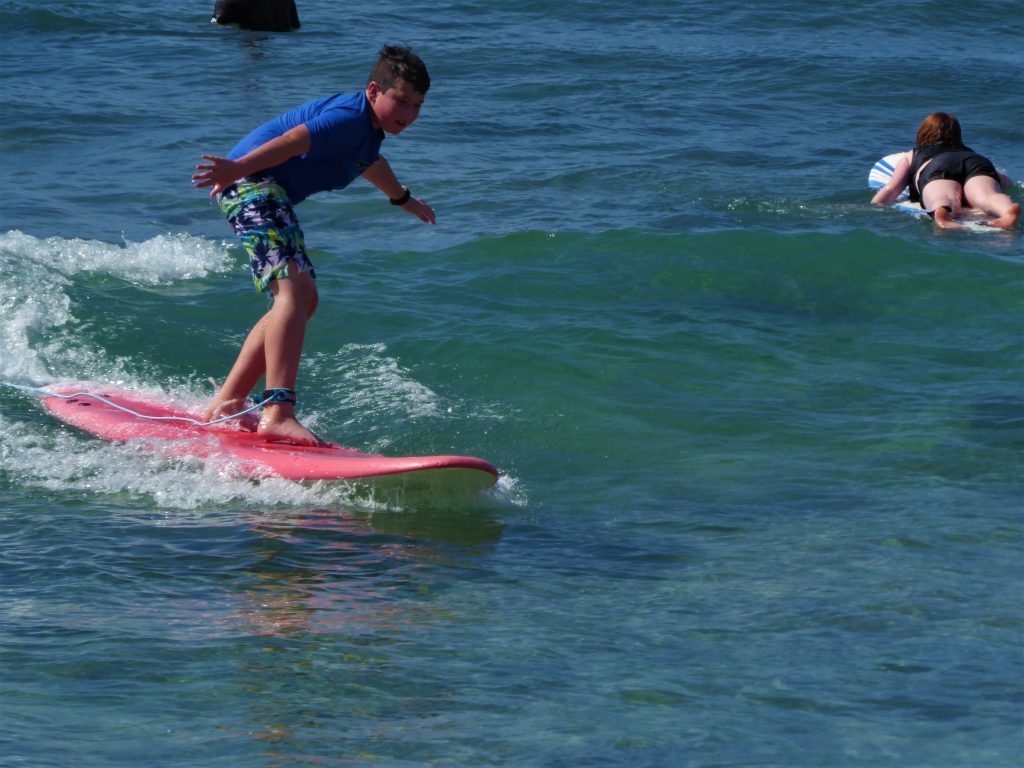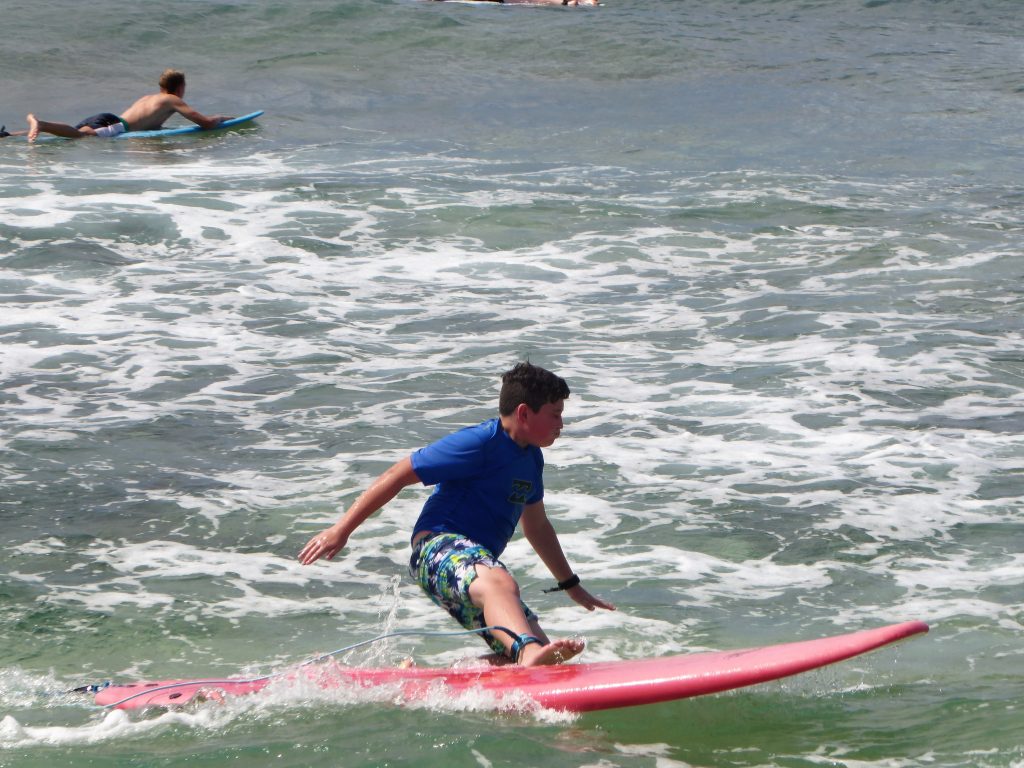 Our daughter did quit a little early when she got tossed off her board and it bumped her on the head. She wasn't hurt, but a little scared and chose to wait out the rest of the time.
Both kids loved the experience and were ready to surf again.
After the Lesson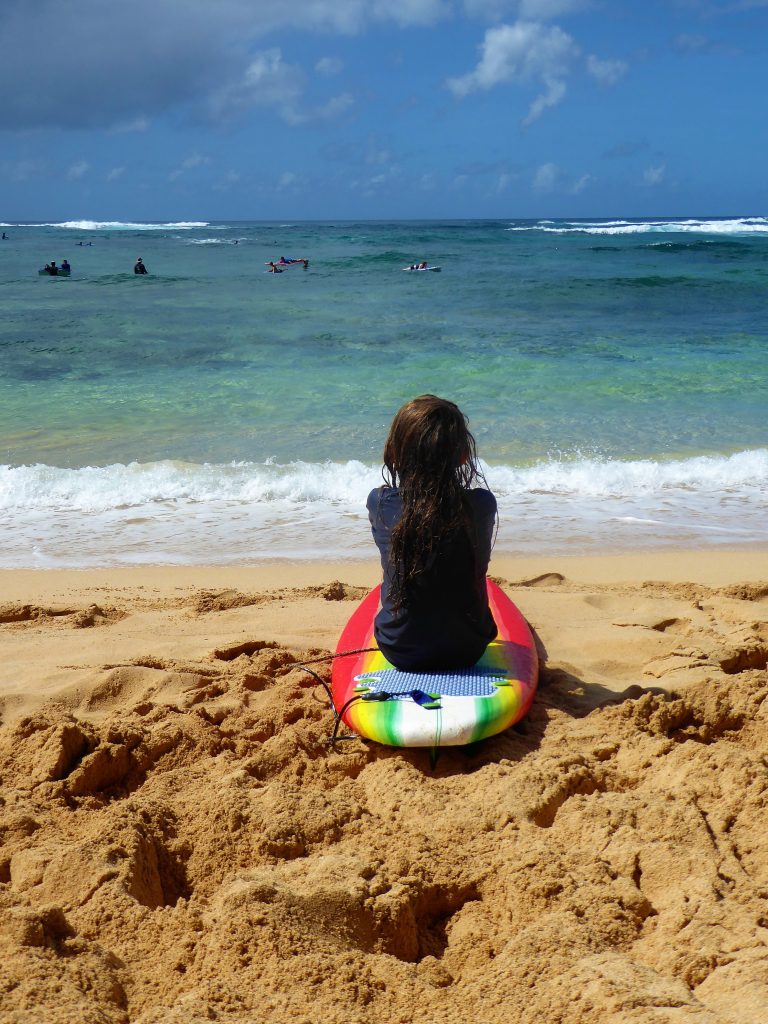 The private lesson lasted 90 minutes. After that time, it was time to head back to the check-in hut with Kyle. Of course, the kids insisted on buying a Kauai Surf School T-shirt. Each kid continues to wear the shirt as soon as it's washed!
Kyle spent some time after the lesson talking with us, telling us how well the kids had done, and offering some vacation suggestions for us. He was very personable and a joy to talk with. We couldn't recommend him or Kauai Surf School, enough. They checked off all the boxes we had as parents and left the kids with a great first-time experience surfing in the Pacific Ocean.
---
You Might Also Enjoy:
Read about our attempts to at sledding at Great Sand Dunes National Park.
See what we found when we worked an archaeology dig site.
---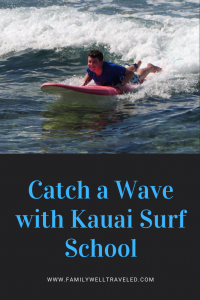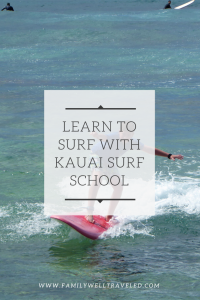 All photos and content are by Family Well Traveled and use of photos or content without permission will result in legal action.
---
---