Meow Wolf: An Art Gallery on the Wild Side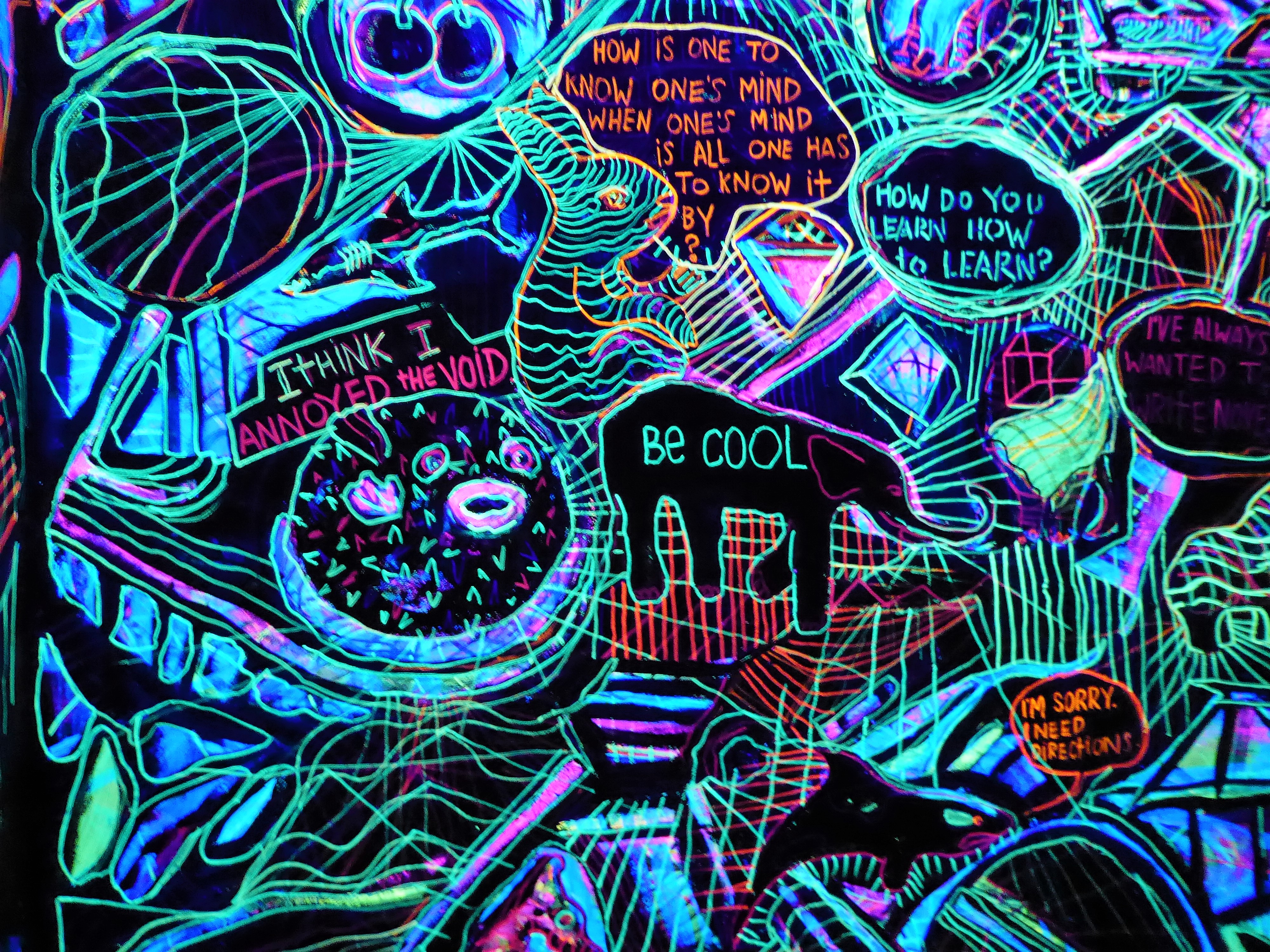 It's a place that defies description. Yet here we are, attempting to describe it. But, you really have to experience it to fully appreciate it. It is an interactive art museum. And mystery theater. Maybe it's part escape room. See, it simply defies description. Meow Wolf in Santa Fe, New Mexico is all this and more. Our second trip to Santa Fe would not have been complete without another visit to Meow Wolf.
Discovering Meow Wolf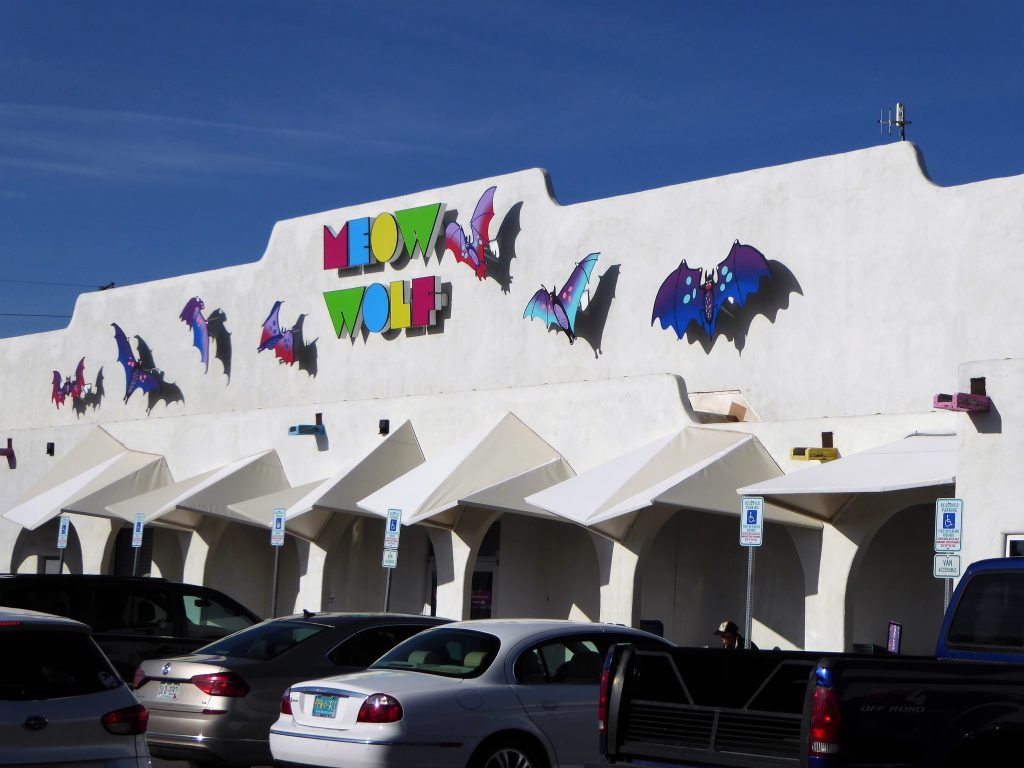 During our first family trip to Santa Fe, I researched "Things to do in Santa Fe." Almost every list I found mentioned Meow Wolf. I put it high on our list of possibilities. The more we discussed it, we convinced ourselves that we needed to visit. During our second trip to Santa Fe, a visit to Meow Wolf was a no-brainer.
Why is it called Meow Wolf? A number of words were thrown into a hat, and two words picked from the hat. The two words grabbed were meow and wolf — thus the name.
Arriving at Meow Wolf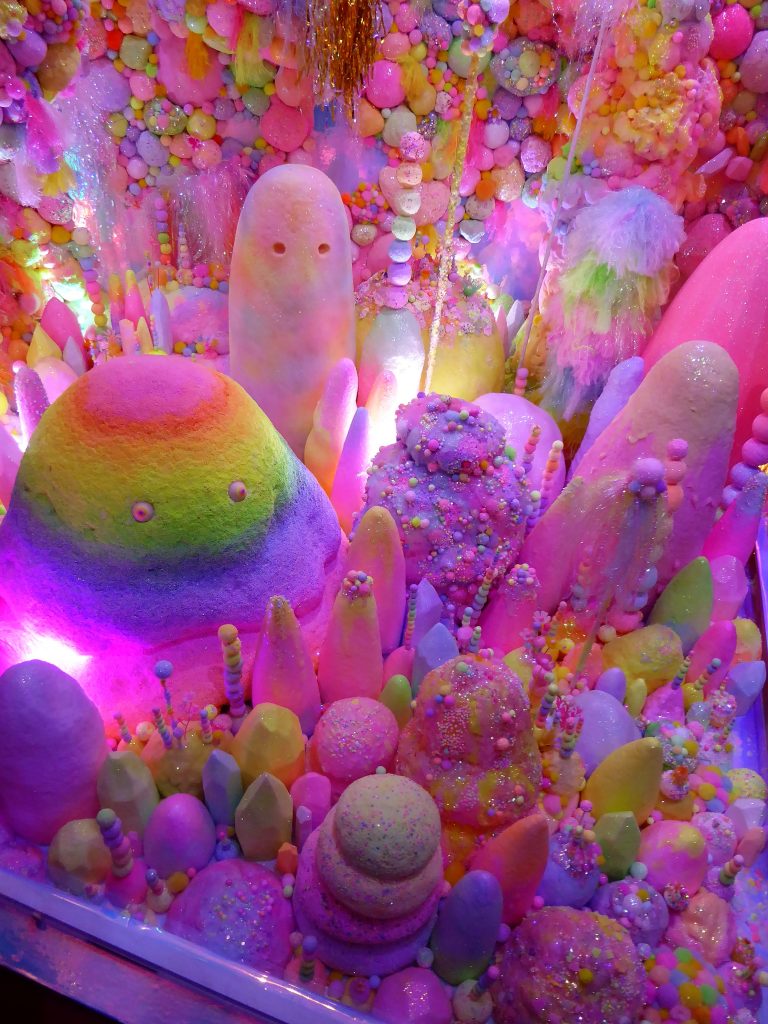 You know as soon as you pull into the parking lot that Meow Wolf is going to be something different. The parking lot has large sculptures including a spider made out of metal. Food carts take up space along the building entrance, offering their fabulous dishes. Meow Wolf employees — or hipster artists — gather outside, singing, playing music, or designing art pieces.
The building itself is unassuming. The building is a former bowling alley. The only reminder of the alley is the bowling pin sign now reading Meow Wolf.
Getting into the Exhibit Hall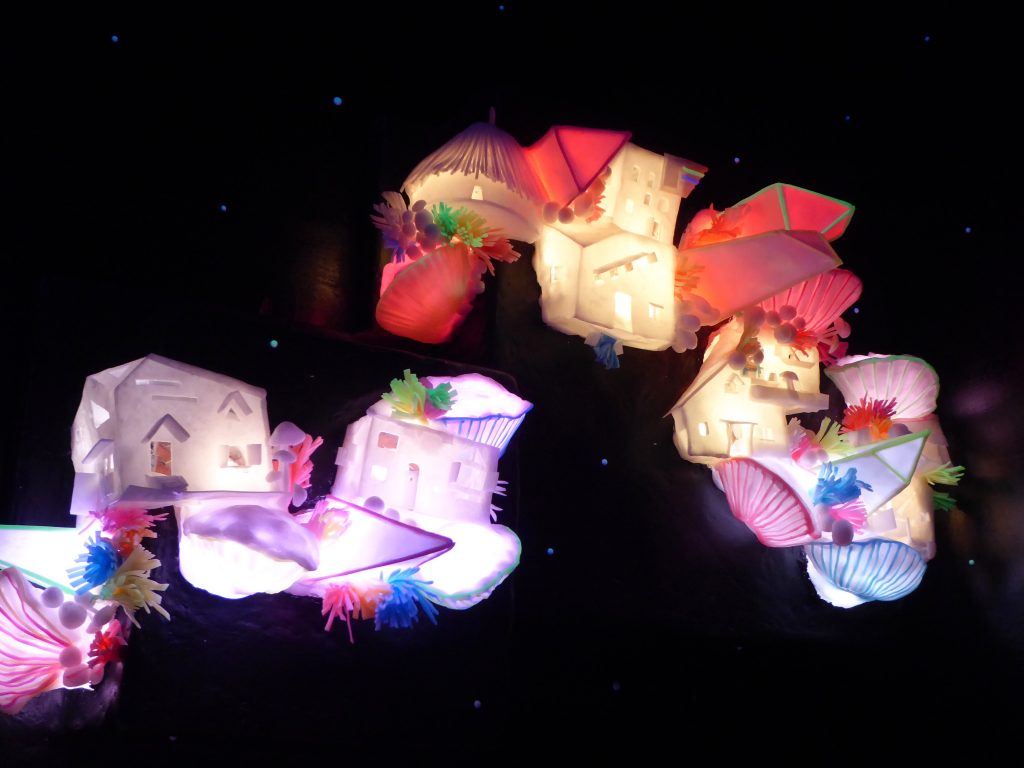 Lines for admission can be long. On our first visit, we waited over 30 minutes to get inside. Fortuitously, on our recent visit, our wait time was about 10 minutes. However, you can expect to spend some time in line for admission – anywhere from 30 minutes to one hour or more. Going later in the day may aid with the wait time.
You can purchase admission tickets online before your visit. Pre-purchased vouchers get you into a separate line. However, that line can have a long wait too.
Want a more immersive experience? You may purchase special glasses for $1 a pair that heighten some of the visceral elements in the exhibit.
The Experience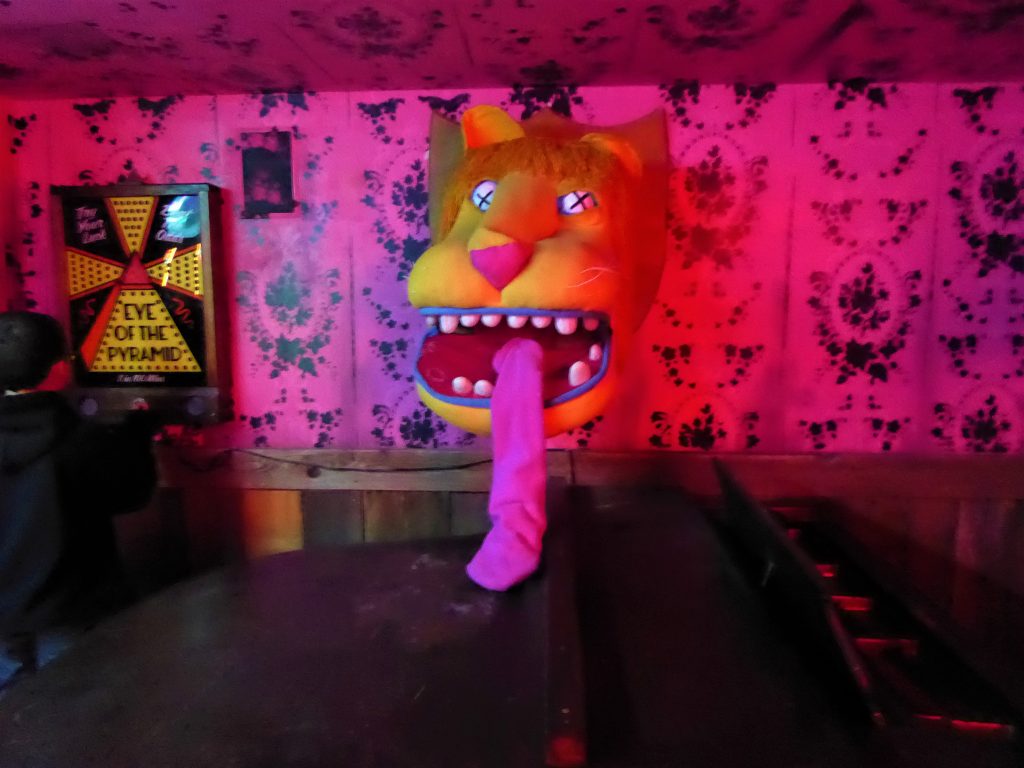 This is a full-immersion art experience. The House of Eternal Return is the permanent exhibit in Santa Fe. Unlike other art exhibits, Meow Wolf appeals to more than your sense of sight. You also will your senses of touch and hearing. And the sights are more magnified than you would anticipate at are normal art museum. Colors are magnified. Your eyes feast on neon lights, strobe lighting and more during your visit.
During admission, you hear that you may touch anything in the exhibit hall. Just be sure to return anything you take to its original spot. There are books to thumb through, newspapers to read, letters to open, furniture to sit on, and more. See a latched metal box in the pantry? Grab it, open it, and explore its contents.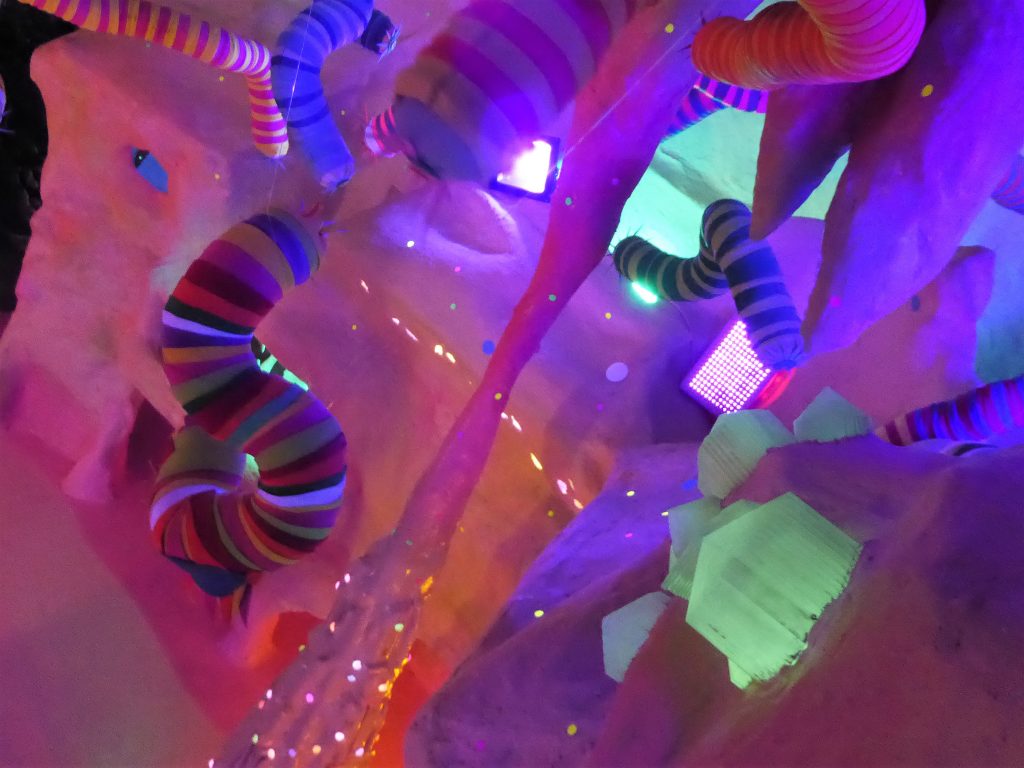 You'll hear music throughout your tour — otherworldly music. You'll hear the screeching of animals and other cries. You'll encounter a tuba player, who mingles with the visitors, obtrusively pointing the tuba in visitor's faces while playing.
Since Meow Wolf is such a visceral experience, Families with special needs members should know that you are allowed to leave the House of Eternal Return and return.
The Story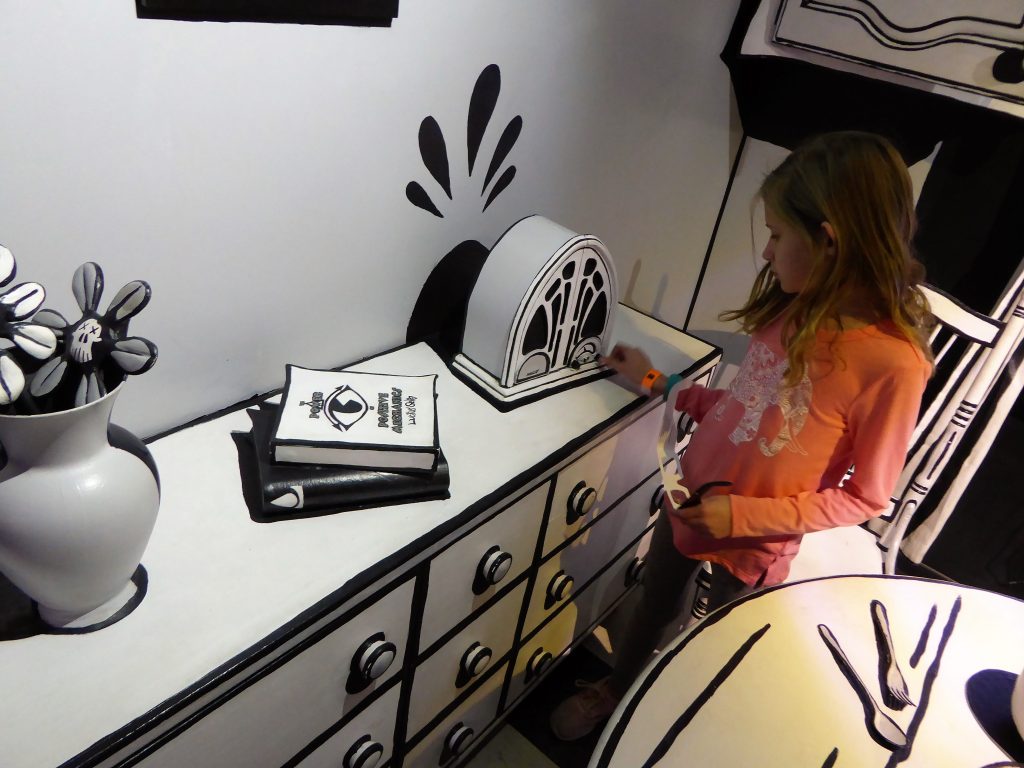 As you enter the exhibit hall, you encounter a two story house. You'll learn that this rather normal looking house holds a fantastic, still unexplained secret. Feel free to open the mailbox and look inside. Read the letters delivered to the mailbox and receive instructions for the remainder of your visit.
You learn that an unfortunate accident occurred in the home. The home is unstable, and official-looking men and women wearing white decontamination suits patrol the outside and inside of the home. One of the home's residents has mysteriously disappeared and it seems that there are some unsettling  and cosmic forces at work.
Your job — unravel the mystery and find the lost residents before it's too late.
While the "house" appears normal, it has some fascinating quirks. Yes, you just saw another visitors crawl through the fireplace. Follow them. The fireplace is a portal to another world. There are many portals throughout the house leading you to unexplained worlds.
The Growing Meow Wolf Empire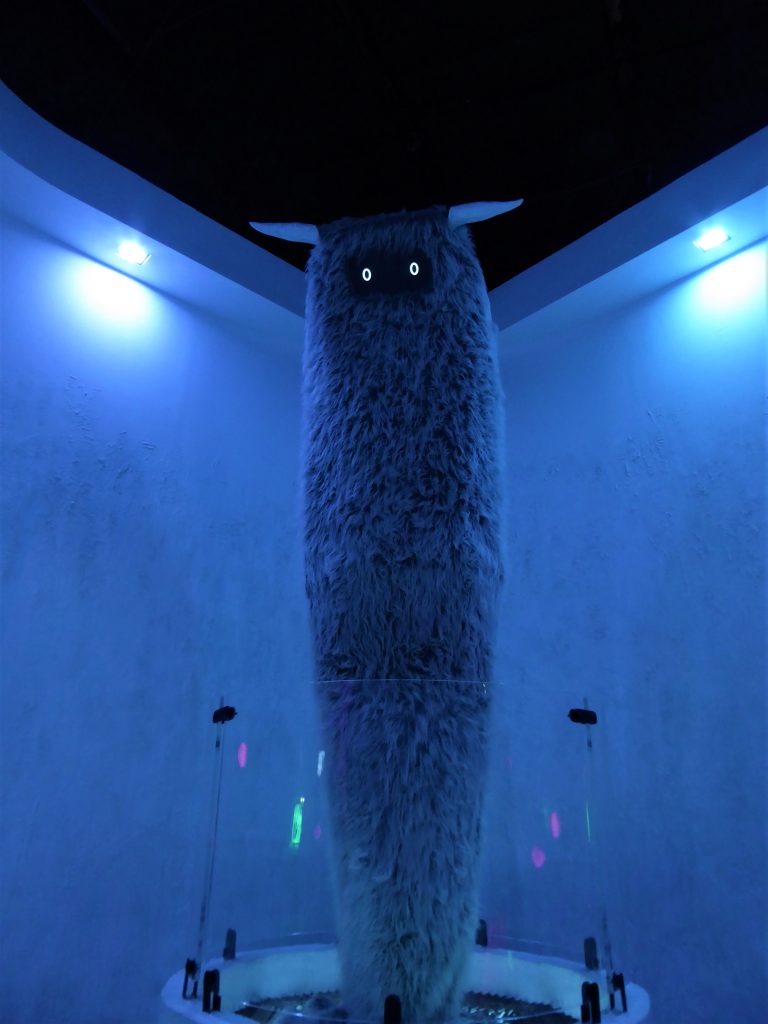 Meow Wolf is clearly a phenomenon. And like many popular ideas, Meow Wolf is growing. This year, a new Meow Wolf ride opened at Denver's Elitch Garden Theme Park. Called Kaleidoscape, the ride is a full-immersion trippy ride.
But that's not all that Meow Wolf has planned for Denver. In 2020, a new Meow Wolf location opens in the Mile High City. This experience will be different from the Santa Fe location.
And in late 2019 a Las Vegas location opens which will also be a different experience.
We're pretty sure visiting all the Meow Wolf locales  will be on every traveler's bucket list.
Our Take
I could explain more about the House of Eternal Return. But, words are not enough. You must experience it yourself. Meow Wolf is an adventure. And adventures must be experienced. We can write words and show pictures of Meow Wolf, but they simply don't do the exhibit justice. It is a true must-see travel destination in Santa Fe. Like many other must-see destinations, I can describe it with words and images. But, nothing compares to the immersive experience. You truly cannot understand Meow Wolf until you go (and even then you probably cannot fully "understand" it). Go. Enjoy! Be baffled! Be inspired! Be transported! Be transformed!
---
You Might Also Enjoy:
Planning a trip to New Mexico's Capital City? Check out our Guide to Family Adventures in Santa Fe.
While in Santa Fe, take the opportunity to visit these six National Park Sites in New Mexico.
---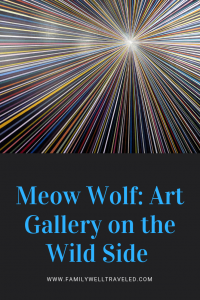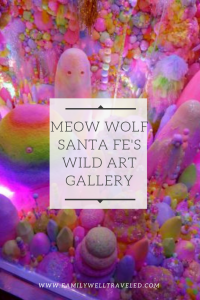 All photos and content are by Family Well Traveled and use of photos or content without permission will result in legal action.
---
---