Your Ultimate Guide to Elitch Gardens Theme Park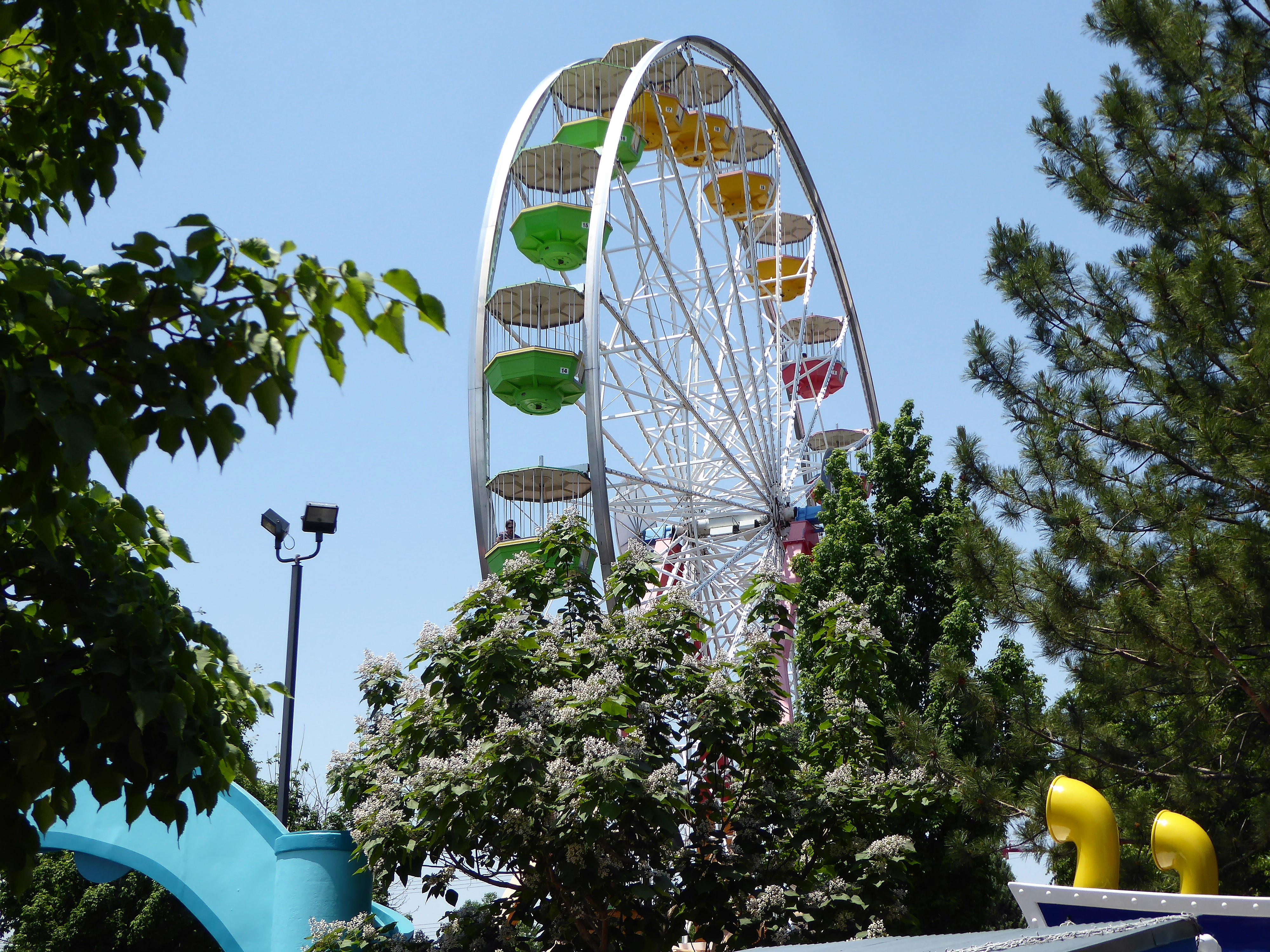 I must tell you upfront that I have a healthy fear of roller coasters. When I was 7-years-old, I was stuck on one as the car stalled while rounding a curve. That experience left me wealthy a justifiable apprehension. I like to be in control, and roller coaster make me feel out of control. This is why I was in my 30s before my wife convinced me to ride an inverted coaster.
But I set aside my fear (mostly because I don't want my kids to see their Dad as a coward) and went to Elitch Gardens Amusement Park in Denver. Actually, we have been to the park several times. We have not tried every park ride, but we've been on enough.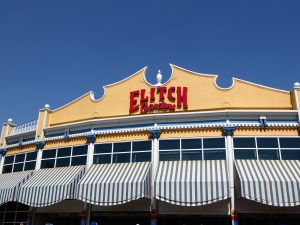 So, with no further ado, here is your ultimate guide to Elitch Gardens Theme Park.
NOTE: Many of the rides listed have height restrictions. Some of the rides in Kiddie Land can only be enjoyed by smaller kids. Other rides throughout the park have a minimum height to ride. Check Elitch Garden's website or look at the Park Map and Guide inside the park for more details.
New in 2019 – Meow Wolf's Kaleidoscape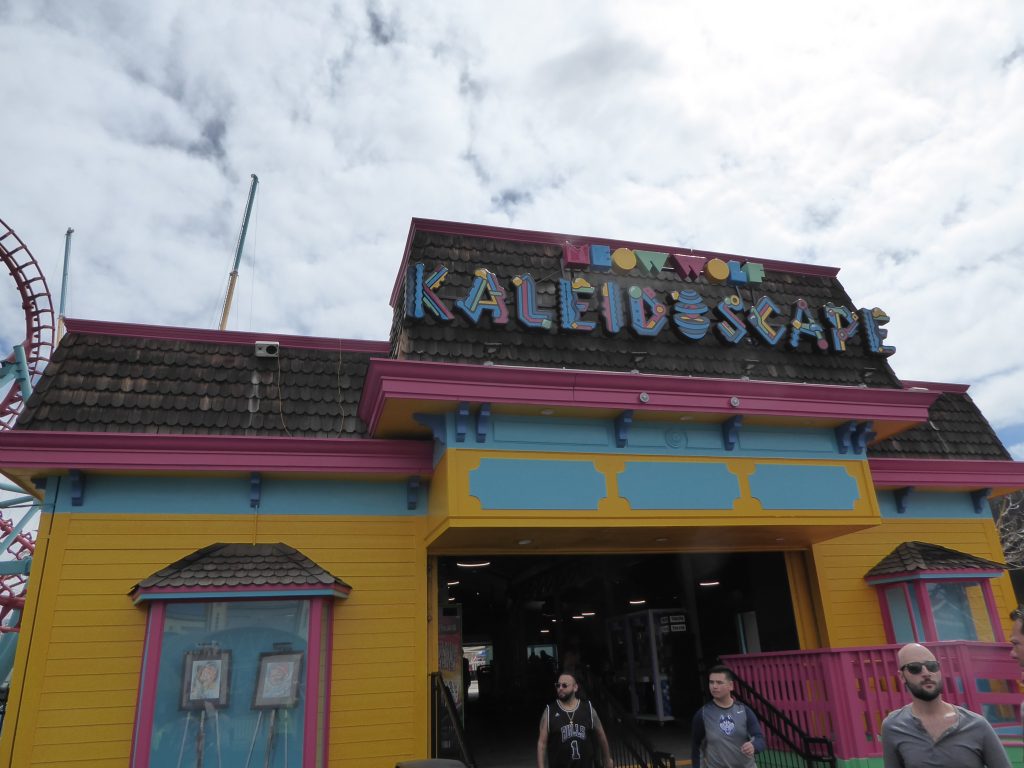 First things first. We are beyond excited to experience the newest ride at Elitch Gardens. The Meow Wolf Art Gallery, which is opening a new venue in Denver in 2020, created the ultimate visceral ride, "Kaleidoscape." The ride takes you on a psychedelic neon journey through a donut-shaped multiverse where you can blast objects to feed your Q-particle. Don't ask, just ride!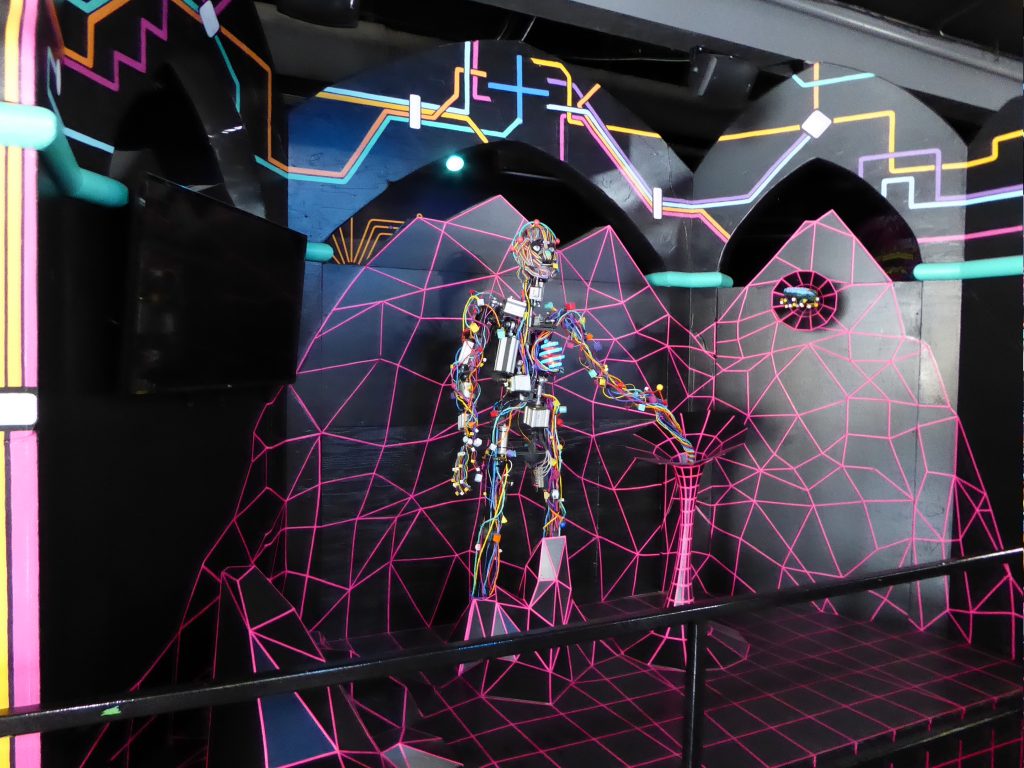 Kiddie Land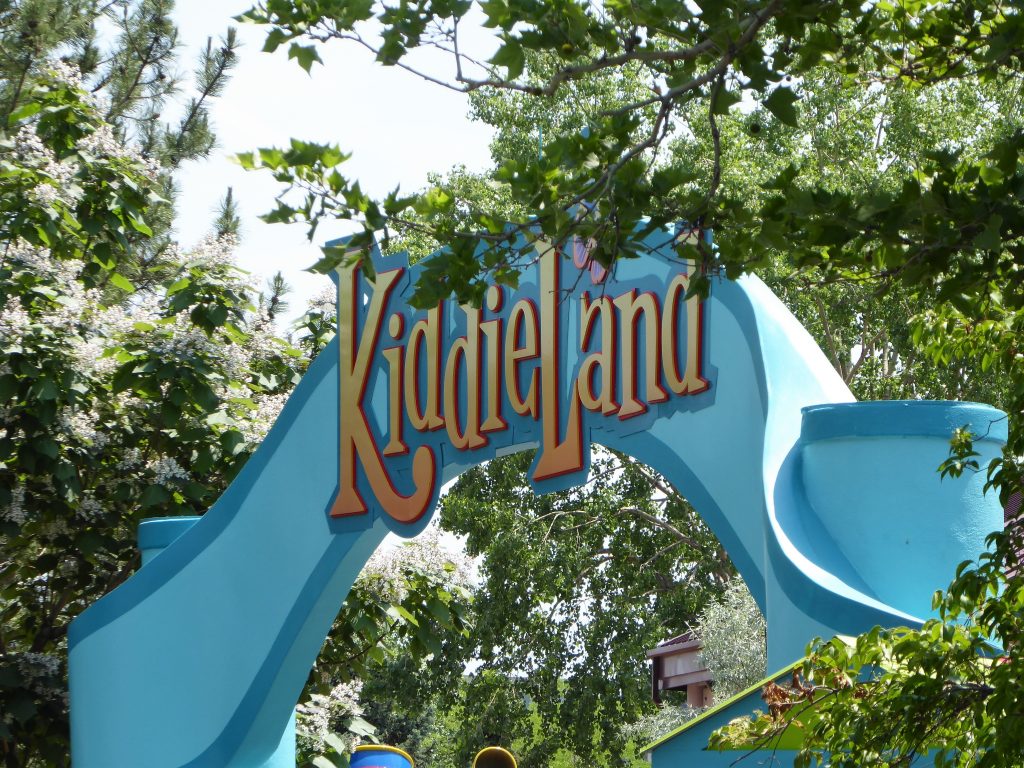 Families with younger kids enjoy Kiddie Land. Honestly, we cannot get enough of a couple of these rides either.
Rocking Tug

b

oat
We love this one. It's simple. That's a good thing. The ride involves spinning, up and down, and back and forth motions, but the sensations are not overwhelming. You don't feel the gut drop of the larger Sea Dragon. And the spinning is not as intense as the teacups or the Tilt-a-Whirl.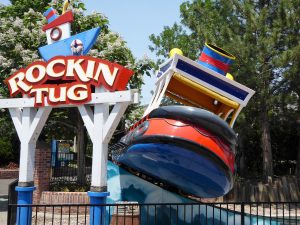 Blazin' Buckaroo
The little tikes coaster at the park. The ride goes through the track twice. Don't be fooled, however, because the coaster is in Kiddie Land. It does pack some speed, and jerks you around a good deal. The lines for this one can get long, so pack some patience. Also, check the photo booth after your ride where you can purchase pictures of your little ones.
Mouse House
Bumper cars for the younger kids. Except instead of cars, you get to drive a mouse or a cat. Don't get stuck spinning around endlessly.
Ding Dong Dock
Kids can get in a boat and ring the bell as the boat circles around Ding Dong Dock.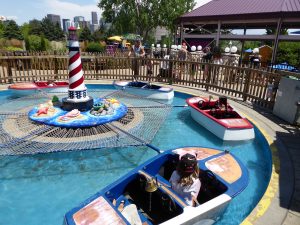 Mike's Bikes
Get your motor running. Motorcycle loving kiddos can pop wheelies and catch some air at Mike's Bikes.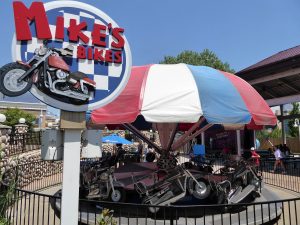 Balloon Race
Take off in a hot air balloon. This ride goes up and down. You also can spin your balloon at your desired speed (like the Tea Cups or Tilt-A-Whirl).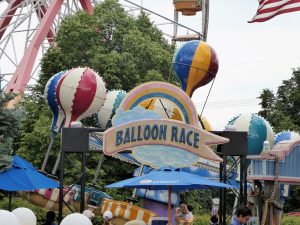 Kid Spin
Choose your can of paint, get in and prepare to mix your paint can. A smaller version of Tea Cups.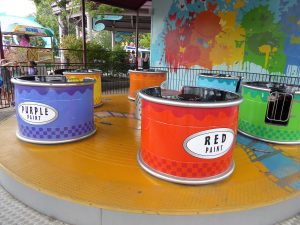 Sunflower Swings
A mini-version of the Turn of the Century and Star Flyer. I guess people love their swings at Eltich Gardens.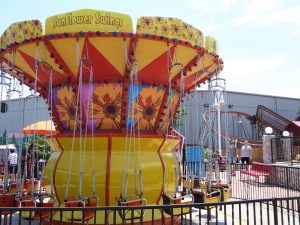 Elitch Express
Who doesn't love a train ride? Will you ride in the engine or the caboose?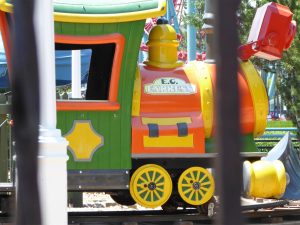 Crazy Bus
It's like a miniature Ferris wheel. Buckle up as the bus takes a circular loop to your destination.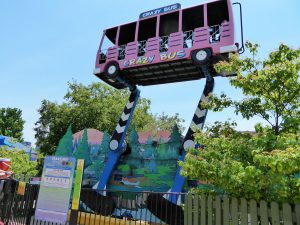 Jumping Jack
It's a smaller version of Tower of Doom. But don't let the height fool you. Jumping Jack lifts and drops kids several times.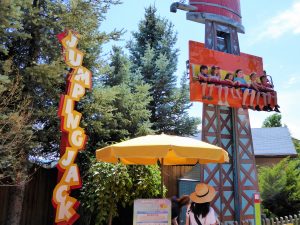 Al's Big Rig Trucking
Kids love big rigs. Hop in one of these miniature big rigs and prepare for a convoy.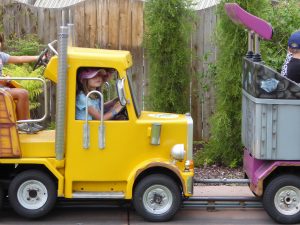 Goofy Gazebo
A covered play area with pneumatic guns and foam balls. Take aim or take cover. This is a great place for parents to sit down and take a breather while the kids unleash their eternal supply of energy.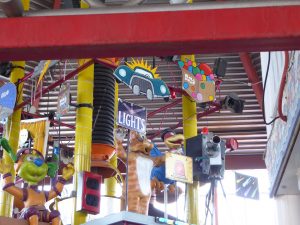 Intermediate Family Rides
Families that want a little more height, spin, and thrills should try these rides.
Carousel
The Classic Amusement Park ride is in the prime location after you enter Elitch Gardens. Yes, the ride is docile, and more suited to Kiddie Land, but you don't mess with the classics. Every one needs to ride the carousel at least once.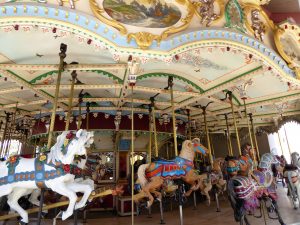 Observation Tower
This is often closed, but we hear that the view of downtown Denver is worth the climb to the top.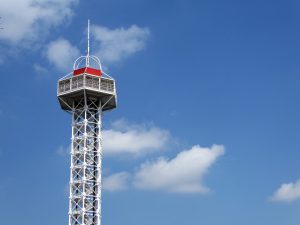 Big Wheel
Elitch's Ferris wheel take you 100 feet in the air for fantastic views of downtown Denver and the Rocky Mountains. The lines for this ride can get long, and it takes time for the attendants to properly load and unload passengers.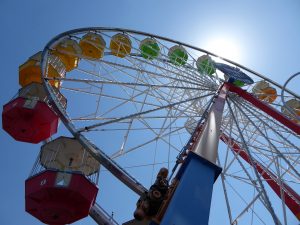 Tea Cups
This is one of my favorites. I love spinning around and around, especially when I can control the rate of spin, as I can on this classic.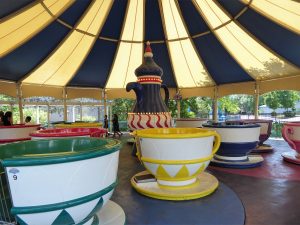 Troika
One of our favorite rides in the park. Our kids take at least one spin on the three-armed ride per visit. Troika combines elements of the Tilt-A-Whirl, Turn of the Century Swing, and the Ferris wheel in one ride.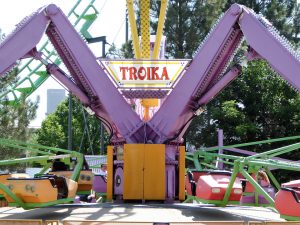 Disaster Canyon
Prepare to get soaked. Ride an intertube through white caps and drops. Some times you'll be facing in the direction of the rapids, other times you'll be facing backwards. It doesn't matter which direction you face, you will end this ride drenched. A perfect ride for hot days when you need to cool off.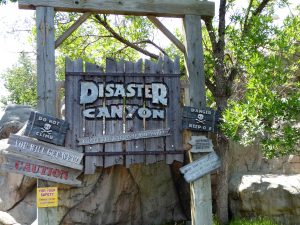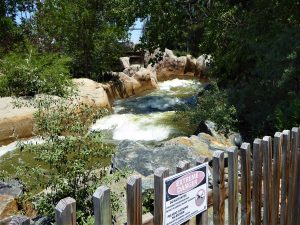 Sea Dragon
A new favorite with our kids. Board a Viking ship that swings back and forth, rising higher with each swing. At it's height, you will be riding almost vertically, and feeling that strange sense of your stomach rising to your throat. This one usually makes me a little queasy after it ends.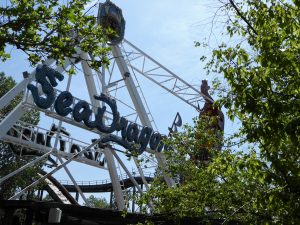 Shipwreck Falls
This is a classic log ride. Head up the ramp, around the bend, and then plunge down the chute for a big splash. Guests walking through the park should be aware of the splash zone; you don't have to ride Shipwreck Falls to get wet. We always see kids in their bathing suits lined up in the splash zone, ready for a drenching.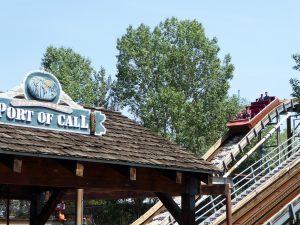 Tilt-A-Whirl
As a child this was my all-time favorite ride. As an aging adult, Tilt-A-Whirl makes me a little nauseous, but I still like to ride in moderation.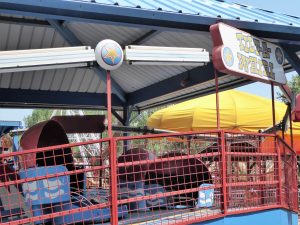 Dragon Wing
It's like taking a ride on the swings, only with more secure safety harnesses. Buckle in and rise into the sky in your dragon. Once airborne, you spin around at a rapid rate a dozen times. A lever in your dragon allows you to open and close the wings in order to raise or lower your dragon.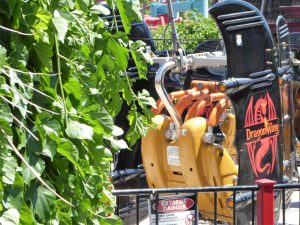 Thrill Rides
Sidewinder
Our family loves this one. I admit that I don't like to go in inverted loops, but I swallow my fear for this one. You climb three stories of stairs and buckle in to the steel coaster. After the attendants lower the safety harness, I experience a half a minute of panic before the ride catapults me down a blind drop into the big loop and then whips me up to the three story tower on the opposite side.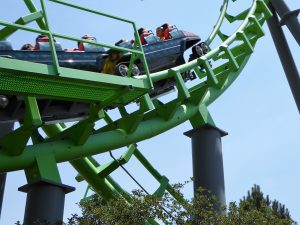 Just when you think the ride is over, you are catapulted backward, down the blind drop and through the big loop to the other side. We love the gut drop. My wife cannot help but giggle. And I get my barrings and steady my shaking knees on the three story descent down the stairs.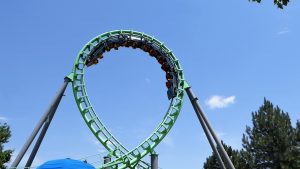 Thunderbolt
What's better than a ride that spins you around at lighting quick speeds? One that reverses direction and spins you around at lightning speed backwards! Once I ride this one, I'm dizzy and done for the day.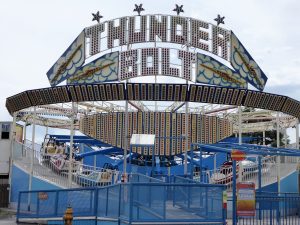 Twister II
I love a great wooden coaster. You cannot beat the noise of the ride. Unlike a steel coaster, you are bound to get tossed around a little. Twister II is one of the best. With oodles of big drops, and almost two minutes in route, this may be the cannot miss ride at Elitch Gardens.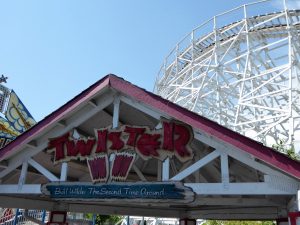 Star Flyer
Spins 17-stories high at speeds of 50 mph. Star Flyer is the newest thrill ride at Elitch Gardens and a fun swing if you can stomach the height. Our daughter has no problems on this ride. Surprisingly, our son (who has a fear of heights) rode it like a champ, too.
Tower of Doom
Everyone likes a 200 foot free-fall drop, right? O.K. So maybe not everyone. But those who aren't afraid of heights and can handle the gut drop in your belly love this one. I like that there is a little suspense, too. Each of the four carts rises at a different rate, so you can dangle at the top for a few seconds. And the drop is unexpected.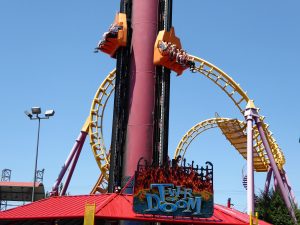 Boomerang
Yes, so I've said I don't like inverted rides. I was afraid to go on this one for a long time. Everyone else in my family went though, so i tried it. And loved it. Boomerang has two big loops and a corkscrew. Did I mention the initial heart-pounding drop? Oh yeah, the ride takes you through all of this going forward, and then backward. I may have conquered my fears. I cannot wait to ride this one again and again.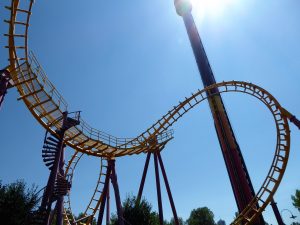 Mind Eraser
I almost put this in the "You've Gotta Be Crazy" Rides. This is a suspender steel coaster. That means instead of sitting in a car, your legs are suspended throughout the ride. Mind Eraser takes you up and down, through corkscrews, inverts you, and in general tries to get you to hurl that lunch.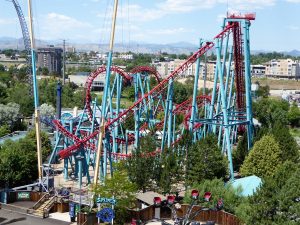 Honestly, I fear riding this, so I have not done so. Our son, however, has been on it and raves about it. We tell him we'll happily wait if he chooses to get in line and ride it again. To date, he has not taken us up on this offer.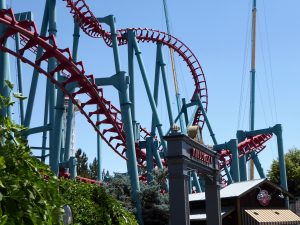 Spider
Eight tentacles spin and rise up and down. This was the first ride we rode in Elitch Gardens.
Hollywood and Vine

Not for the faint of heart, or those with bad backs and necks. The cars accelerate at high rates and twist at even higher rates. It's a lot like the Tilt-A-Whirl, only faster. And you have less control over your car's twisting. Our kids love it.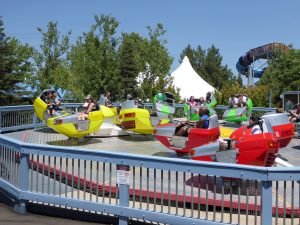 Turn of the Century
OK. So We're not really sure why Elitch Gardens calls this a thrill ride, but there you have it. Loosely buckle yourself in for a swinging good time. Take a moment or two to admire the artwork panels on the swing's canopy.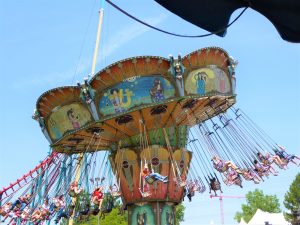 You've Gotta Be Crazy Rides
Elitch Gardens lists these as thrill rides. I'm not convinced. These rides are for people who love life on the edge, living extreme, or just plain have no regard for their sanity. There is no way you'll catch me on these rides. Our son, however, loves them. He rides them by himself and talks about them afterward for days on end.
Brain Drain
Spin inside a 7-story tall circle loop over and over again. Spin forward and backward. Over and over again. Warning: If you must ride this one, do so on an empty stomach.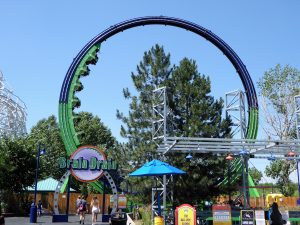 Half Pipe
Huge U-Shaped roller coaster track. The ride has two spinning seating areas. Buckle in and ride the pipe up and down, spinning unexpectedly as you go.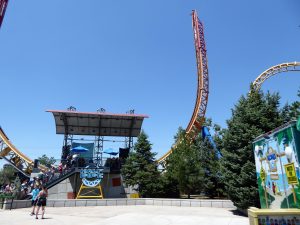 Our son loves it, although once at the highest part of the track he was lying supine when the pipe sent him down backward. He was a little alarmed, but not enough to keep him off this ride.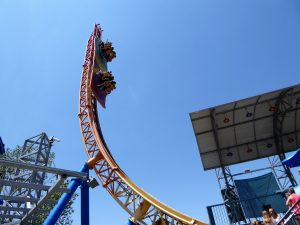 Extra Charge Attractions
Sling Shot
Catapult 216 feet in the air strapped inside a metal ball. We've discussed my fear of inverted rides. Have we discussed how I like to be in control? With sling shot, I cannot be in control of the spins. I admire those who can ride this one.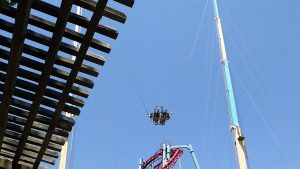 XLR8R
This is the tallest free-fall swing in Colorado. Haven't tried this one yet, but I would love to.
Food
Elitch Gardens has a number of food options when you develop a hunger for something other than thrill rides. Whether you are hankering for Chinese, BBQ, salads, or shaved ice, there are a number of restaurants and options to fill your craving.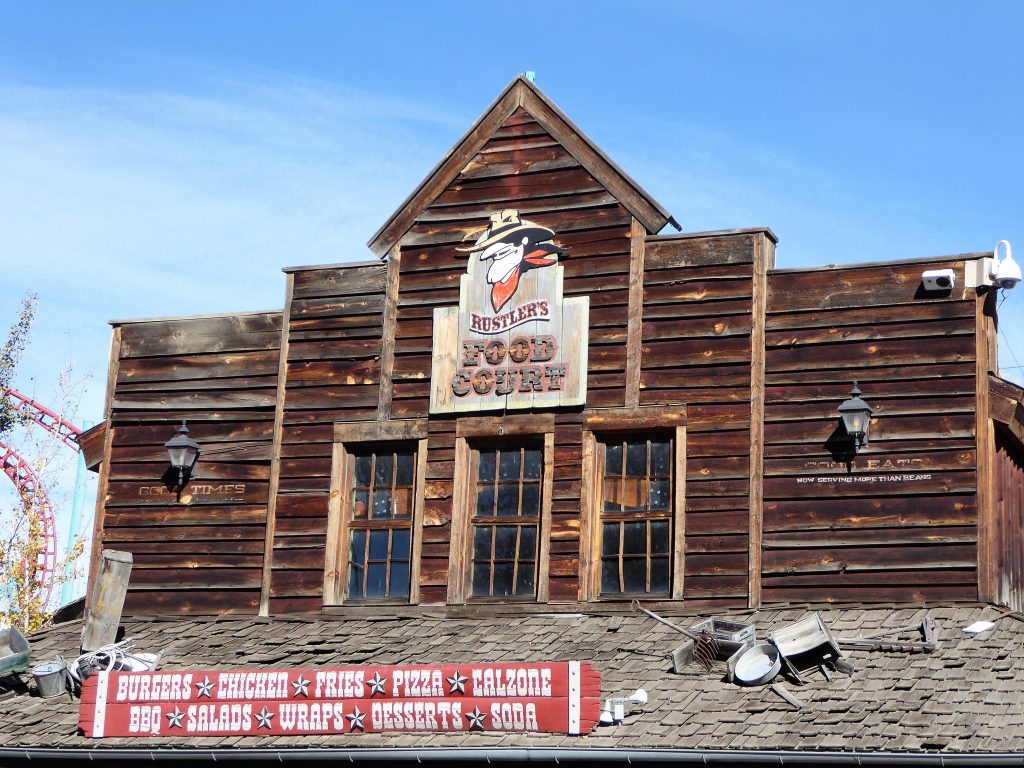 Among the restaurants within the park:
Healthy food options and gluten free options are available.
Season Passes
Like most amusement parks, Elitch Gardens has season passes. There are a variety of season pass options, some including meal plans. In general, your season pass (which pays for itself with two visits) includes free parking, a souvenir cup (with $1 beverage refills), and guest passes.
The season pass also allows entrance into all summer concerts, dive-in movies at the water park, special events with fireworks, and admission to Fright Fest during the Halloween Season.
We bought season passes for three of us, and used our guest pass for those times Mom could visit with us.
Shopping
Oh yes, there is plenty of shopping at Elitch Gardens, too. Check out the Colorado Store for all things about the Centennial State. Our kids always beg us to stop in the Kids Corner for the next essential stuffed animal or gadget for their collections. Or check out the Tennyson Street Emporium for all the classic apparel and souvenirs your heart could ever desire.
Arcade Games
In addition to all of the rides, Elitch Gardens also has a number of Arcade games throughout the park. In classic carnival caller style, staff barks to the passersby. Arcade games include classics such as balloon pop, ring toss, cover the spot, and water gun squirting.
Our kids like to play the games that have a guaranteed win. They enjoy Plinko, where they toss game pieces on a Plinko board. Depending on where the game piece lands, our kids win a small, medium, or large stuffed animal or other prize. They also enjoy picking a plastic duck out of a pool, which also is a guaranteed prize winner.
Entertainment
Warmer weather means the Summer Concert Series at Elitch Gardens. Each Year, the park brings in headliners and up-and-comers for the concert series. The series includes many genres of music, including Country, Pop, Mariachi, and Christian Rock. Concerts are included in admission price.
Summer also means the Dive-In Movie at the Water Park. Relax in a beack chair, or float in the pool while watching classic and contemporary movies.
Finally, you can take in a "Smoke and Mirrors," a 20-minute magic revue at the Trocadero Theater on Main Street, Our kids enjoyed the show which involved classic magic, dancing, and dramatic music.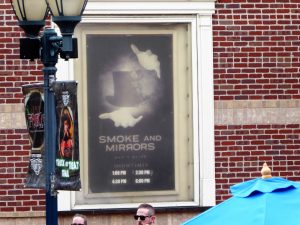 Fright Fest
Each fall, Elitch Gardens is transformed for Fright Fest. The park takes on a ghostly air as tombstones, skeletons, and other macabre decorations pop up throughout the park. At night, the water park becomes a frightening spook house that only the brave dare walk through (we're too afraid to check it out).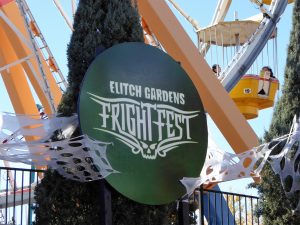 Some of the decorations are too extreme for our younger children. For example, the corpse of lady hanging from a noose greets visitors in one area of the park. The scene terrifies our daughter, who refuses to look up as we pass the site.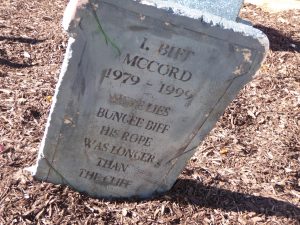 The tombstones are hilarious. It's worth a trip just to read the epitaphs on the markers.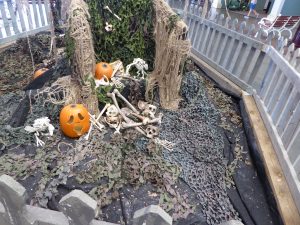 Fright Fest closes on Halloween nights, which also is the official closing date for Elitch Gardens. The amusement park operates April through October.
---
You Might Also Enjoy:
Take a trip to Colorado's North Pole to visit Santa and ride more than 20 amusement park rides.
Check out the quintessential amusement park — Magic Kingdom — and see if tweens can enjoy the Disney World Park.
---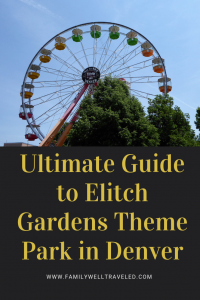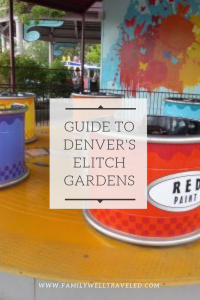 All photos and content are by Family Well Traveled and use of photos or content without permission will result in legal action.
---
---