Can You Hike Diamond Head Summit?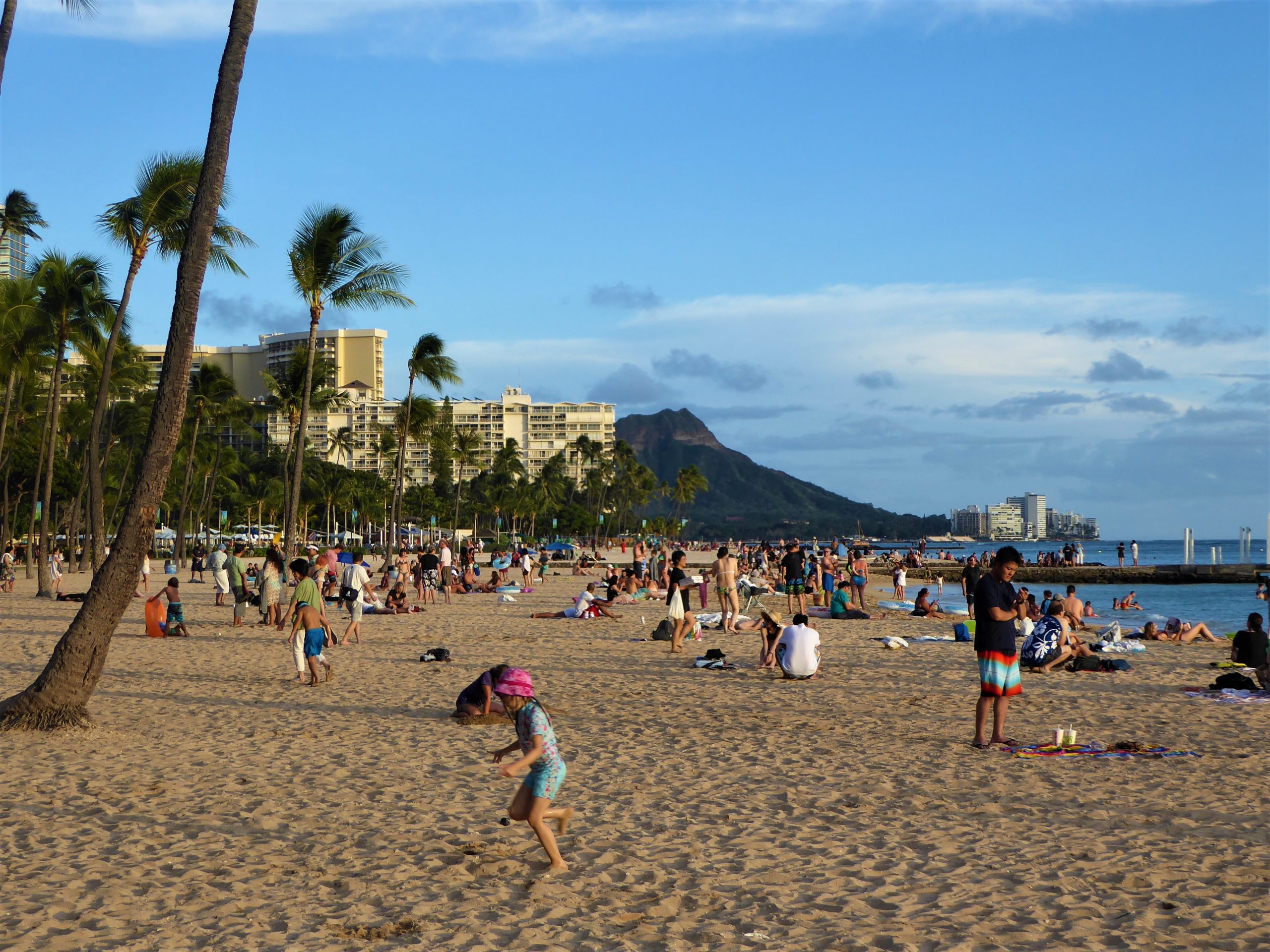 Honolulu is a major traveler's destination spot. And it's no wonder why. The island of Oahu has stunning views, gorgeous beaches, and many adventures both on land and in sea. Perhaps the most iconic landmark on Oahu is Diamond Head, the dormant volcanic mountain clearly visible from all of Waikiki Beach. Since it is such a famous landmark, it is no surprise that many people take the opportunity while visiting Honolulu to hike to the Diamond Head Summit. Can you hike to the Diamond Head Summit? Here is everything you need to know if you choose to climb to the top of Diamond Head.
Getting to Diamond Head State Monument
The Park is east of downtown Honolulu and Waikiki. It is a short drive to the park. You also can choose to take the city bus to the park, as I did on my hike. Be aware that the bus ride does drop you at the base of the park, and you will need to walk uphill another half mile or so to the parking lot.
Do I Need to Make Reservations?
Yes, if you are not a Hawaii resident, you must make a reservation to enter and hike Diamond Head. Reservations are a fairly new feature at the park. Prior to 2022, you did not need reservations. Hawaii, however, is working to stop over-tourism at some of its more famous destinations, including Diamond Head. That means that out-of-state visitors must reserve their hike. You can make reservations by visiting the Hawaii State Parks Site. It costs $5 per person, with an additional $10 for parking.
Good news for Hawaii residents. There is no entry fee for you. I was able to show my Hawaii Driver's License at the entry station for free access.
Even with the more stringent requirements, I saw hundreds of people on my journey to the summit.
Is the Trail Easy?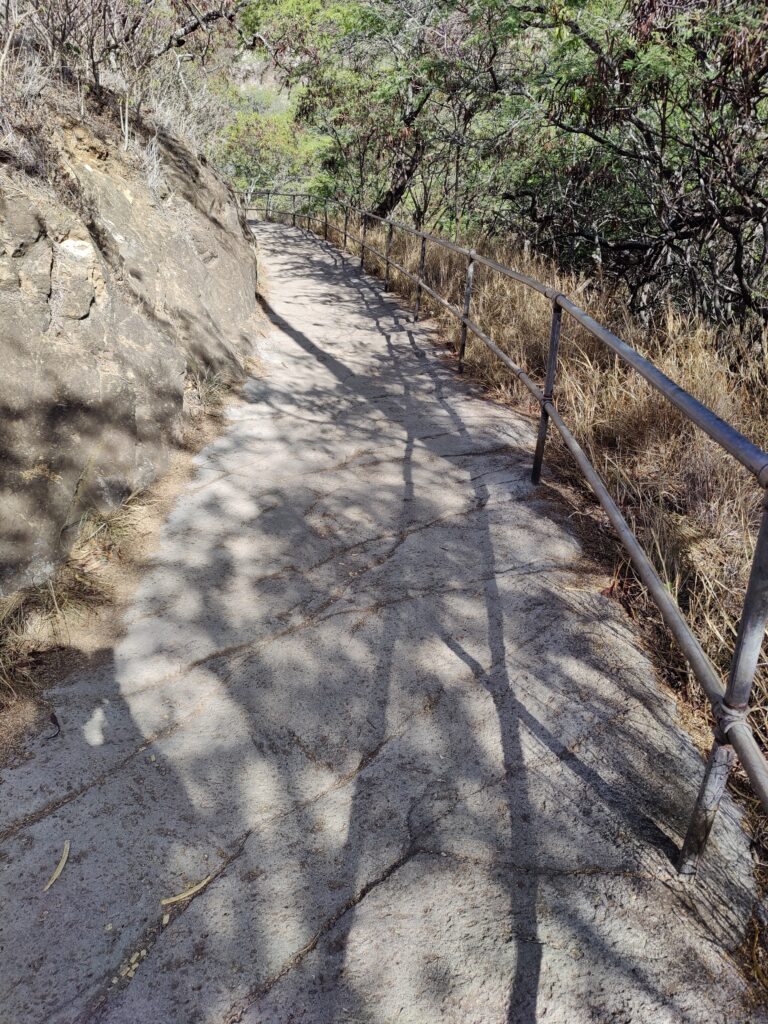 The trail is a moderate hike with incline throughout. It is not a paved surface, rather a loose gravel or stone path with many unstable surfaces. Additionally, parts of the trail are rather narrow and I often had to stop and wait for people to pass me either ascending or descending. This is not an easy trail and cannot be attempted with wheelchairs or walkers. It also is not recommended for people with mobility issues.
The final assent to the summit includes many steps and tunnels that can challenge the most stalwart of your group. The elevation gain is more than 500 feet on the 0.8 mile trail.
I did see people hiking in flip flops and sandals, but I would recommend a tennis shoe for sure footing on the trails.
Is it Worth Your Time?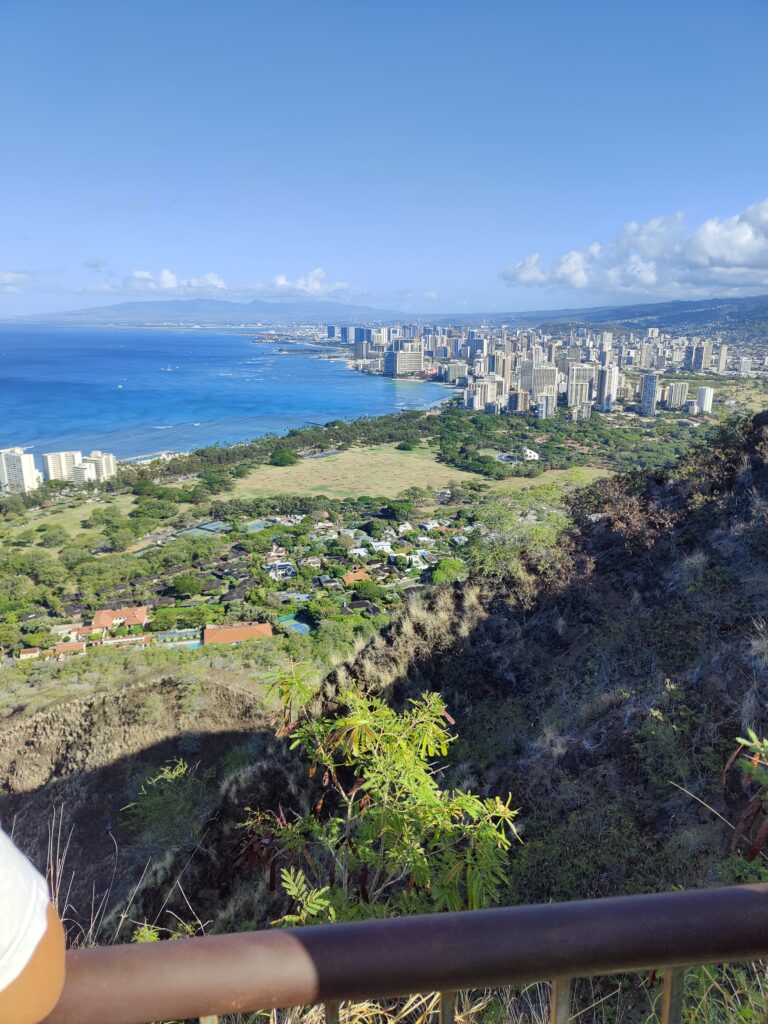 Absolutely. Not only can you say you made the hike, but you get to witness first hand the extraordinary views of Honolulu and much of the Southeastern island. Emerging from the tunnels and the stairs to see the Pacific Ocean and the resorts of Waikiki makes the climb worth it in the end.
What to Expect
The trail is on gravel and uneven surfaces. There are section of the hike with wide paths, allowing for ease in passing slower hikers both going up and down the mount. Also, T]there are sections of very narrow pathways, making it difficult for two-way traffic to pass unimpeded.
At times it was difficult to maintain footing, and my feet slipped out a little from under me. There are sections of the trail with very rocky surfaces where you need to carefully extend your step for a sure footing. And those steps at the top of the summit are no joke. They are steep and narrow.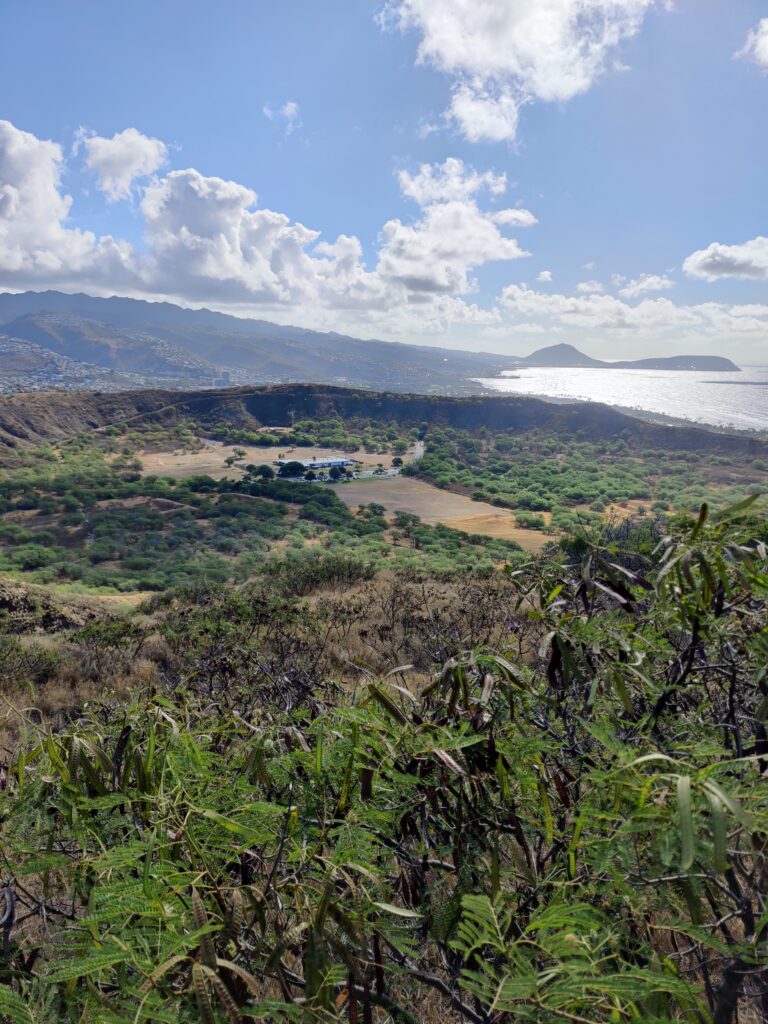 Of course, the payoff is the 360 degree panoramic views of downtown Honolulu and environs.
You also get to view the Diamond Head Lighthouse from the summit. Those hiking during the winter months (November-March) may also spot whales breaching from the ocean.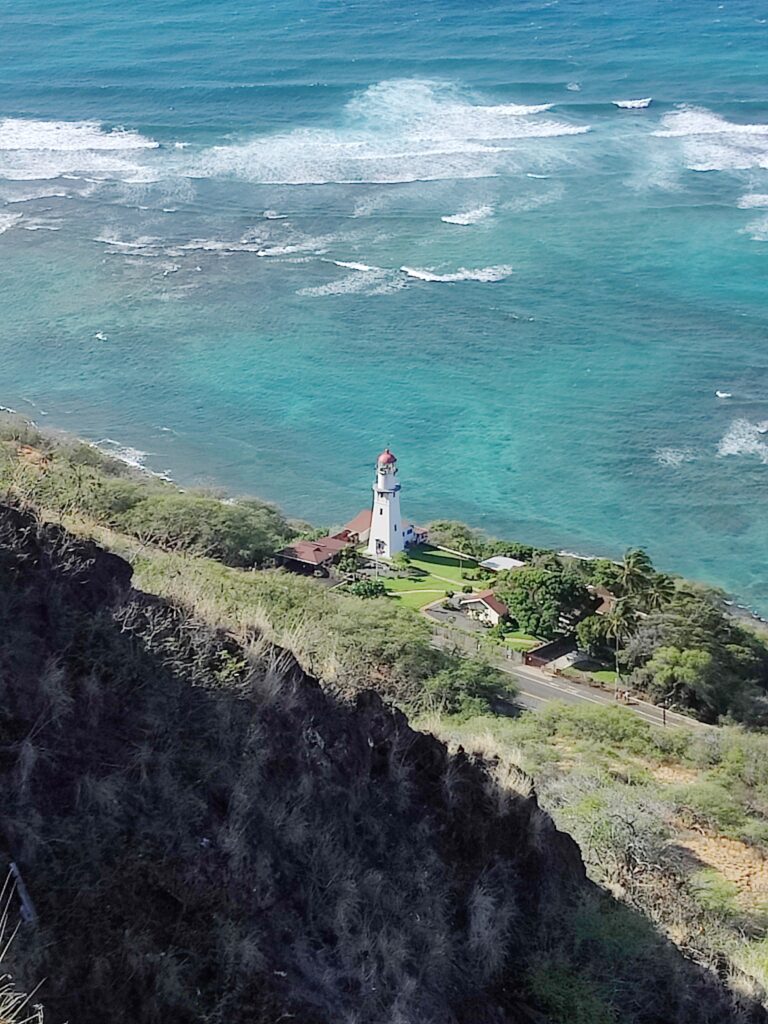 Additionally, there are some unexpected finds on the hike. Those panoramic views provide a wide lookout for this portion of the island. For that reason, Diamond Head houses a few tunnels and bunkers built in the early 1900s as part of the military coastal defense. I personally enjoyed exploring these tunnels once I reached the summit. Of course, I may have explored the tunnels in order to catch my breath before my descent down the stairs and the trail.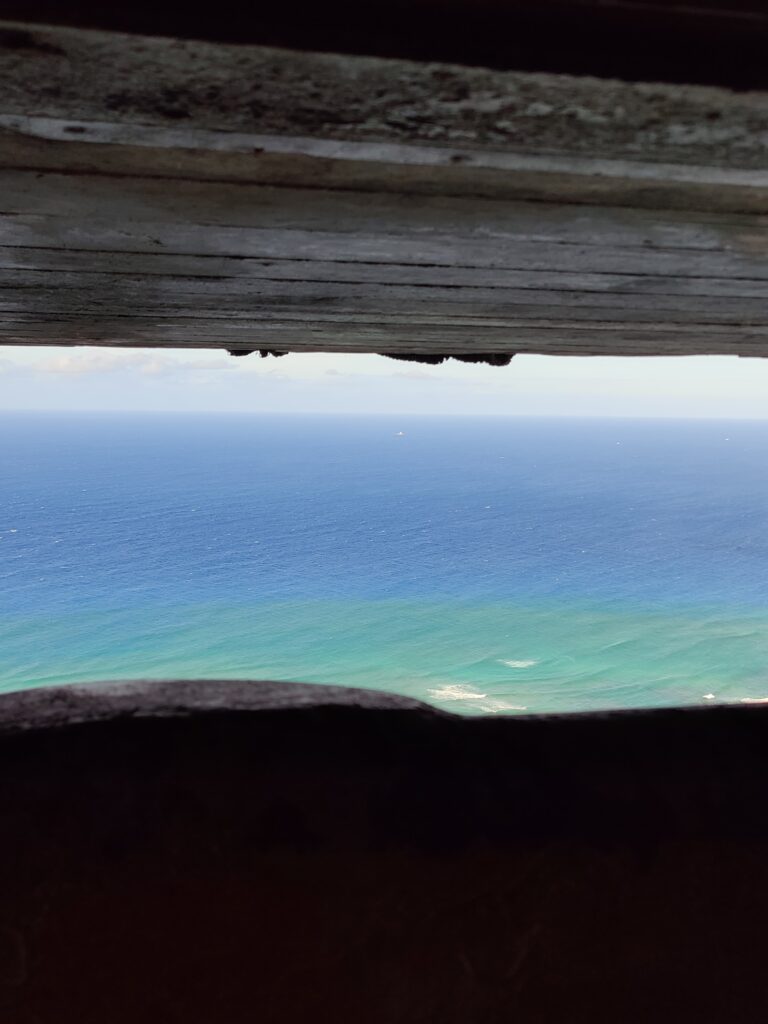 Conclusion
Overall, I spent less than two hours at the monument. Being a solo hiker, I was able to quickly reach the summit with one short stop near the top of Diamond Head. You, however, can certainly take the climb at a slower pace if you wish.
Even with admission charges and timed entry, there were a lot of people on the trail. It is advisable to hit the trail early in the day to take advantage of the cooler temperatures. I was there before 9 a.m. and still was able to enjoy the hike with about 1000 of my newly-made closest friends. Just know that it is a popular destination and you will interact with hundreds of people during the hike.
I am glad that I did the hike and reached the summit. It was one of my Oahu bucket list activities. If I were to make the journey a second time, I would spend more time leisurely reaching the summit and I also would spend more time investigating the birds that make the area their home.
---
You Might Also Enjoy:
Read Family Well Travel's Guide of Things to do in Oahu.
If you enjoy hiking, you may want to add Colorado's St Mary's Glacier Hike to your list
See our Guide to Exploring Honolulu's Pearl Harbor National Memorial.
---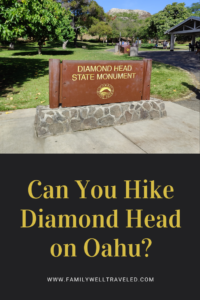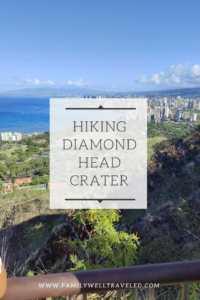 All photos and content are by Family Well Traveled and use of photos or content without permission will result in legal action.
---
---