Discover Denver's Oldest Home at Four Mile Historic Park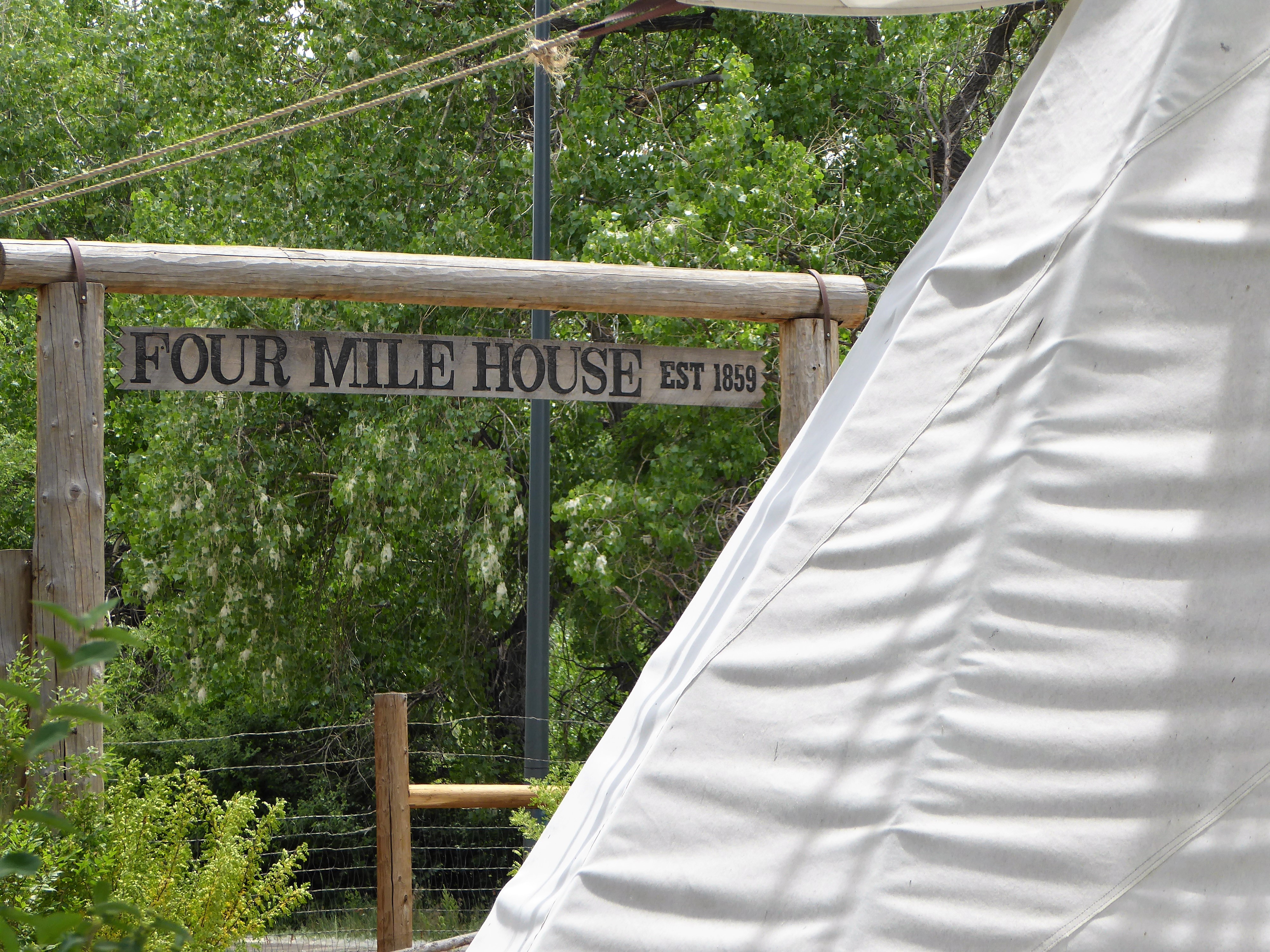 In the heart of Downtown Denver, surrounded by apartment complexes, strip malls, and office buildings, you find a quiet, 12-acre park where 19th Century history comes to life. The Four Mile Historic Park takes you back in time to a simpler time. Here, you can see a blacksmith shop, step inside a one room school house, check out a barn with goats and draft horses, explore a miner's and trapper's cabin, and tour the oldest home in Denver.
We love any opportunity for our kids to learn about history. It's so much better when our kids can actually step into history. That's exactly what they got to do at Four Mile Historic Park where they could touch trapper's pelts, pan for fools' gold, watch a blacksmith at work, and sit inside that one-room school house.
The park gives kids — and adults — a greater appreciation for life among settlers in 19th Century Denver.
Before You Go
Although there is a lot to see and do at Four Mile Historic Park, most of the grounds are unpaved, dirt walkways. It is not wheelchair or stroller accessible. Also, the park cannot accommodate service animals. Park admission hours are limited. Spring and summer hours are 10 a.m.-4 p.m. Wednesday through Sunday. Autumn and winter hours are 10 a.m.-4 p.m. Friday through Sunday.
Parking and Visitor's Center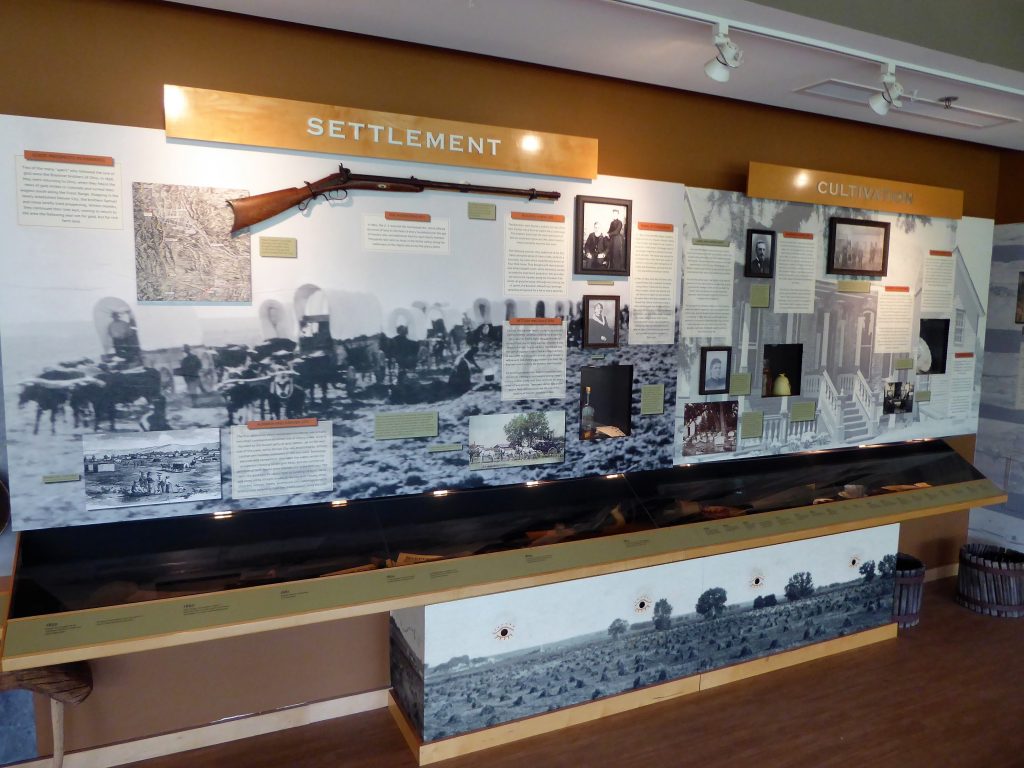 There is limited parking at Four Mile Historic Park. During free admission days (The third Friday of each month), it may be difficult to access parking. Otherwise, it's easy to find a free parking spot.
You will enter through the Grant Family Education Center, which serves as the visitor's center and museum for the park. Throughout the education center, you find handmade goods. Also, there is a gift shop. The museum displays show more about life in the 19th Century, and includes displays of arms.
In addition to park admission, you may arrange for a tour of the historic Four Mile House.
The Four Mile House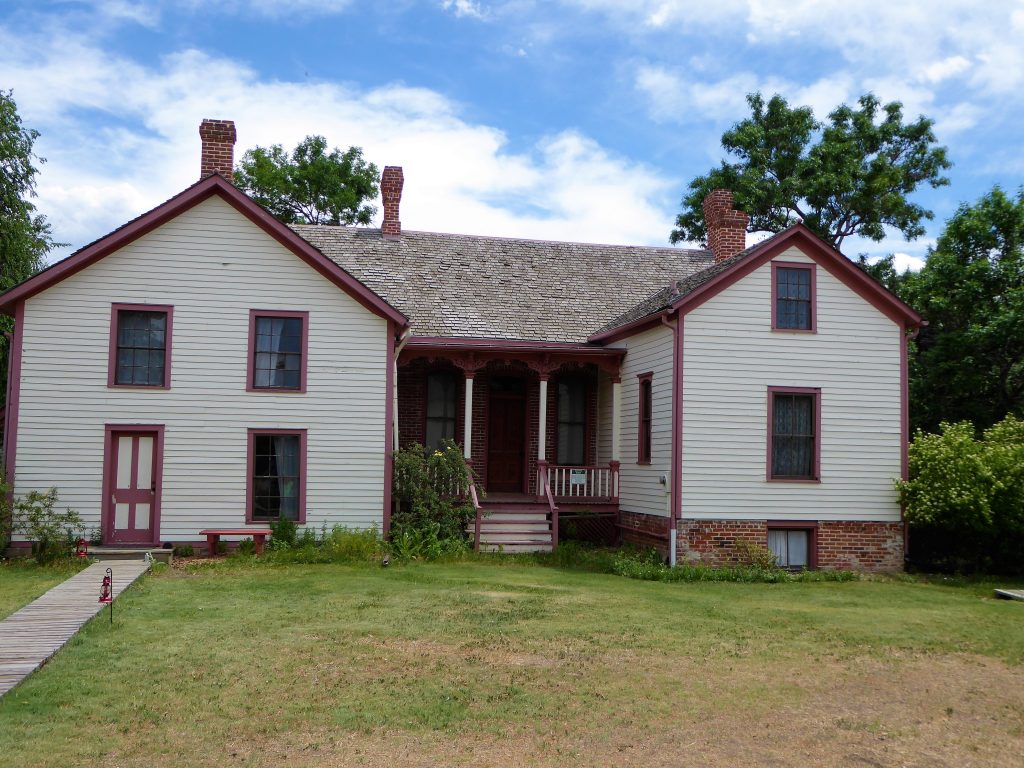 The house was built in 1859 by the Branther Brothers. They sold the house to Mary Cawker in 1860, who opened the house as the last stage stop on the Cherokee Trail from 1860-1864. It is the oldest standing home in Denver. The house is listed on the National Register of Historic Places. Next to the home is the Bee House and a reconstructed three-seat privy (that is a big deal). Yes, kids, there is no indoor plumbing in the homesteaders homes.
The Bee House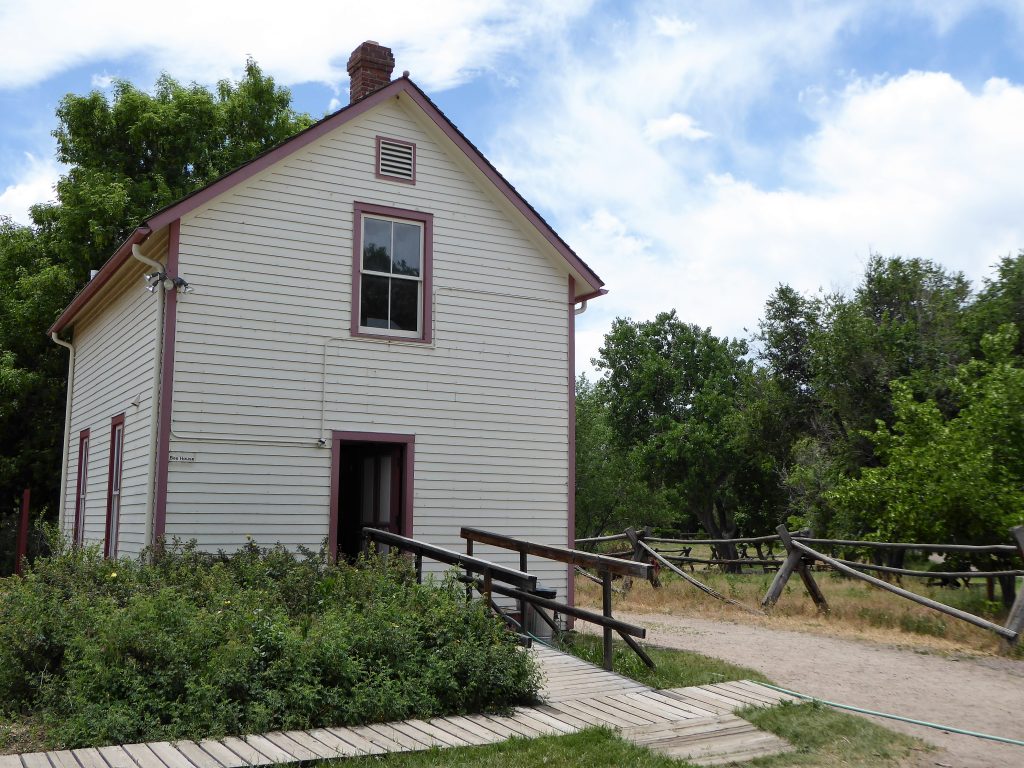 No, it's not a hive (although there are several beekeeping hives throughout the property). It is the former beekeeping house that has been converted into a one-room schoolhouse. You can get a feel for what school was like in the 19th Century as you sit on the benches, warm your hands by the fireplace, and look at the books and chalkboard.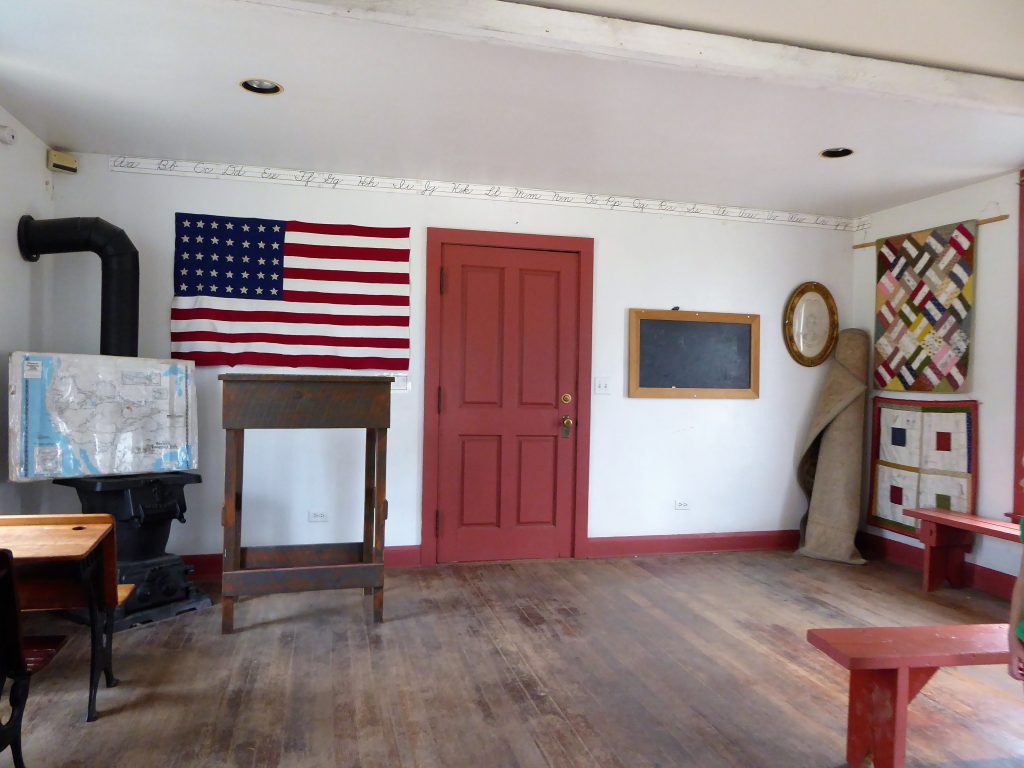 The Root Cellar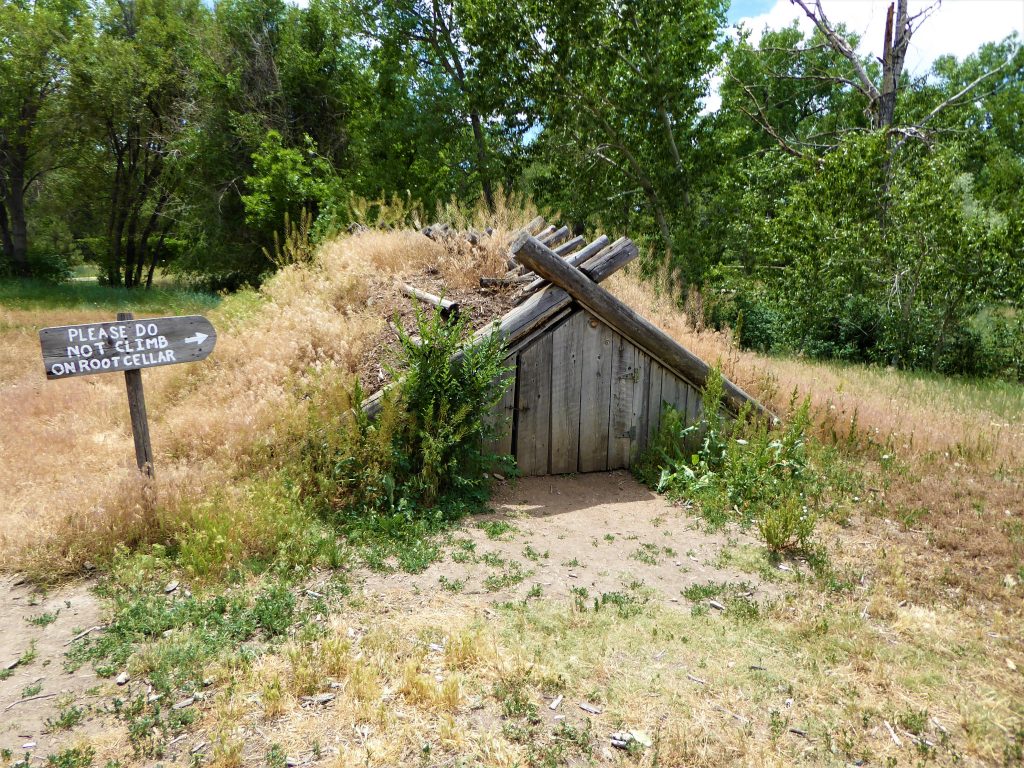 So, there was no indoor plumbing or in-home electricity in the early days of Denver. There were no refrigerators (yes, kids, you heard that correctly). So how do we store our perishable foods? Introducing the root cellar, an underground room used to store foods for preserving and dehydrating.
It's really fun for our kids to see that the luxuries they can't live without (running water, electricity, flushing toilets), were uncommon or unheard of during the heyday of Four Mile. We didn't enter the root cellar (it was padlocked). But we did see how different life was in 19th Century Denver as compared to today.
The Tepee, Cold Pond, and Mining for Fool's Gold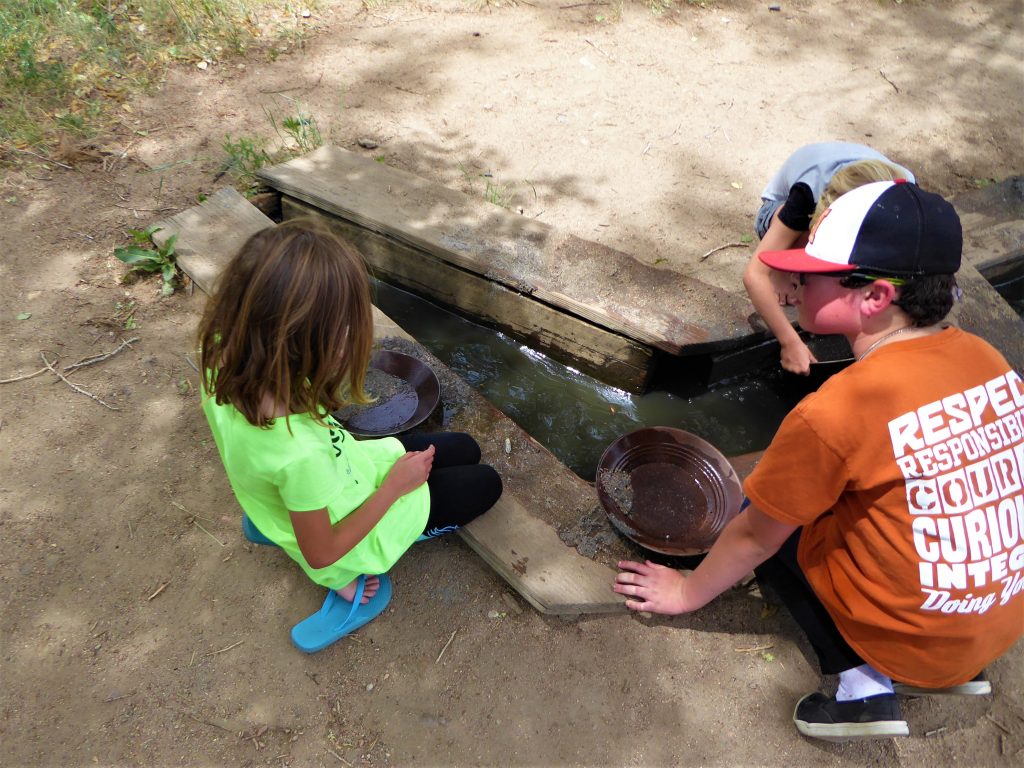 The Ute, Arapahoe and Cheyenne made the Denver region home long before the wagon trains rolled through. Tepee poles were 18-20 feet tall, covered with buffalo hide. The current tepee uses canvas and rope.
Nearby is a cold pond, where kids can pan for gold. My kids spent a long time panning in the cold pond looking for the real gold. I didn't have the heart to tell them that it was all fool's gold. They still had a great time, and were able to keep a couple of pieces of pyrite.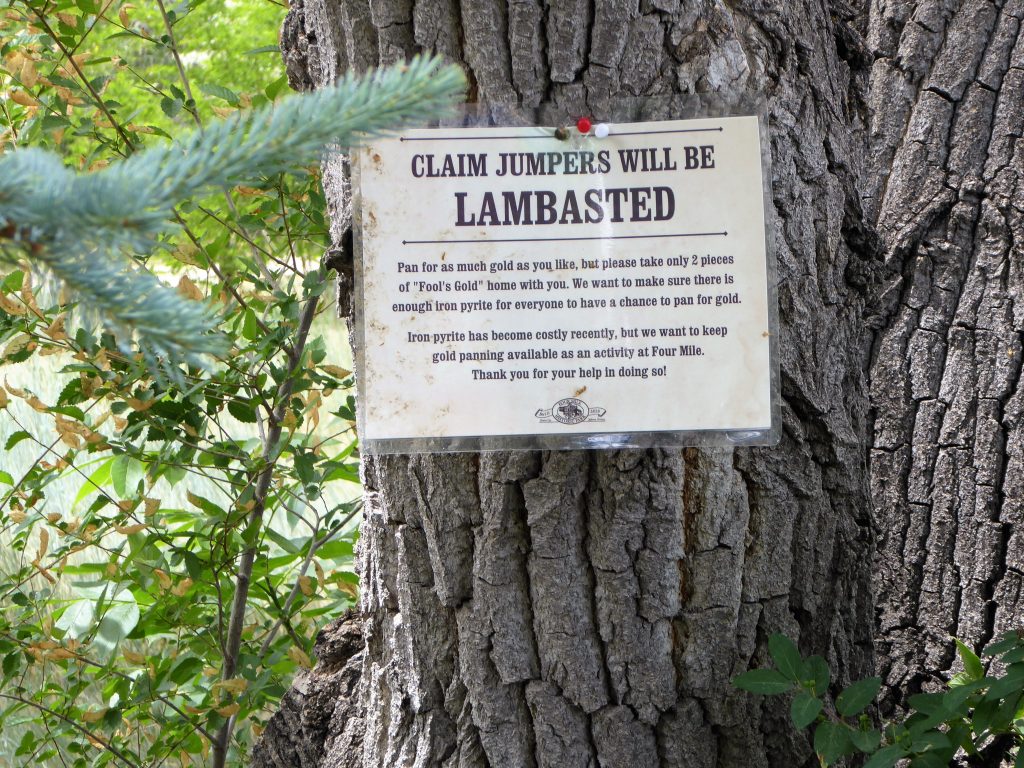 Miner's and Trapper's Cabin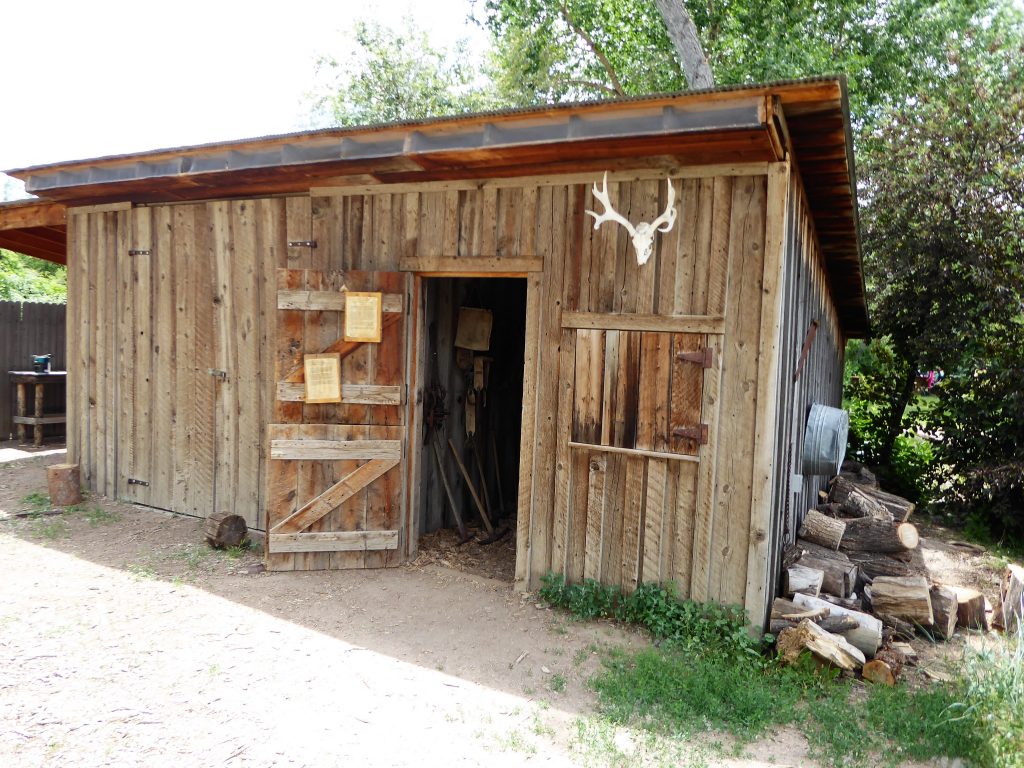 We always enjoy checking out the tools of miners and trappers. The cabin is very threadbare (as you would expect) but loaded with tools either person used daily.
Orchard and Bees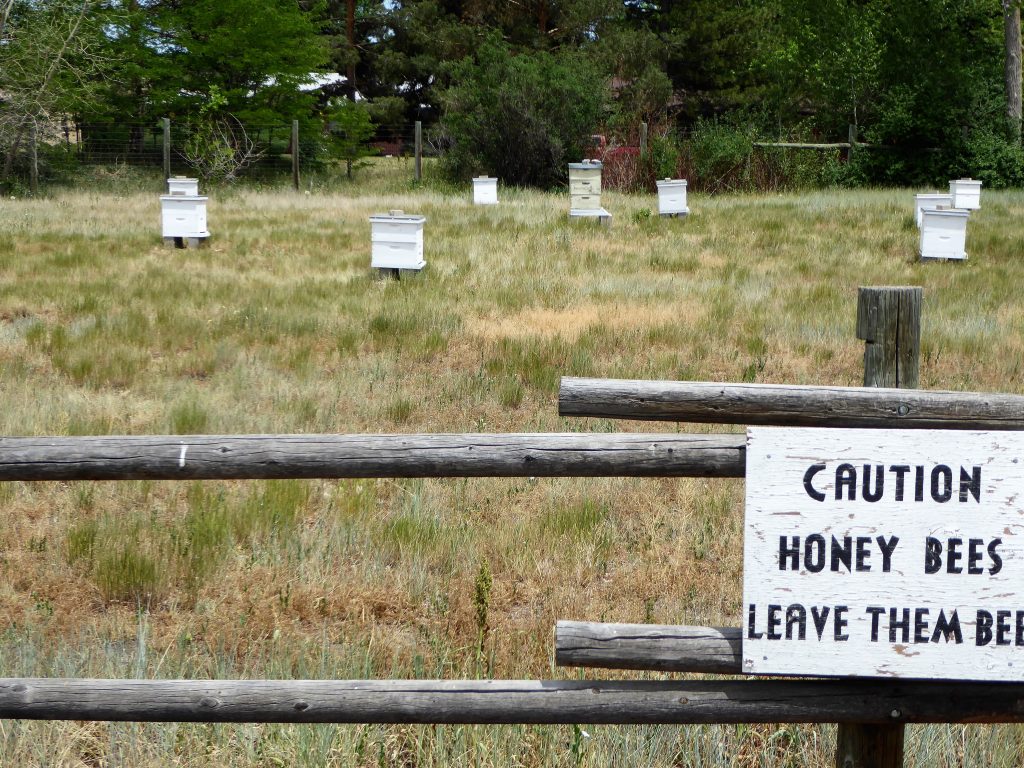 The Four Mile Historic Park has a healthy amount of vegetation and flowers throughout the 12-acre property. Those early pioneers would have used vegetables, herbs, and fruit trees scattered throughout the grounds. The bees still use the pollen today. There are several bee hives throughout the orchard for beekeepers to collect honey.
Pole Barn and Blacksmith Shop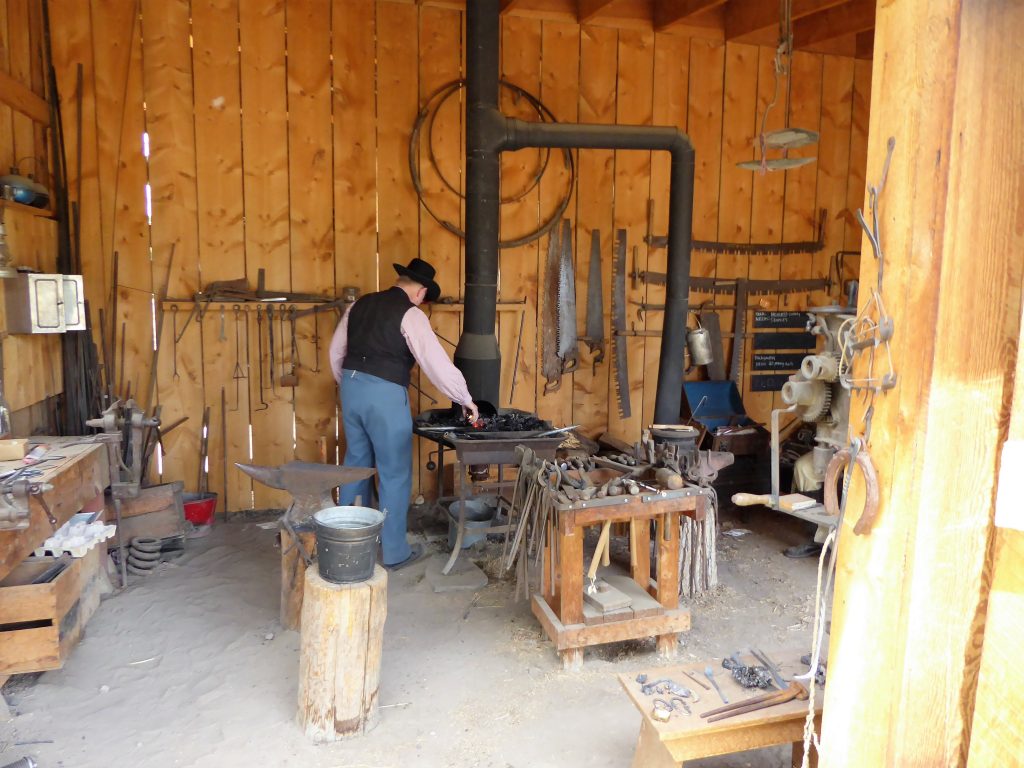 The Pole Barn is a simple wood structure used as a pass-thru for wagons and coaches. Attached is a blacksmith shop. During our visit, there was a blacksmith at work, with a fully-stocked fire. He happily answered questions while demonstrating his craft.
Carriage Barn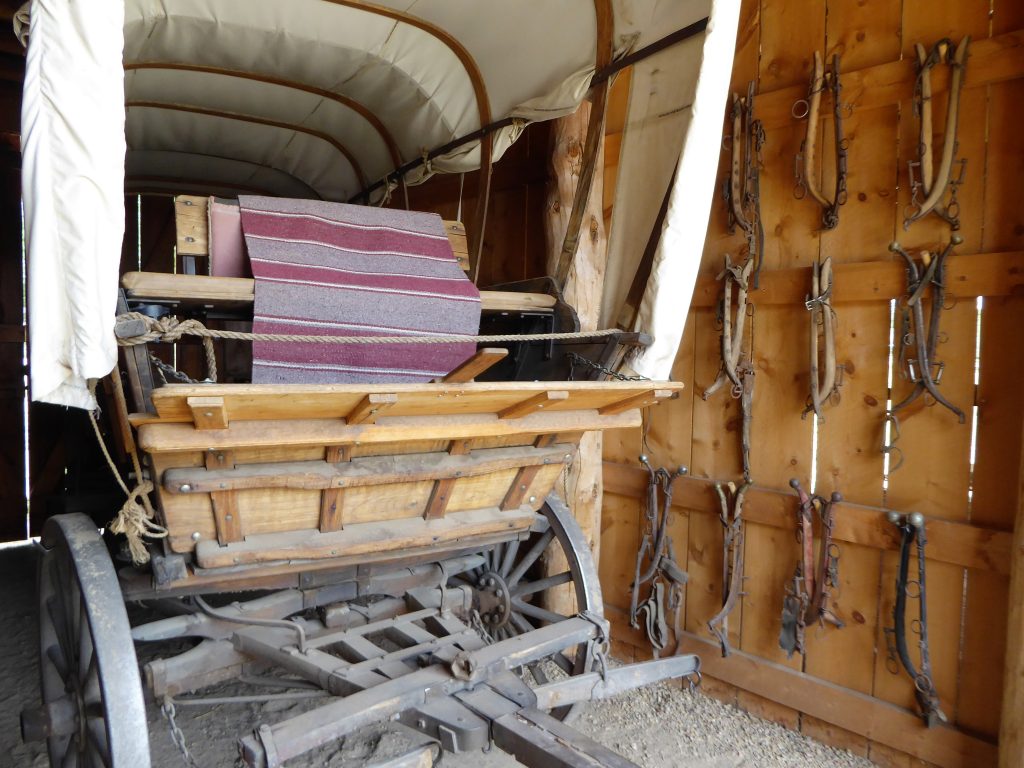 Near the corral lies the carriage barn, where the family carriage would have been housed,
Log Barn and Goat Pen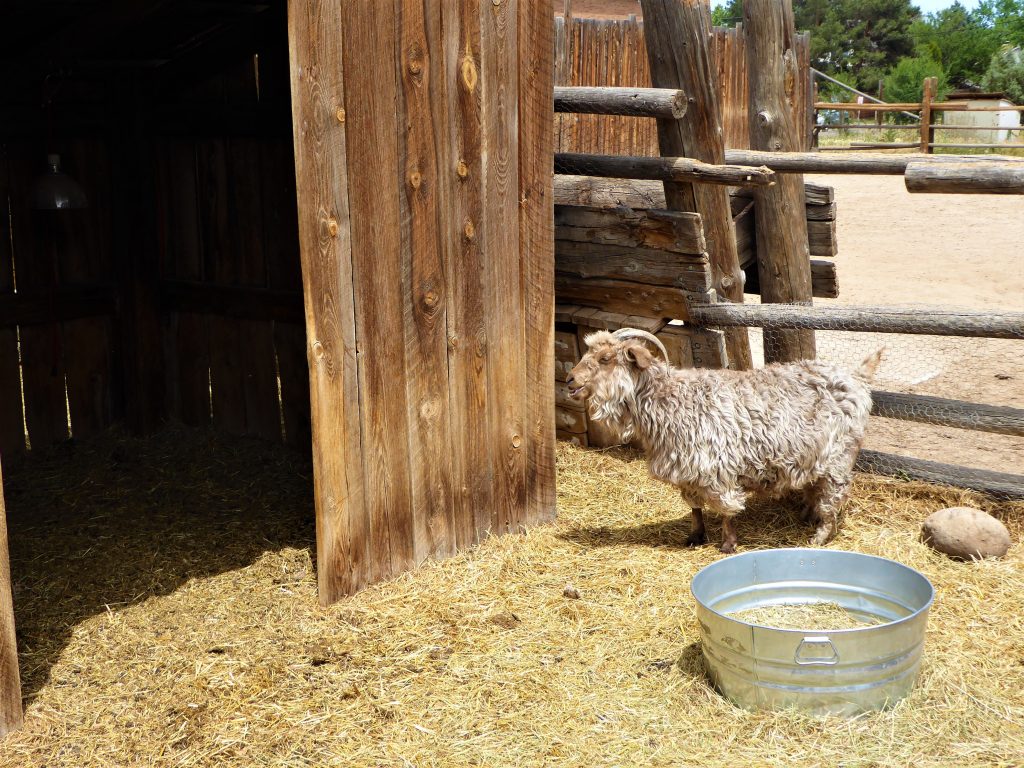 What can we say? We love animals. We enjoyed spending time at the log barn and goat pen. The goats quickly made their way toward us, sniffing out any food items (we didn't have any). The goats were pretty "forward" reaching through the fence planks to nudge our hands. And one goat took a great interest in our camera.
Stallion Barn and Horses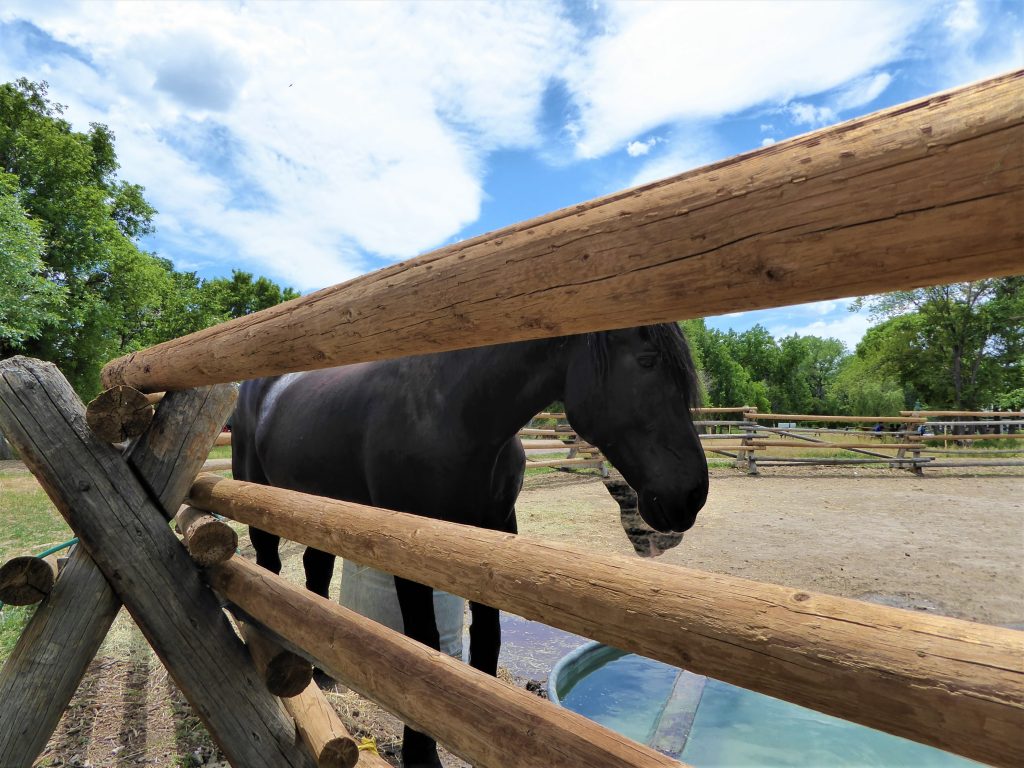 The stallion barn isolated the aggressive stallions from harming other animals. Today, all the horses are female. The barn provides storage for goods and feed.
Park Etiquette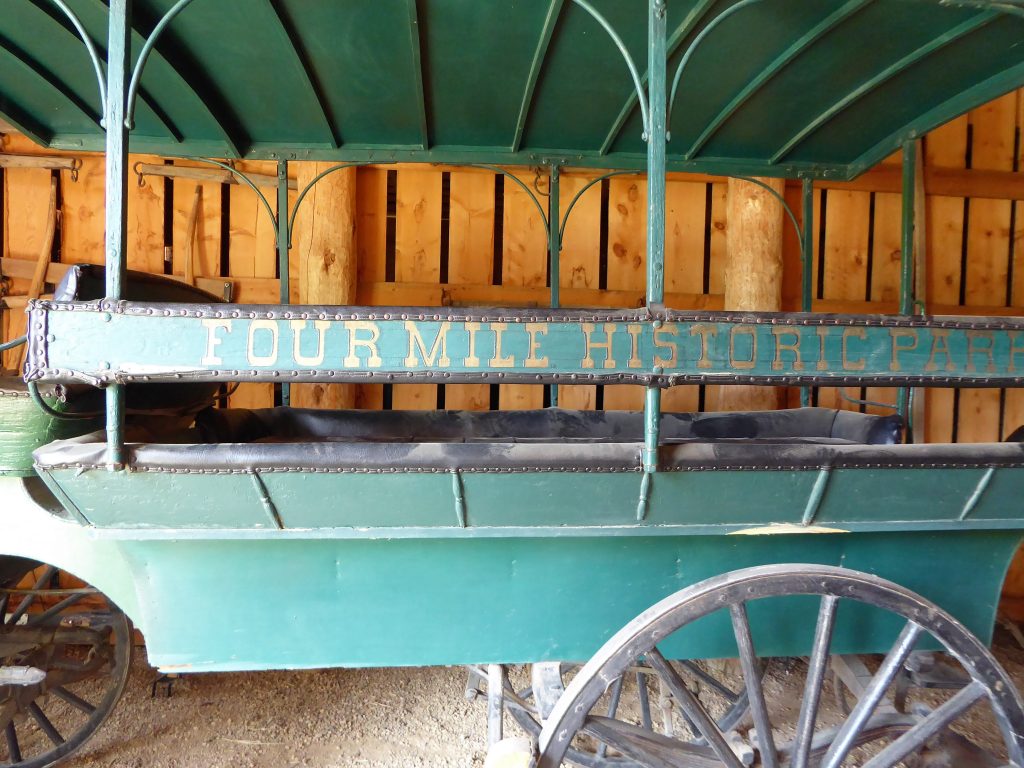 Before you head to Four Mile Historic Park, there are some things you need to know. Pets are not allowed on site. Smoking is prohibited. Bicycles are prohibited on the grounds. Although you can take photos throughout most of the property, you are not allowed to photograph inside the Four Mile House, Finally, although you may take a couple of pieces of pyrite after panning, no other items (flowers and plants) may be picked or removed from the site.
---
You Might Also Enjoy:
What did 19th Century life look like in a military fort. Take a look at Three U.S. Forts in Three Western States.
Spending some time in Denver. Here are 10 Fun Family Adventures in Denver.
---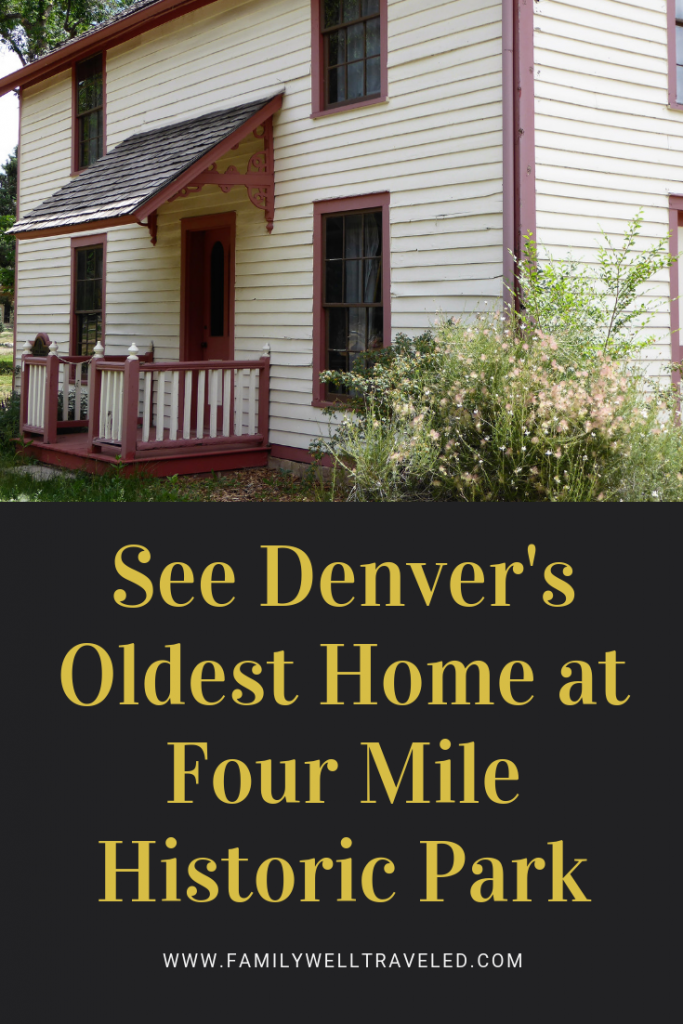 All photos and content are by Family Well Traveled and use of photos or content without permission will result in legal action.
---
---