Best Family Activities on Kauai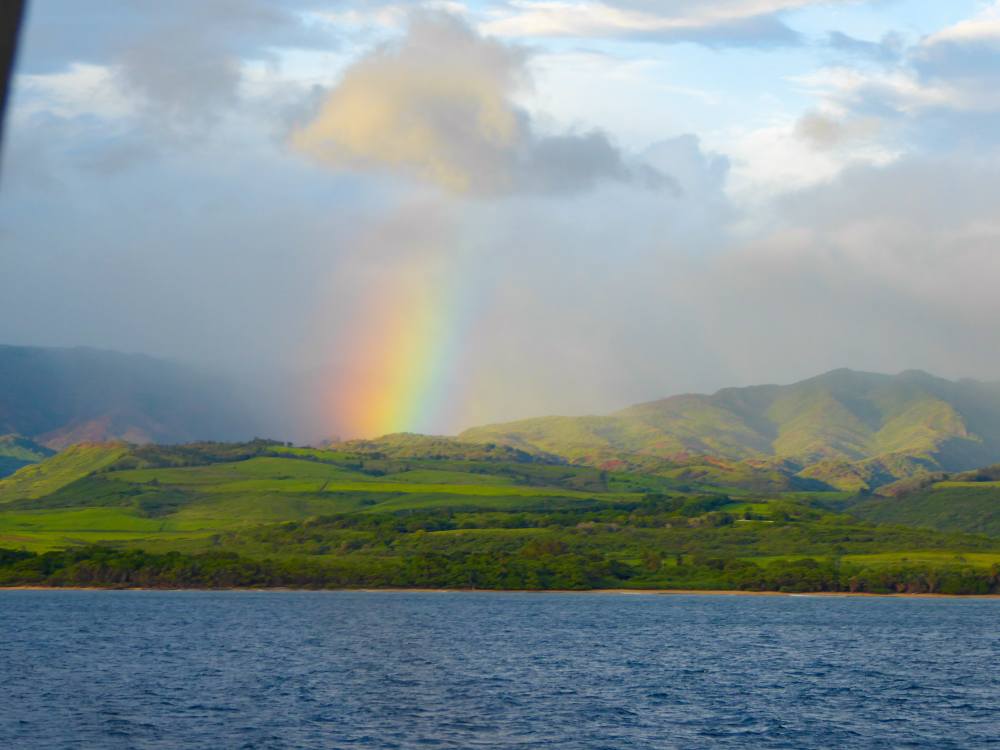 Kauai is the Garden Island of Hawaii. After spending five days on the island, we can confirm that it deserves this name. The scenery is stunning and once you are on the island, it is difficult to leave. Fortunately, there are plenty of family activities on Kauai for you to enjoy. Here, then, is our list of best family activities to enjoy on your trip to Kauai.
Getting Around Kauai
Unless your plan is to stay at an all-inclusive resort on Kauai (and there's nothing wrong with that), it is essential that you have a car to get around the island. We drove all over the island, and while there is plenty to do in each area of the island, you'll need transportation to enjoy all of the island. Generally, the island is divided into North Shore, East, South Shore, and West. There are clusters of towns and activities in each zone. But, to see and do it all, you'll need a vehicle.
Now that you have a car, here are some great family activities on Kauai.
Marvel at the Natural Wonder of Waimea Canyon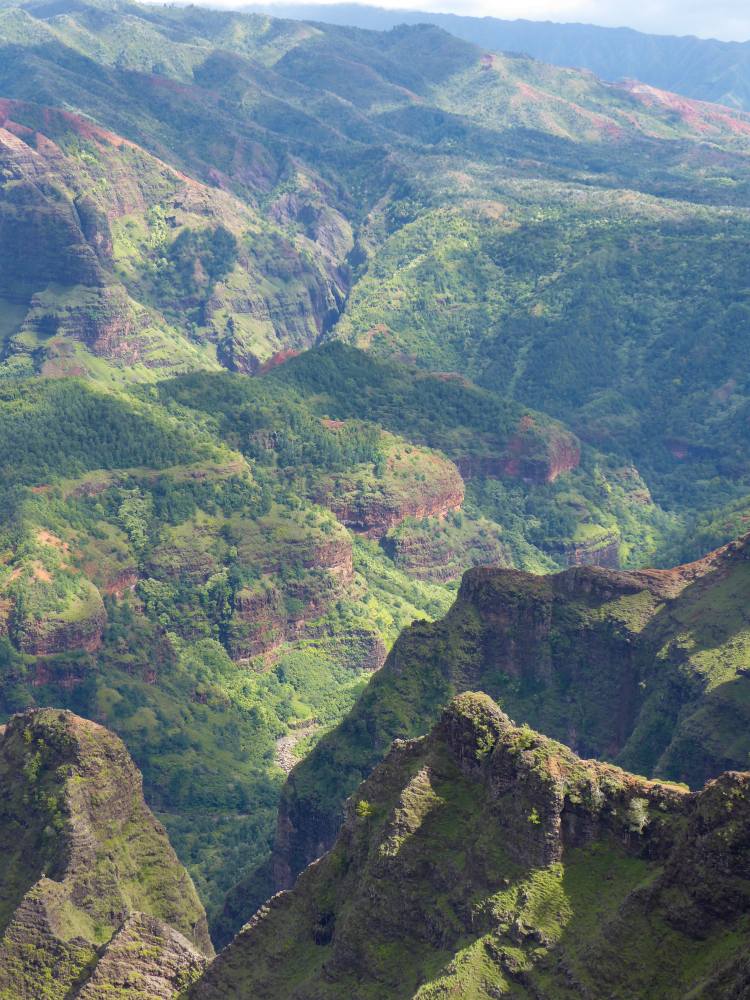 Mark Twain called it the Grand Canyon of the Pacific. We call it simply jaw-dropping gorgeous.
Pictures cannot capture the beauty of the canyon on the west side of the island. The 14-mile canyon is best viewed from a number of lookouts in the state park.
We saw a number of island helicopters tours flying through the canyon while we visited. Yet, we think driving there and taking a leisurely gander at the canyon is best.
Take a Boat Tour of the Nā Pali Coast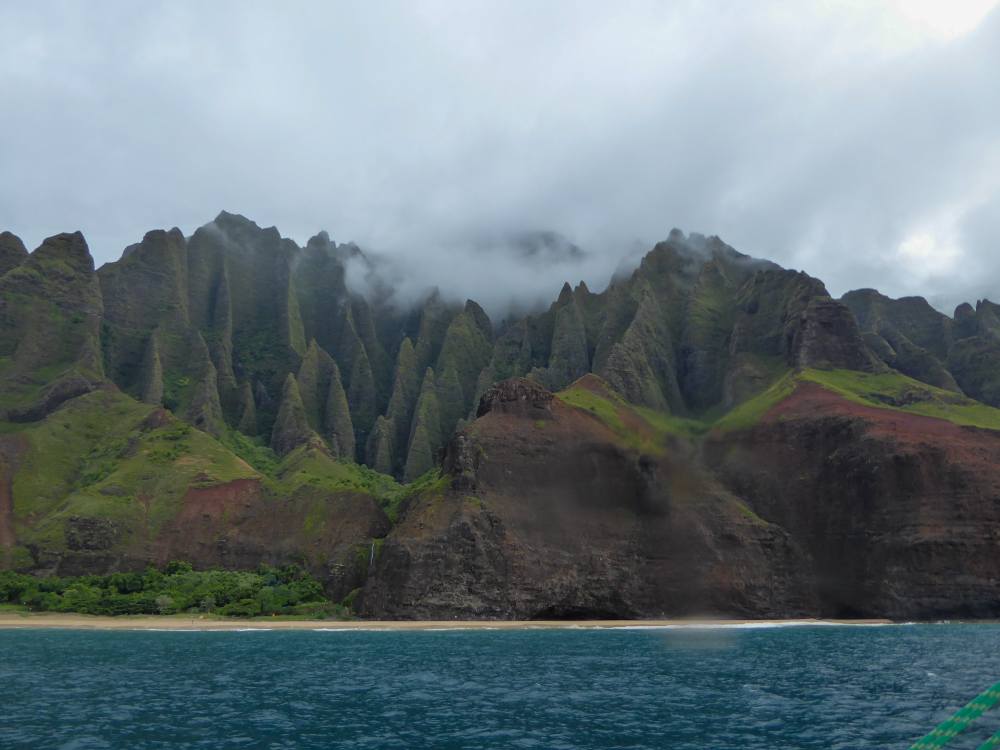 While the scenery on Kauai is beyond belief, arguably the most beautiful sites are along the Nā Pali coast on the northwestern side of the island.
But, there's one small problem. You cannot drive here. There are three ways to see the Nā Pali coast. You can hike 11-miles one way along the Kalalau Trail (not something our family was willing to try). Second, you can take a one-hour helicopter tour of the island. Or, you can take a catamaran tour of the coast, which is what we opted to do. We took a four-hour sunset cruise with Blue Dolphin Charters. We cannot say enough about Blue Dolphin or our sunset cruise tour.
The tour leaves from the dock in Port Allen, and winds its way around the west shore to the Nā Pali coast. We left in rainy weather, but after a fun, leisurely cruise (and lots of prayers), the rain and clouds lifted so we could enjoy the sites along the coastline.
Along the way, we saw the military base Barking Sands, and saw Hawaiian Spinner dolphins during while feeding.
In addition to the scenery, we got first-hand stories and information from our Kauai born captain and tour guide, Captain Chad. He showed us many parts of the Nā Pali coast known only to those native to Kauai. And he steered the catamaran to the rock walls where we touched a waterfall. His knowledge of the history of the coast was impressive and we left the tour knowing it was a experience we would forever remember.
Take a Surfing Lesson with Kauai Surf School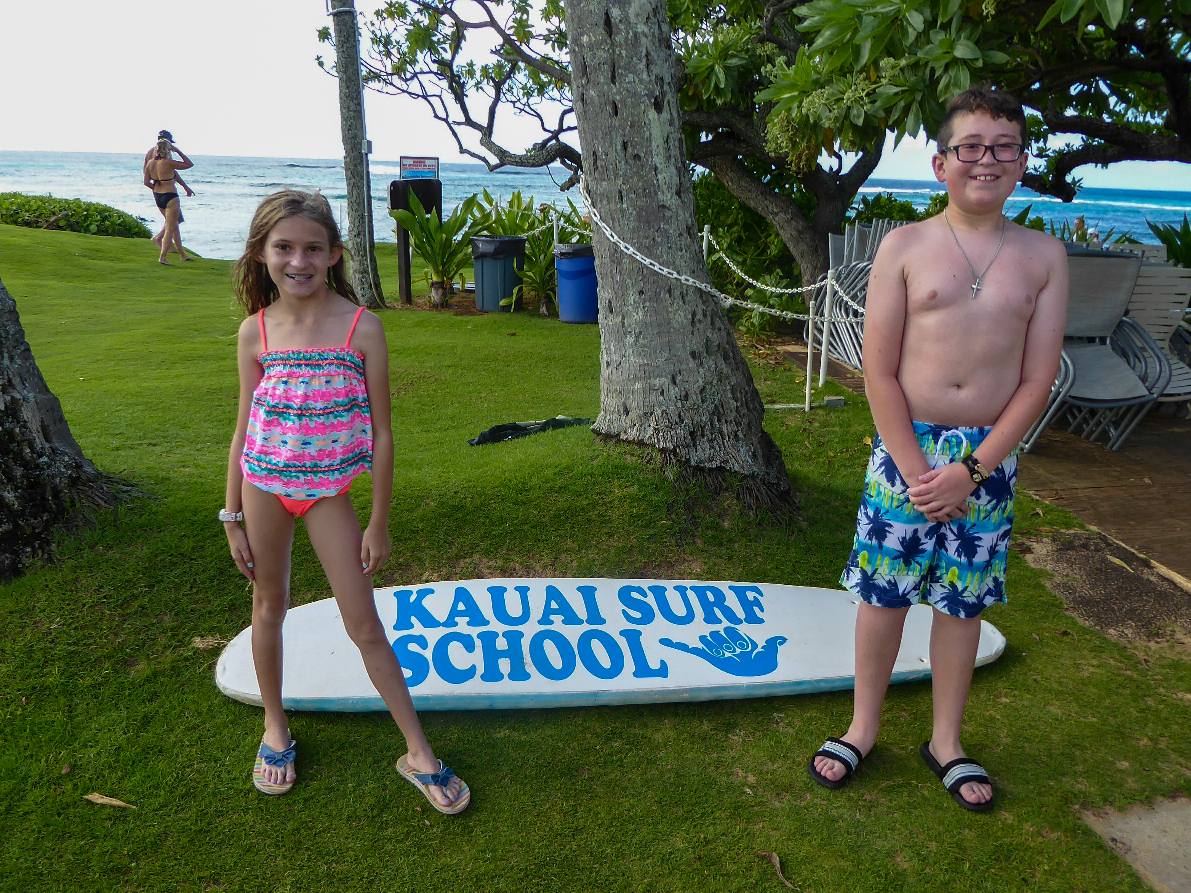 Our daughter wanted to do one thing while in Hawaii – take a surf lesson. We did a lot of research, and chose to book a lesson with Kauai Surf School. Our two kids had a private lesson with Kyle, and they loved it.
Kyle was so encouraging with our kids. They were both able to successfully stand on the boards and ride the waves during the 90-minute lesson. Our son left the lesson claiming that surfing was now his favorite sport.
We enjoyed watching the kids, knowing they were in the hands of a surfing expert who watched over and protected them during their first lesson.
Walk Across a Swinging Bridge in Hanapepe (the Lilo and Stitch Town)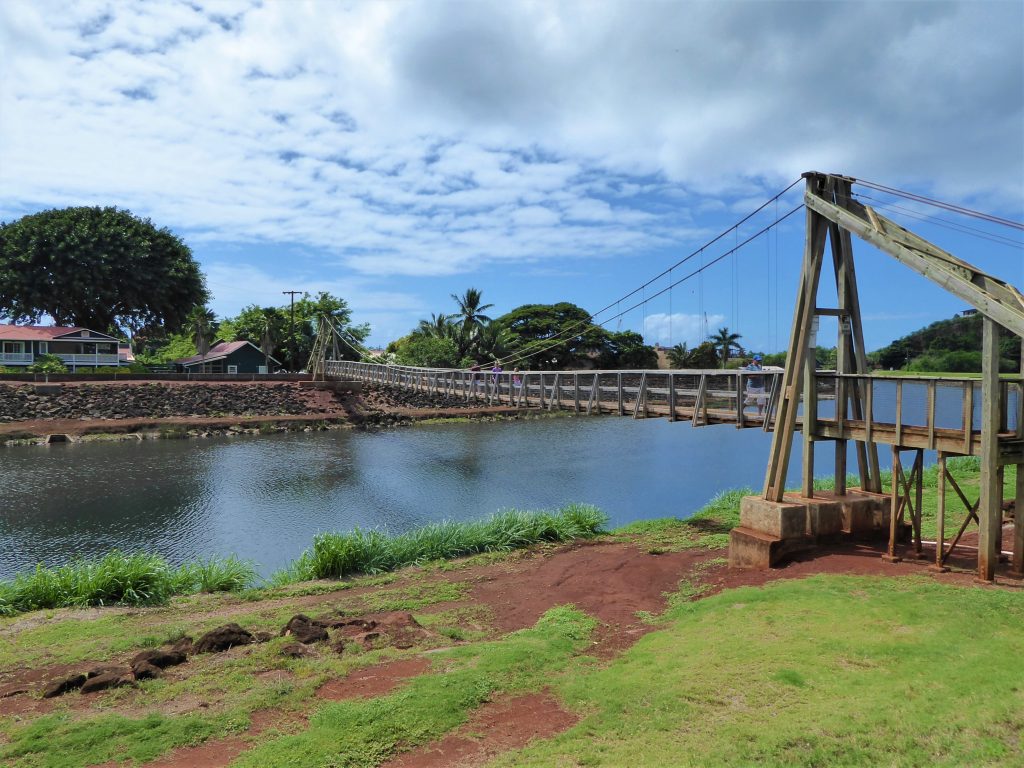 Before our trip to Kauai, I did a lot of research on family friendly locales. We were delighted when we discovered Hanapepe, which Disney animators used as an inspiration for the film Lilo and Stitch.
This small town holds the charm of a typical Hawaiian village. While you won't find the house of Lilo and Stitch, you can see why the Disney animators admired the town.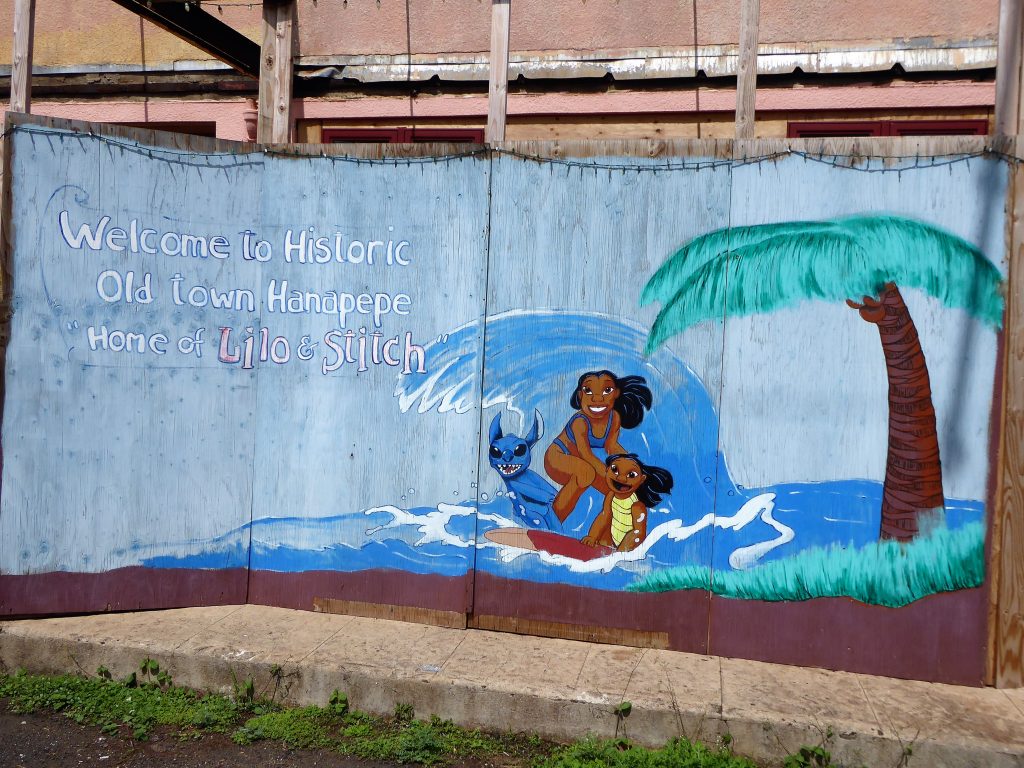 While in Hanapepe, you can take a picture next to the Lilo and Stitch mural (the only real Lilo and Stitch landmark in town).
But, you also need to walk across the nearby swinging bridge.
The swinging bridge was built in 1909 for residents to cross the river. It was damaged by Hurricane Iniki in 1992 and subsequently restored. While crossing the bridge, we could feel the sway and bounce as we walked across.
Take a Tour of Hawaii's Largest Coffee Farm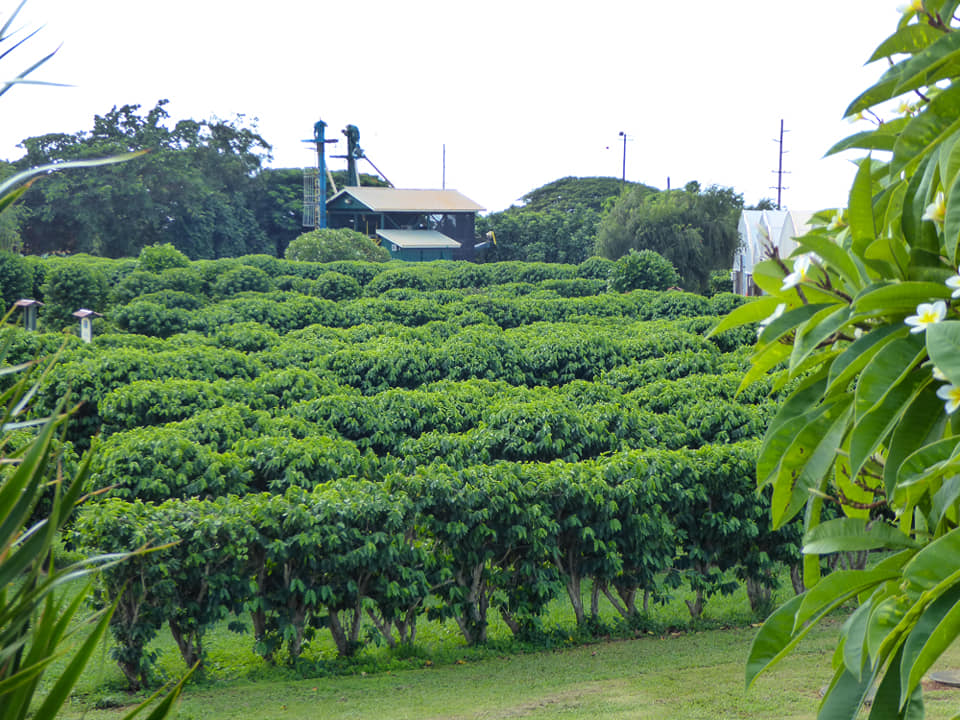 Sure, everyone has heard of Kona Coffee. But, did you know that the largest coffee farm actually is on Kauai? Kauai Coffee Company, located near Port Allen grows and harvests 4 million trees.
The coffee company has a number of guided tours. It also has a free self-guided tour. We chose the self-guided tour because we weren't sure a guided tour of a coffee farm would hold our kids' interest.
On the self-guided tour, we walked around a small portion of the farm and learned about the coffee production while seeing the harvesters and other machines used in coffee production.
Kauai Coffee Company has a gift shop and sampling stations. You can sample around 30 varieties of coffee. We got iced coffee and smoothies from the on-site cafe too.
Watch Turtles Retire for the Evening on Poipu Beach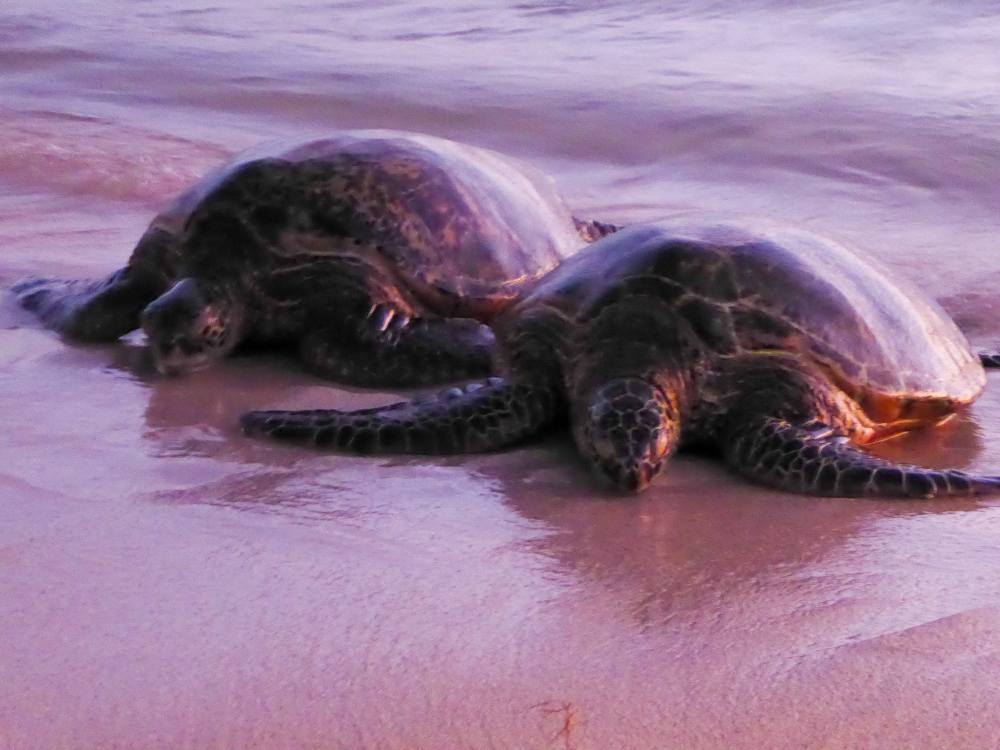 Our family searched for animals all over the island. And we successfully found many of the animals we hoped to see. Thanks to our surfing instructor, Kyle, we learned to be on Poipu Beach at sunset. Here, green sea turtles daily make their way to the beach to sleep in the sand.
When we went, one turtle was already on the beach. We watched as six more made their way to their nightly slumber spot. A woman told me she saw close to 30 the night before. I'm sure had we stayed longer, we would have seen more.
Simply one of our favorite family activities on Kauai. Although, we were disappointed with the humans on the beach who would not respect the turtles. Really, there's no need to kneel down right behind a turtle for your next Instagram picture.
Try to Find a Wild Chicken and Other Animals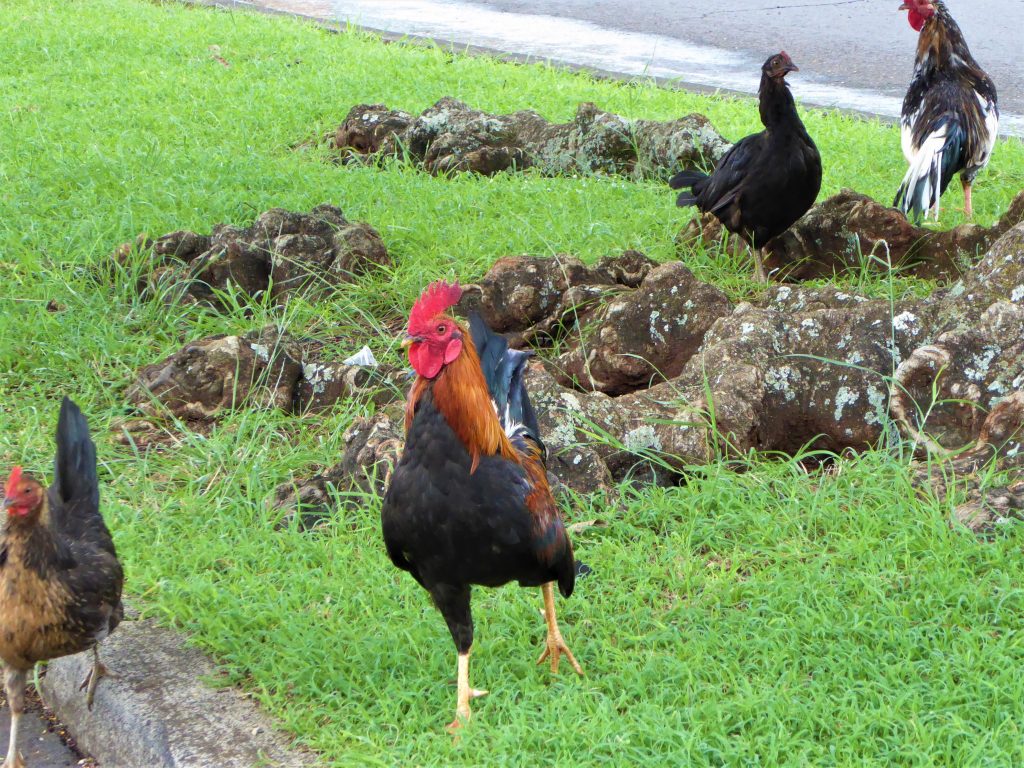 Watch carefully, and you might spot a wild chicken or rooster on Kauai. Just kidding. The avian runs wild on the island and you'll see them everywhere. They are a signature feature of Kauai. Although they may be found on other islands (we saw a few on Oahu), they are abundant on Kauai because their natural enemy (the mongoose) isn't present.
In addition to chickens  and turtles, we saw a couple of monk seals napping on Lawai Beach. We didn't see wild boars on the island, but they are there. Geckos loved hanging out at Shave Ice stands, seeking a taste of sugar water. Birds of all ilk, including the Cattle Egret and Rose Winged Parakeet, left us with smiles on our faces. And of course, you can see a plethora of fish while snorkeling.
Check Out Some of the Island's Famous Waterfalls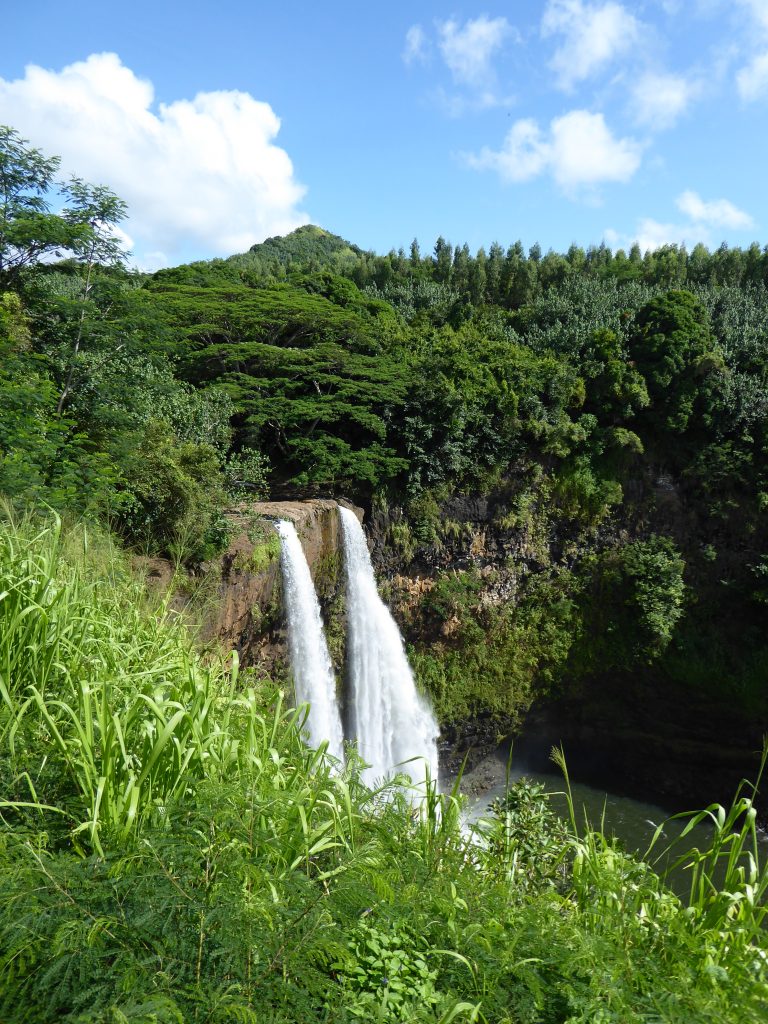 You may never have heard of the Wailua Waterfall. But, I bet you've seen it on TV. The waterfall is legendary for being featured on "Fantasy Island." The best part of Wailua Falls? There is no lengthy hike because you can drive directly to the falls.
Similarly, the 'Opaeka'a Falls is a simple drive up and park to see the falls. The view of the 'Opaeka'a Falls is not as close as the one at Wailua Falls, but it's still worth a stop.
In Waimea Canyon, we also spotted some waterfalls from the look out points.
And during our boat tour of the Nā Pali Coast, we actually touched a waterfall.
This is not an exhaustive list of the islands falls. So explore and find some more great waterfalls.
Blow Your Stack at the Spouting Horn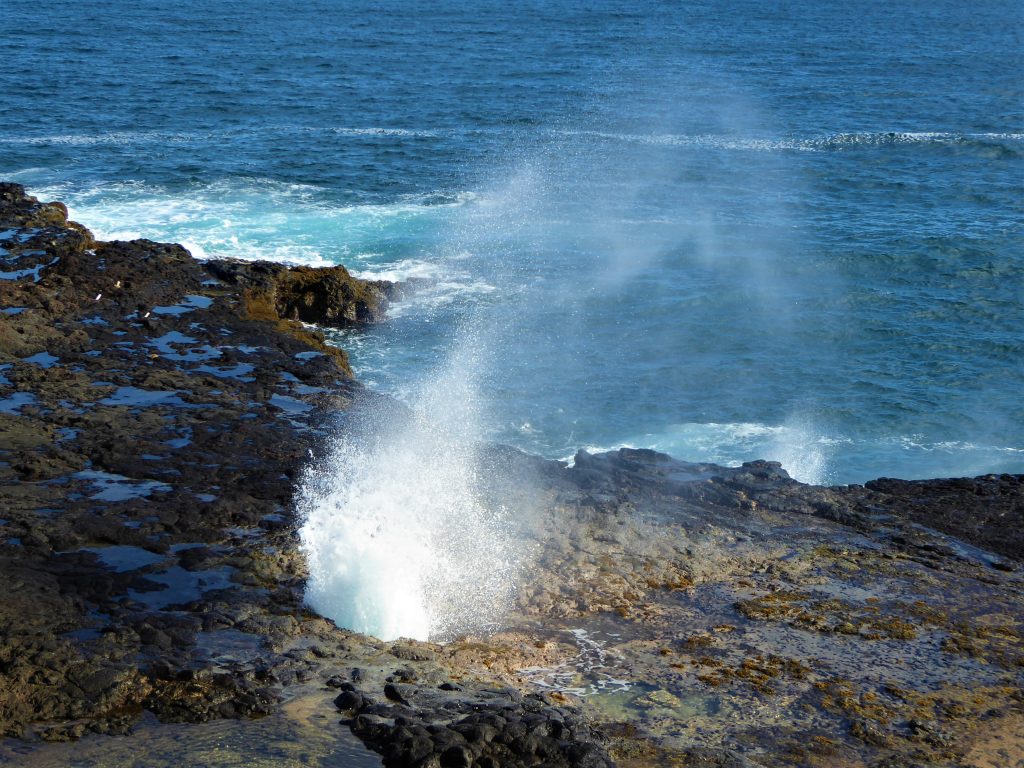 Blow holes fascinate me. So, I was excited to discover that the Spouting Horn, one of Kauai's most famous landmarks, was minutes away from our resort.
We visited Spouting Horn a couple of times. Our first visit was fantastic with the blow hole bursting jets of water, foam and mist high into the air. The second visit wasn't as spectacular. It's best to visit late in the afternoon, during high tide, or on days when the waves swell. And once you've seen Spouting Horn, you can shop at the vendor stalls set up next to the parking lot. We did, and the kids collected a lot of souvenirs.
Find One of the Island's Payphones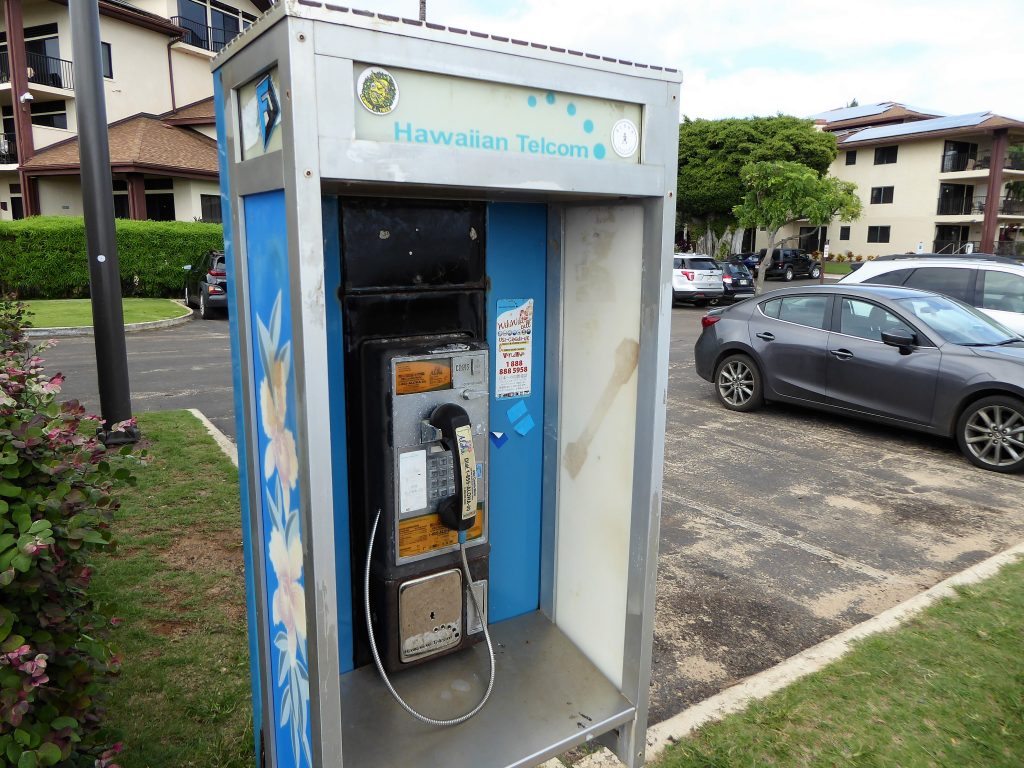 Payphones are a distant memory on the mainland, but we found several on Kauai. When we spotted the first one, it seemed so novel that I snapped a picture of the payphone. Little did I know that we'd find several others on the island.
Make it a game and see how many you can find.
Stroll Through the Birthplace of Prince Kuhio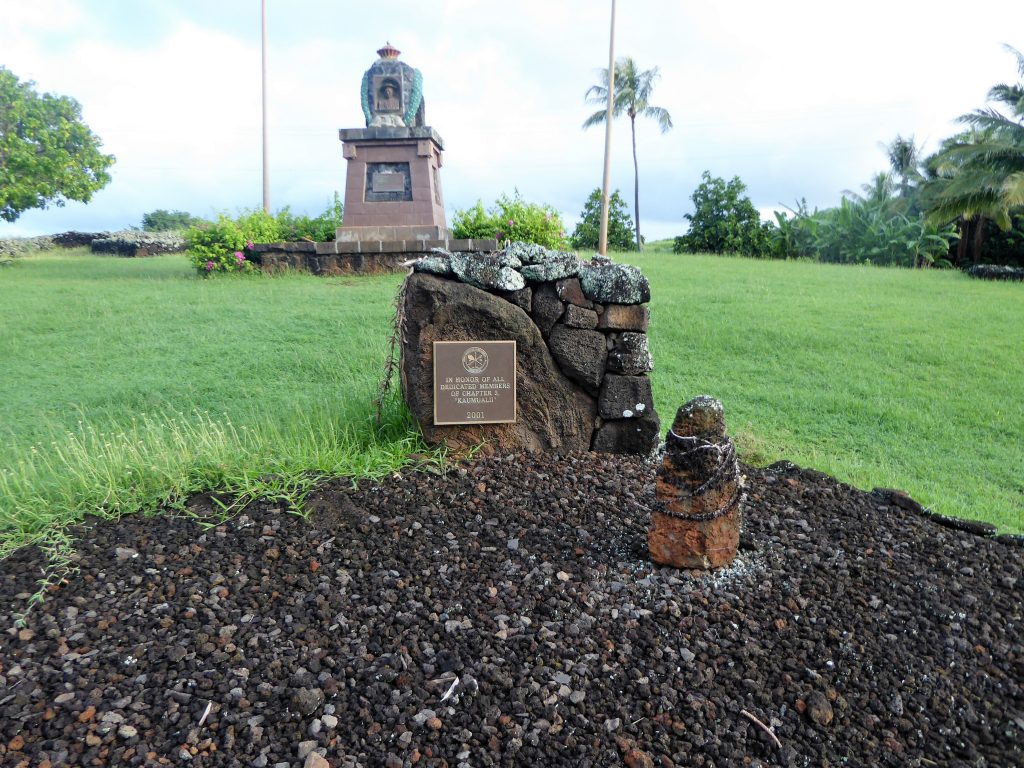 The south shore is the birthplace of Prince Kuhio. This park pays homage to him. Be aware that with many historical spots on the island, you must be respectful of the land. That means that you don't climb the walls or disturb the rock formations or fruit offerings left in the park.
The park has a picnic pavilion where you can share a family meal. And there are plenty of beaches nearby.
Prince Kuhio Park does not warrant a long stay, but it is a nice stop and place to visit if you are headed to the Spouting Horn or South Shore beaches.
Indulge in Shave Ice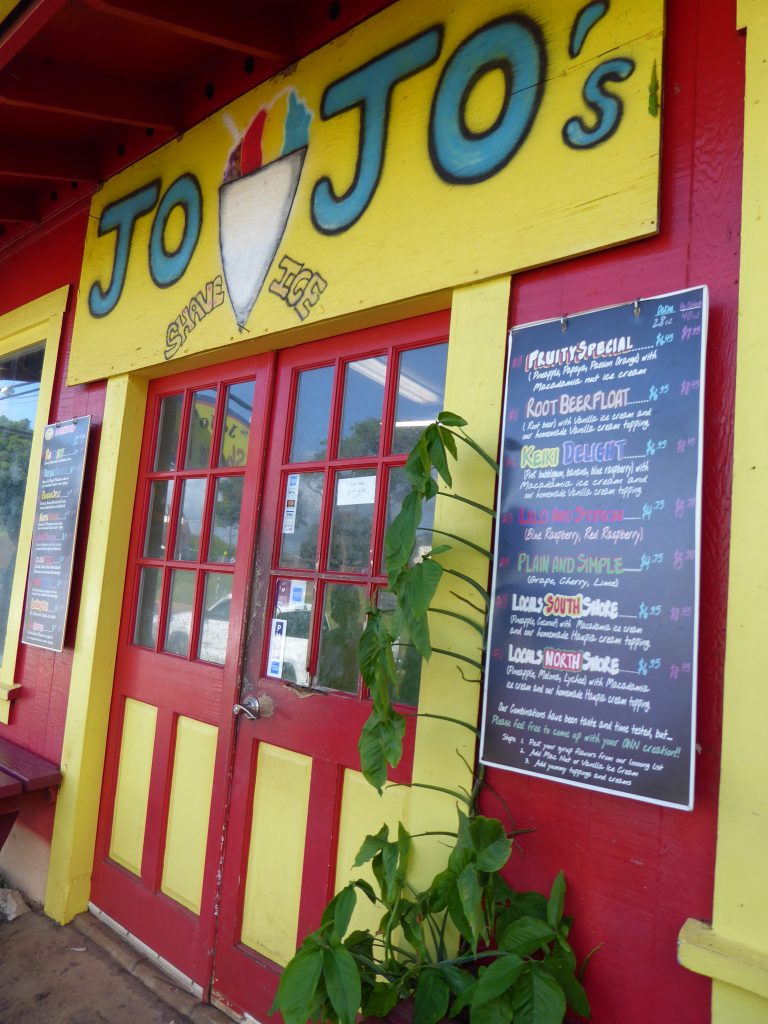 Shave ice is a Hawaiian delicacy. No. It's not a snow cone. Shave ice uses a different technique to create the iced wonder.
We enjoyed JoJo's Shave Ice. They had ample selection, great flavors (including a macadamia nut ice cream that's to die for) and heaping helping servings. We loved JoJo's so much that we went to two of their Kauai Island locations (in Waimea and in Hanalei). And we loved discovering that JoJo's donates all of their profits to to fund free camps for Hawaiian kids.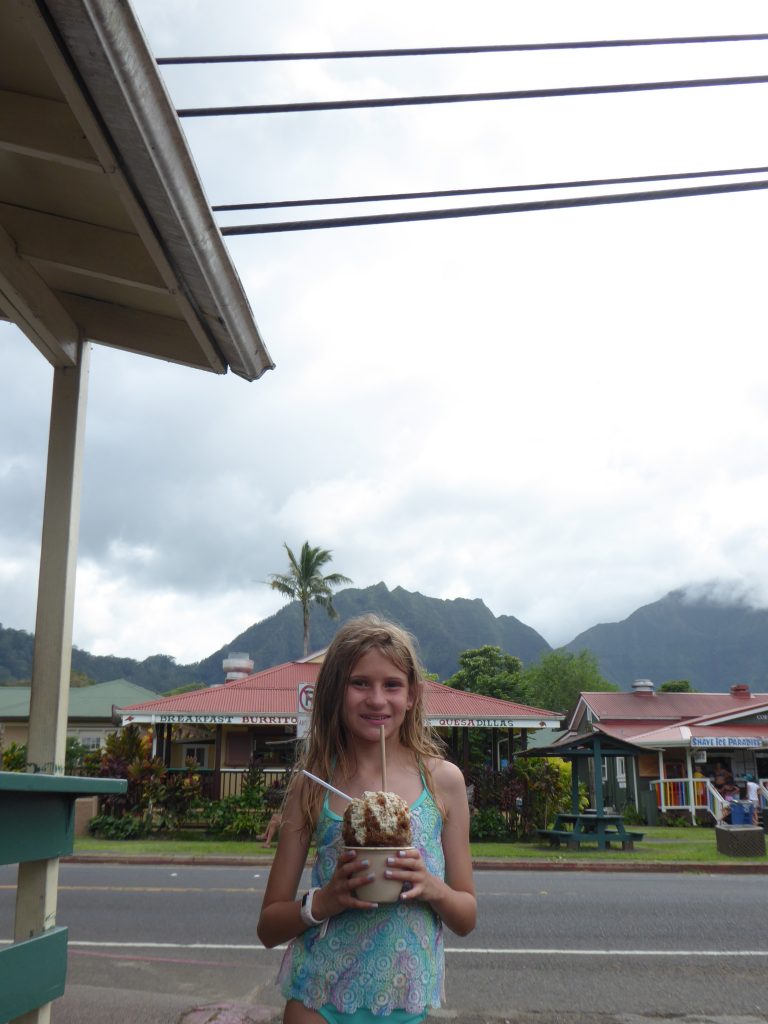 Our only problem with JoJo's was deciding which of their 16 creations to try.
Flock to the Kilauea Lighthouse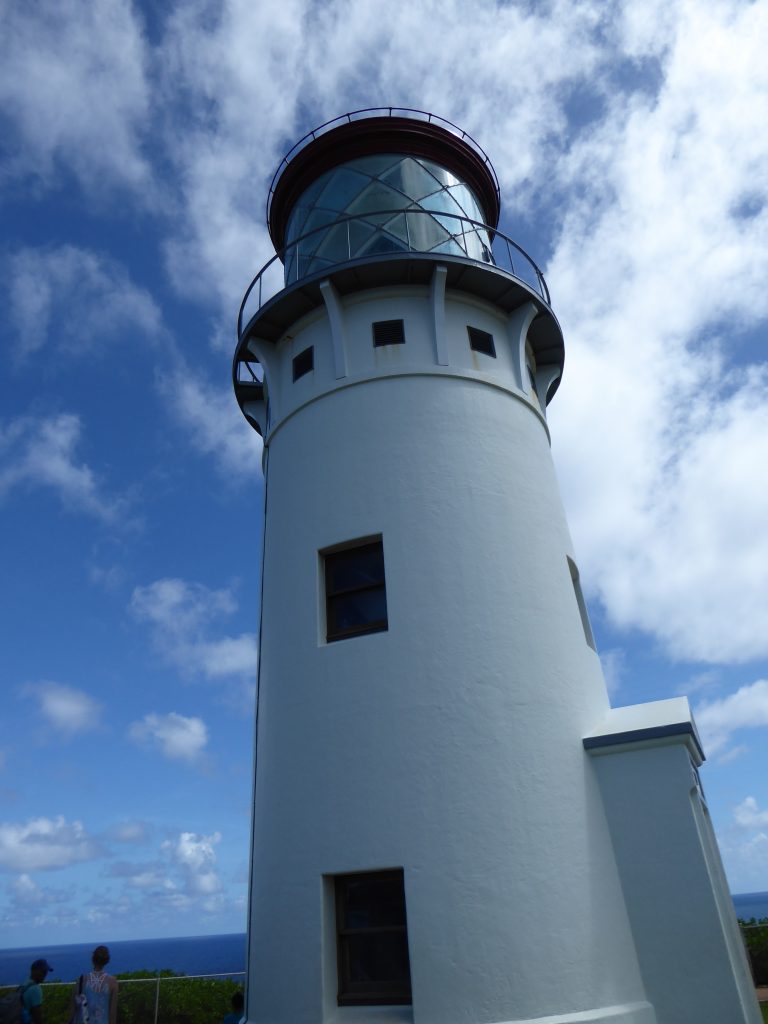 The lighthouse on the island's north shore is home to a national wildlife preserve. Here, on the 180-foot-tall rocky cliffs, hundreds of Red Footed Boobies and other birds nest. The 52-foot tall lighthouse was built in 1913. If you plan well, you can catch one of the two weekly tours of the lighthouse.
Since the lighthouse is part of a national wildlife preserve, adults pay admission to get on the grounds (kids are free). But, there is a lot to do on the grounds, especially for those who enjoy bird-watching.
Our daughter got a Junior Ranger workbook, and earned a patch after completion.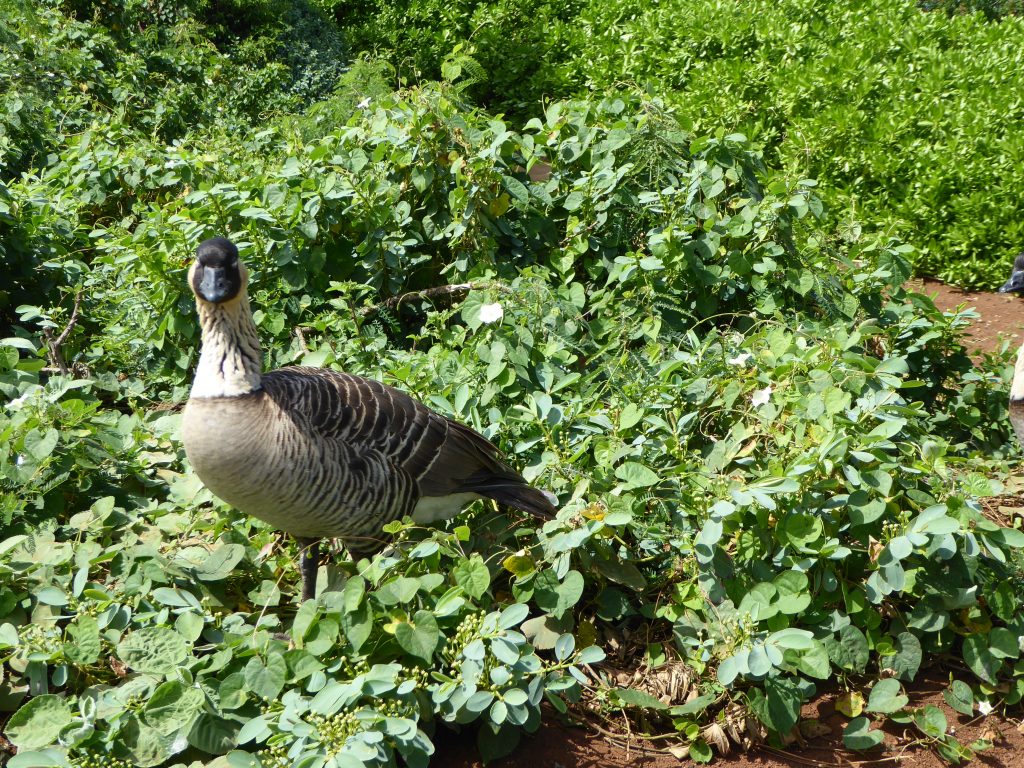 We also enjoyed seeing a number of Nene, the Hawaiian state bird which was once on the brink of extinction.
Find a Great Beach
There are lots of family activities on Kauai. There may be none more simple and enjoyable than hitting the beach. Kauai has no shortage of great beaches. We explored many of the island's beaches, and found a lot that were family friendly. Of course, you should always be prepared for any conditions at the beach. Even the most docile waters can be dangerous. With that warning, here were some of our favorite beaches.
Salt Pond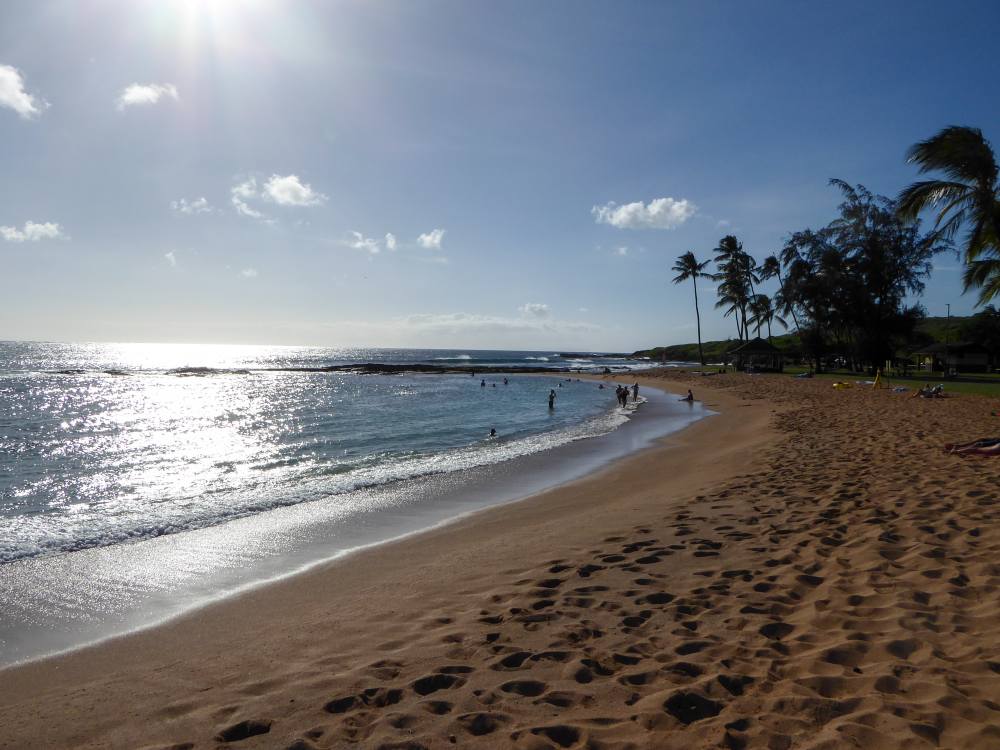 This beach outside of Port Allen was one of our favorites. The waves were gentle (there is a natural breaker wall). It was a long beach and not too busy when we visited. While the kids body surfed, the adults sat in the sand and watched crabs scurry around the beach.
Hanalei Bay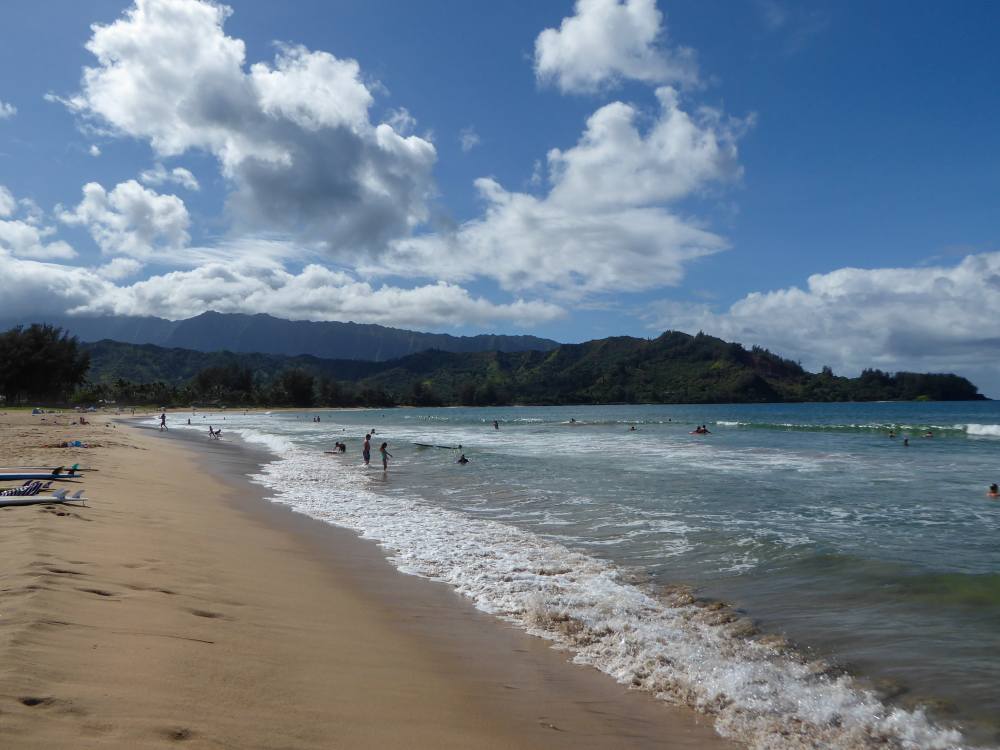 If this beach looks familiar, it's probably because you saw the movie South Pacific. Hanalei Bay served as Bali Hai in the movie. This is a stunning north shore beach. Stand awestruck at the foot of the Nā Pali mountains. Watch the surfers and boogie boarders tackle the waves.
The kids enjoyed the big waves here. Even with big waves, the bay seemed pretty safe and we all enjoyed the beach, water, and views.
The nearby resort town of Hanalei makes a great stop for lunch, shopping, and shave ice.
Anini Beach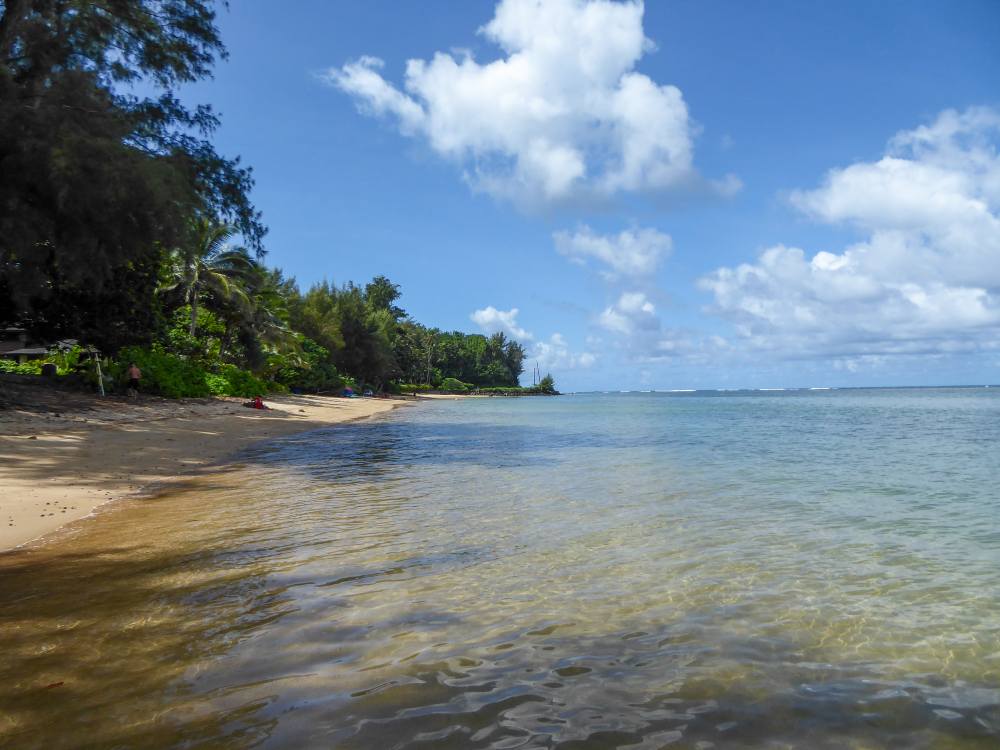 This was my favorite beach on Kauai. The north shore beach is gentle, with a lot of shady spots. And the beach is very long, winding around several turns and curves on the road.
There were a few people on the beach, but it felt like it was our personal slice of heaven. The tranquil waters are crystal clear. I watched fish swim around my feet. There is a gradual increase in water depth, so the kids were able to walk out a long way into the water before needing to swim.
If we did not have other stops to make during our drive to the North Shore, I would have stayed here all day.
Poipu Beach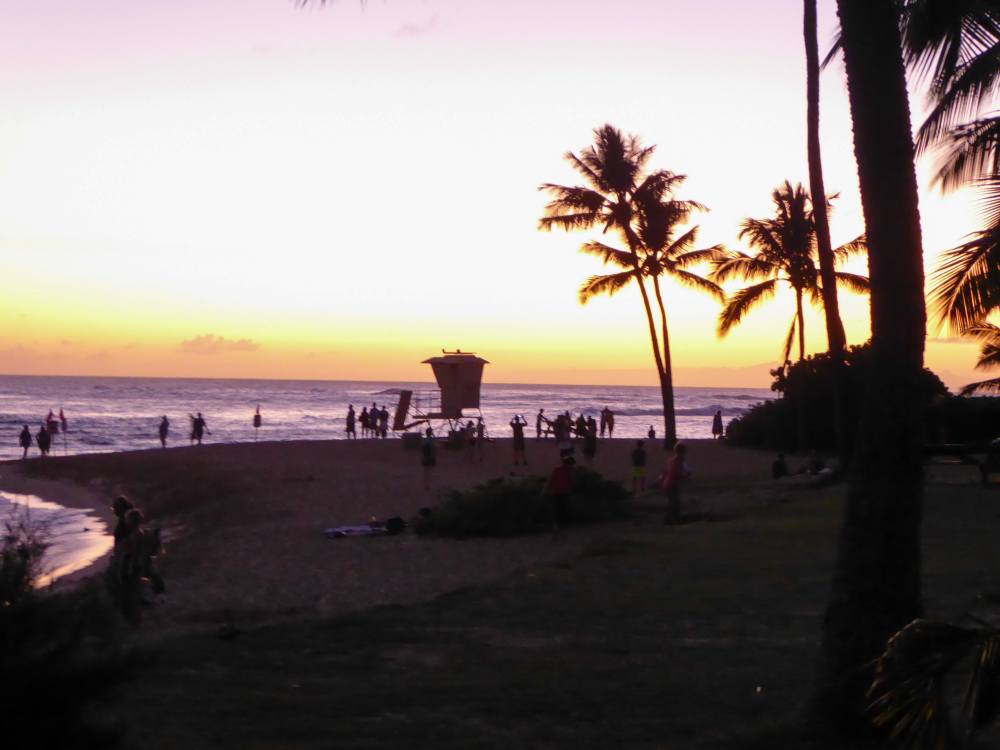 Poipu has a natural breaker wall and plenty of shoreline. Just off of the beach is a playground for the younger kids.
We arrived at Poipu Beach at sunset to see the turtles beach themselves for the evening. While watching the turtles, we saw many families in the water snorkeling. They seemed to find a lot of sea life.
What could be better than a spectacular beach, sea turtles, and a striking sunset? I cannot think of anything better.
Shipwreck Beach
Shipwreck Beach is near Poipu on the South Shore. This is one of the more dangerous beaches on Kauai, so be very aware during high tides. The beach is named for a shipwrecked boat that once lay in the sand. The boat has been moved. The cliffs jutting into the water provide a spectacular background.
Lawai Beach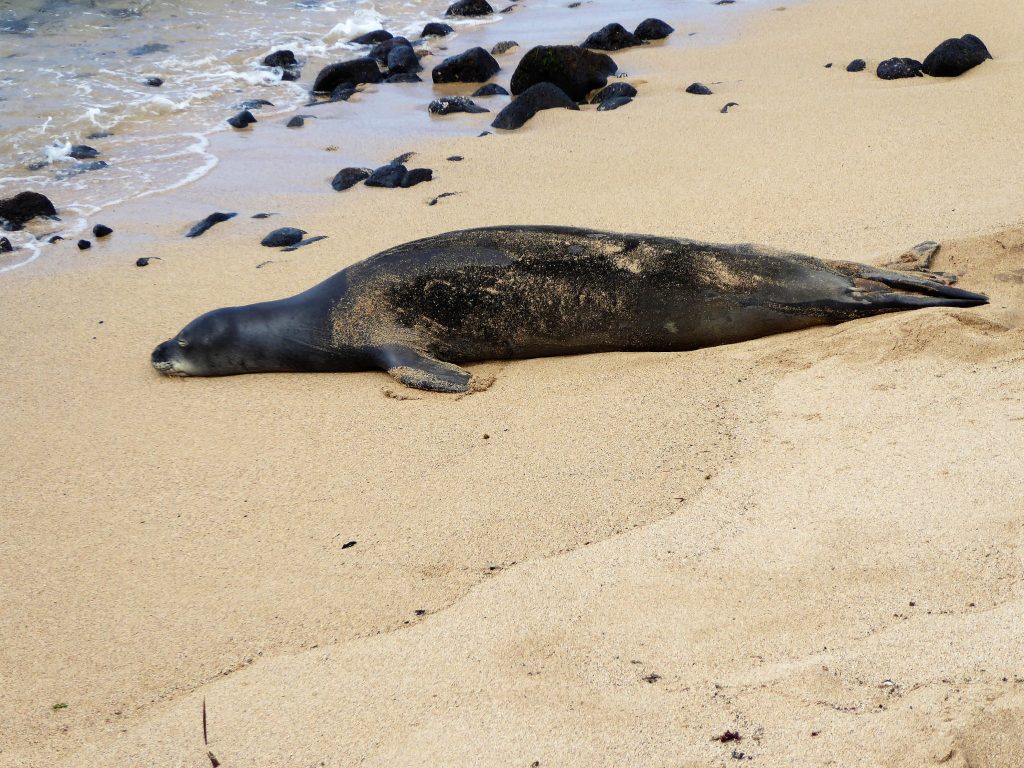 Lawai Beach was a short walk from our resort. It's a small beach, and a bit rocky. But, I recommend the beach for two reasons. Each morning we saw surfers riding the waves here. Second, this was the only beach where we saw monk seals. We saw the seals on two separate days. I'm betting they rest here frequently.
Kiahuna Beach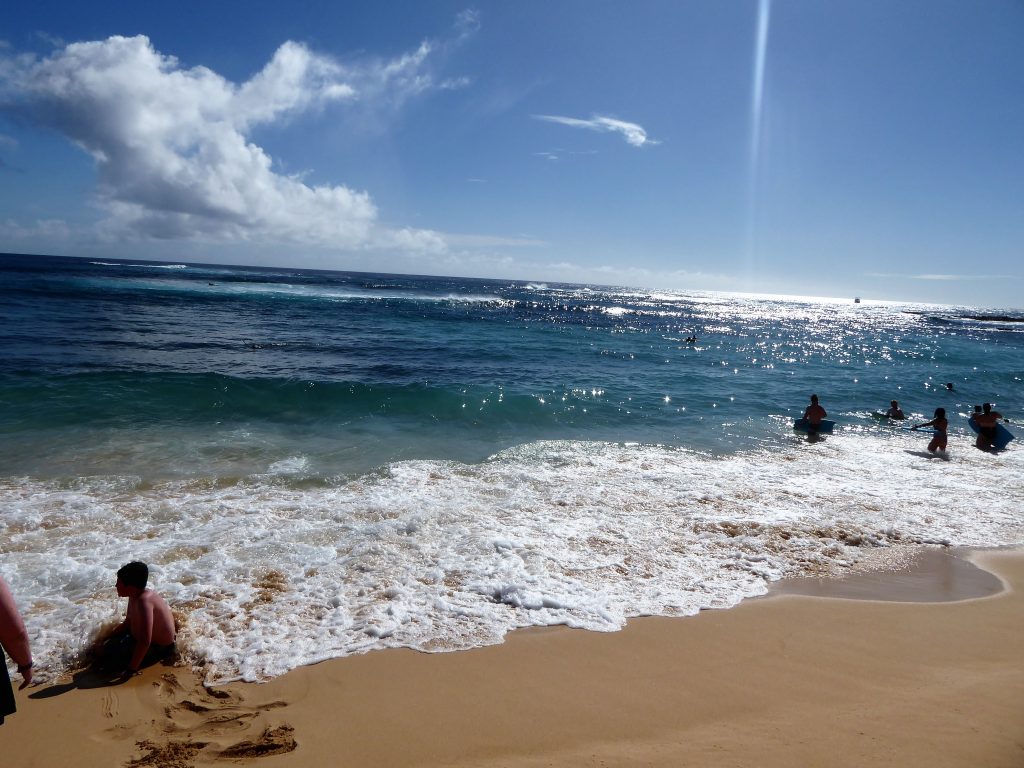 This was the beach where our kids surfed. It's a long beach with some great waves. There is a small breaker wall to weaken some of the waves. However, there also are vast stretches of shoreline with great surfing waves. The views are first rate too.
Drive Through the Mysterious Tree Tunnel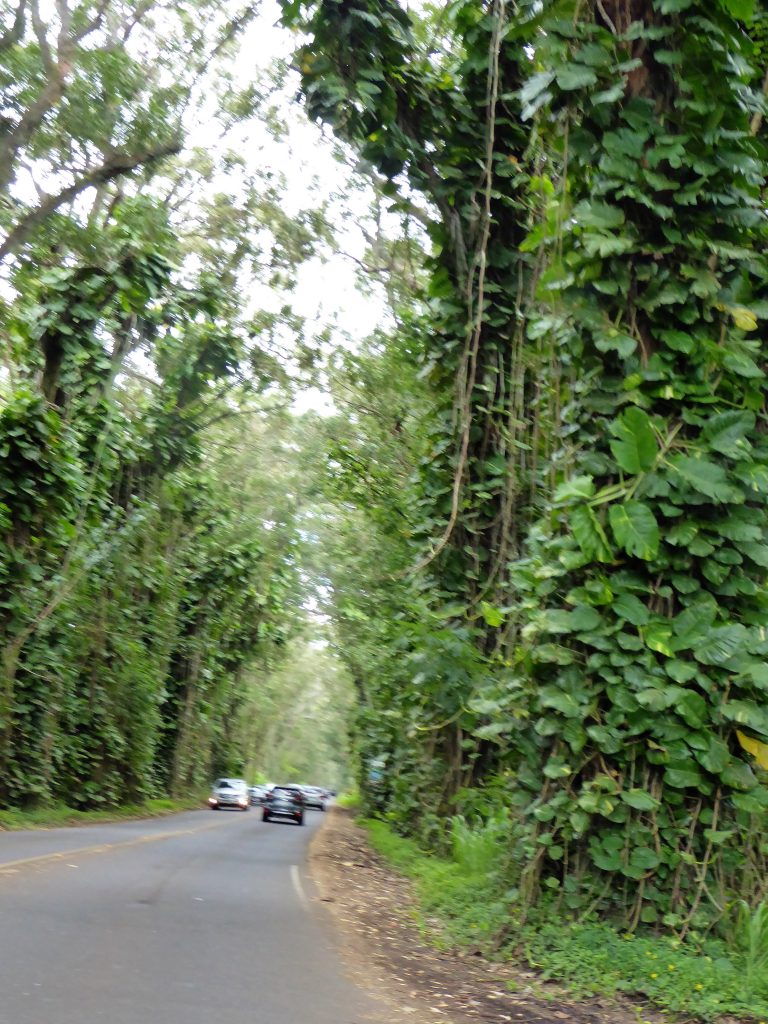 The tree tunnel is one of Kauai's most recognizable spots. As you turn off of Highway 50 to Highway 520, you pass through the tunnel, which has hundreds of Eucalyptus trees lining the road. No one is sure how the trees got here, but legend claims that the fairy tale gnome-like creatures, Menehune, planted the trees overnight.
Whatever the true story about the tree tunnel, our family enjoyed every opportunity to drive through the featured site.
Relax at Kauai's Kukuiolono Park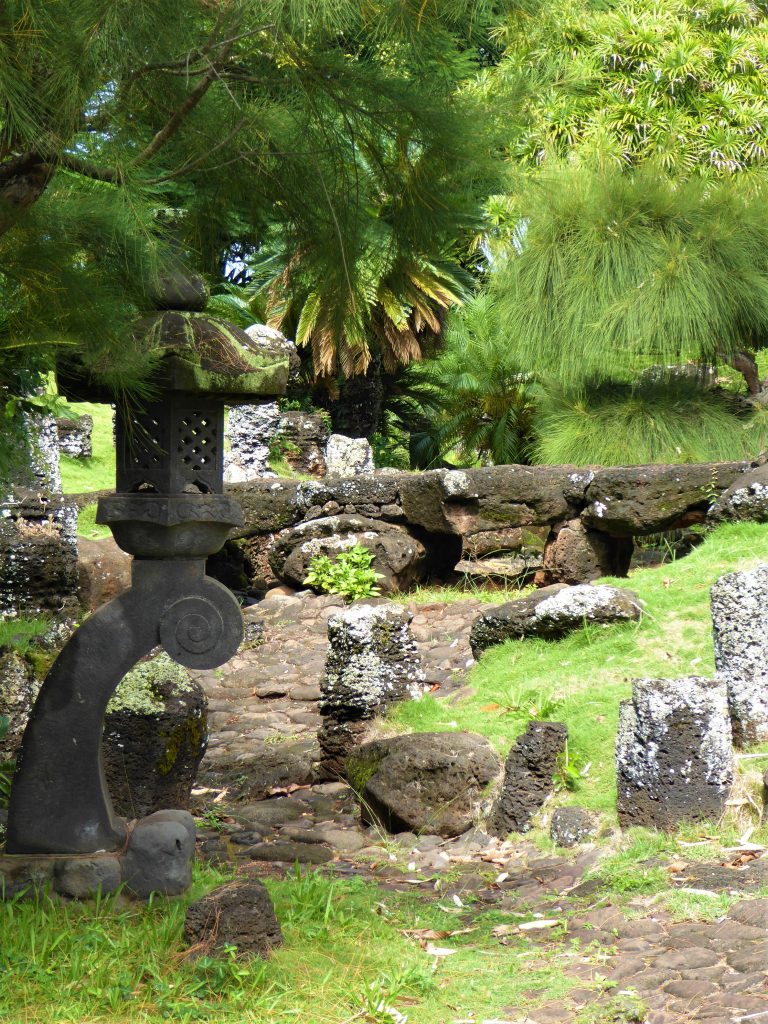 This free park is next door to Kukuiolono Golf Course. You can golf nine holes for $10. After you are finished golfing, you can head over the the free Kukuiolono Park.
The park, on top of a hillside, provides stunning views of the Pacific Ocean. It also contains a rock garden. Stroll through the paths to see rocks critically important in Hawaii's history which have been relocated to Kukuiolono. Walk under the gazebo, admire the Asian inspired gardens, or chase a wild chicken while at this pleasant park.
Make a Rolling Stop at Russian Fort Elizabeth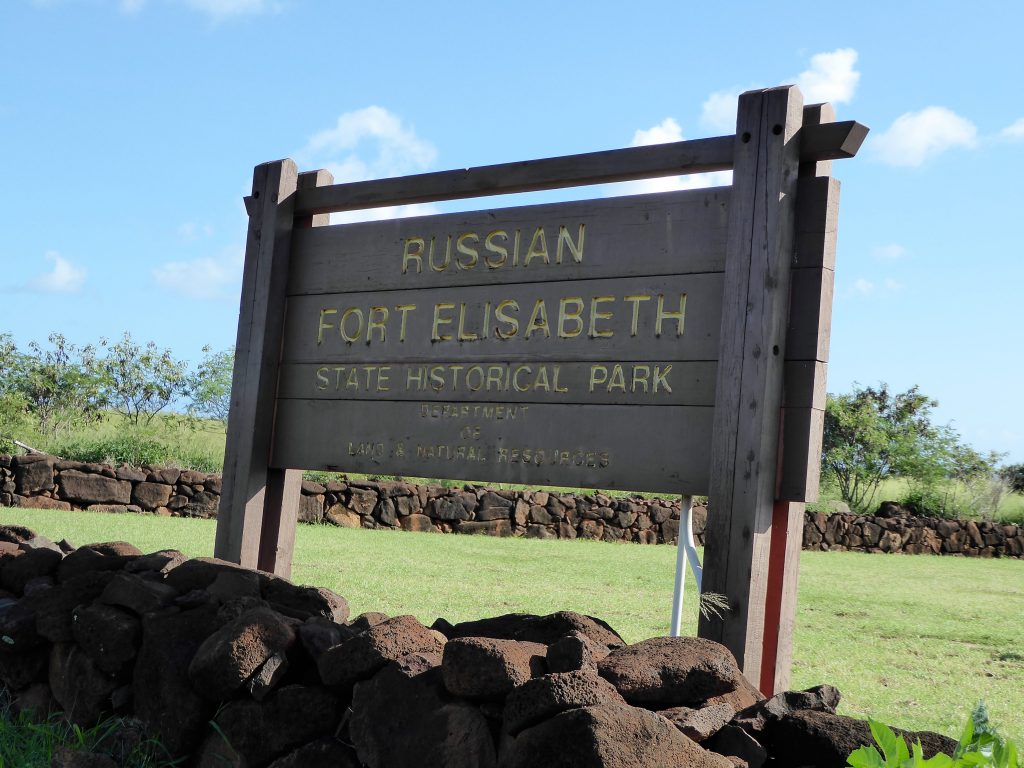 While researching family activities in Kauai, I ran across several articles listing Russian Fort Elizabeth. I was so thrilled to add the fort to our agenda. The state park is just outside of Waimea.
After the awe-inspriring views of Waimea Canyon and eating our fill of shave ice at JoJo's, I was ready for our short drive to Russian Fort Elizabeth.
Unfortunately, the site was a disappointment. I was expecting a completed fort. The fort, built in the early 1800s is in shambles today. Some rocks lie atop each other, showing where the fort once stood. A flag in the middle of the dilapidated rocks is the only thing to see here.
My family laughed at me for my initial enthusiasm about the Russian Fort. I admit it was a disappointment.
Sure, you can stop here on your way to other locales. But, if you are looking for something spectacular where you can spend some time you'll want to skip this one.
Eat at a Local Restaurant
There is no shortage of restaurants on Kauai. Dining can be pricey compared to the mainland, but with diligence, you can find less expensive — and just as scrumptious — options.
One of our favorite finds was Da Crack, a hole-in-the-wall fresh Mex restaurant in Koloa. Place your order at the window and plan to eat elsewhere. There's not a lot of seating. Da Crack has amazing food in large portions for a very reasonable price. It was busy whenever we drove by, and after eating here, we know why. It's one of the best and tastiest deals on the island.
We also had some great Hawaiian-style grilled cheese (with pork) at Pink's Creamery in Hanalei. Bonus: You can get some ice cream after your grilled cheese lunch.
And don't overlook the island's food trucks. We ate amazing (and reasonably priced) brick-oven cooked pizza from Carabella's Pizza. The pizza was made to order and was loved by even our daughter, a most picky eater.
Catch a Sunrise or Sunset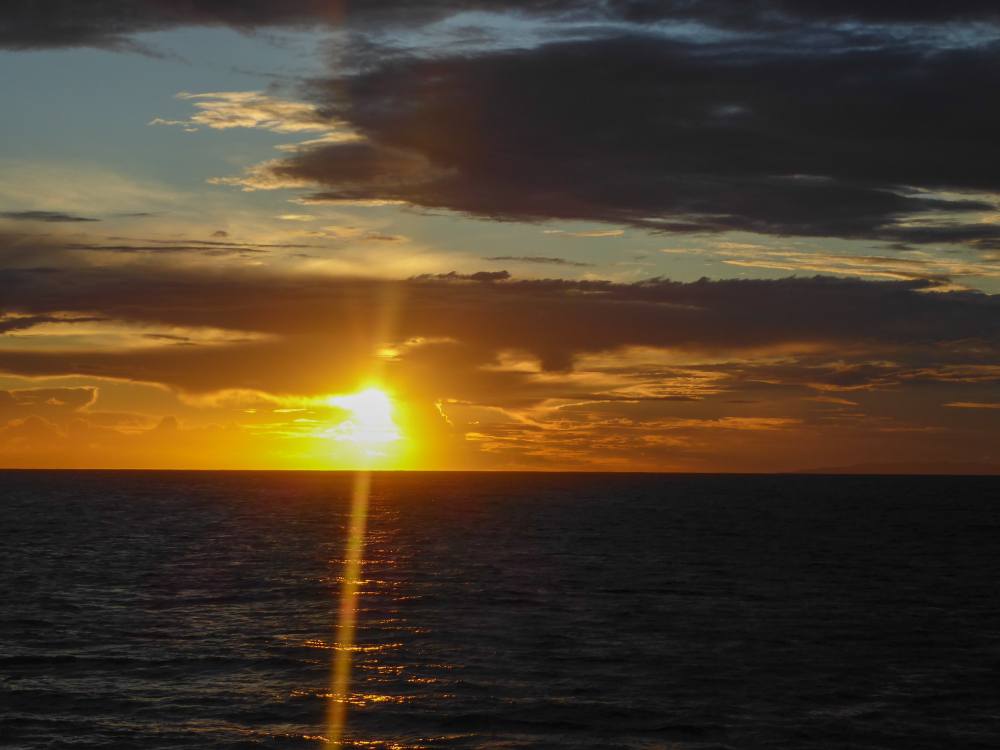 Hawaii is on it's own time zone, and hours behind most of mainland US. That meant we were always up early, and ready to check out the unparalleled sunrises Kauai offered up.
Sunsets on the island were just as spectacular, if not more so. Whether we watched a sunset from a beach, a tide pool, or a catamaran, we were always awed by the beauty of nature and the beauty of Kauai. Seeking out a sunrise or sunset is undoubtedly one of the best family activities on Kauai.
There you have it — our list of family activities on Kauai. What did we miss? Please let us know so that we include your suggestions during our next visit to Kauai.
---
You Might Also Enjoy:
Worried about the flight to Kauai? Check out our tips for flying with children.
Kauai is a great place to teach your kids map reading skills. It's a island, so they can't get too lost.
Staying in a time share on the Island? See if a time share will work for your family.
---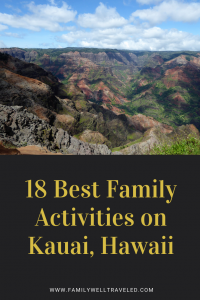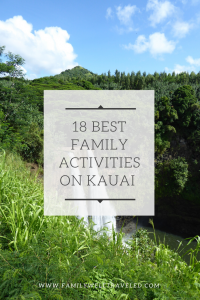 All photos and content are by Family Well Traveled and use of photos or content without permission will result in legal action.
---
---