Feelin' Groovy at the Retro Inn in Cortez, Colorado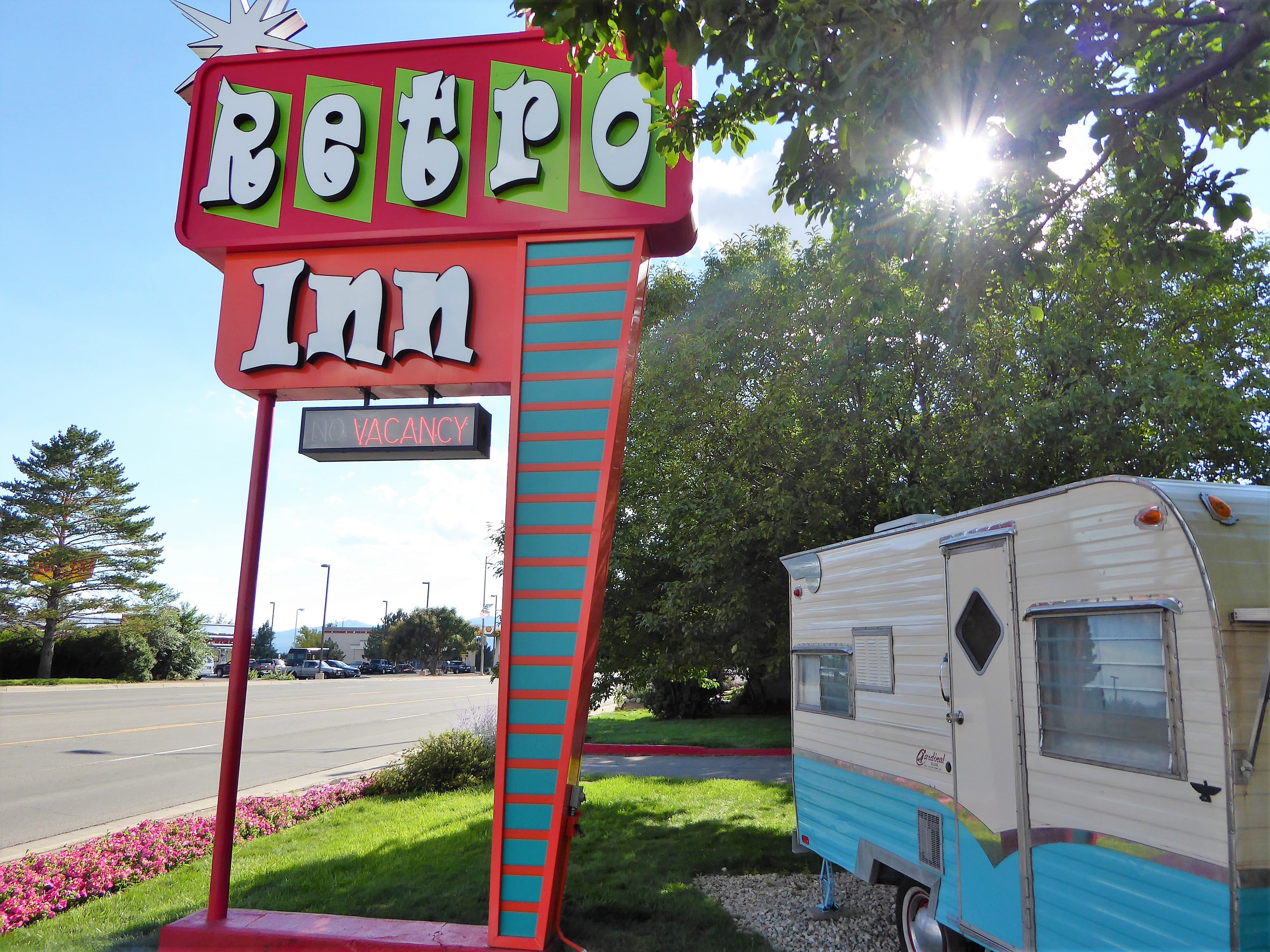 Our family reunion took us to the Four Corners region. There we met my in-laws and my sister-in-law and her family. This was the first trip to the Southwestern U.S. for many in the family. We left the accommodations plans to my sister-in-law who decided on the Retro Inn in Cortez, Colorado, a short drive to Mesa Verde National Park.
I must admit that at first I was reluctant to stay at the Retro Inn. It's kitschy. I'm not really into kitsch. I didn't think I would enjoy the homage to the 50s, 60s, and 70s. As I researched the motel online, I was more certain that I would not enjoy the stay, but we booked the rooms anyway.
I was pleasantly surprised. The Retro Inn provided an enjoyable ambiance hearkening to a time gone by. It's a time that was simpler in many ways. It also was a time when people shared in community, and we certainly got that feel during our stay. From the benches lined outside the rooms to the commons area complete with barbecue grills and lawn chess, I felt a sense of community.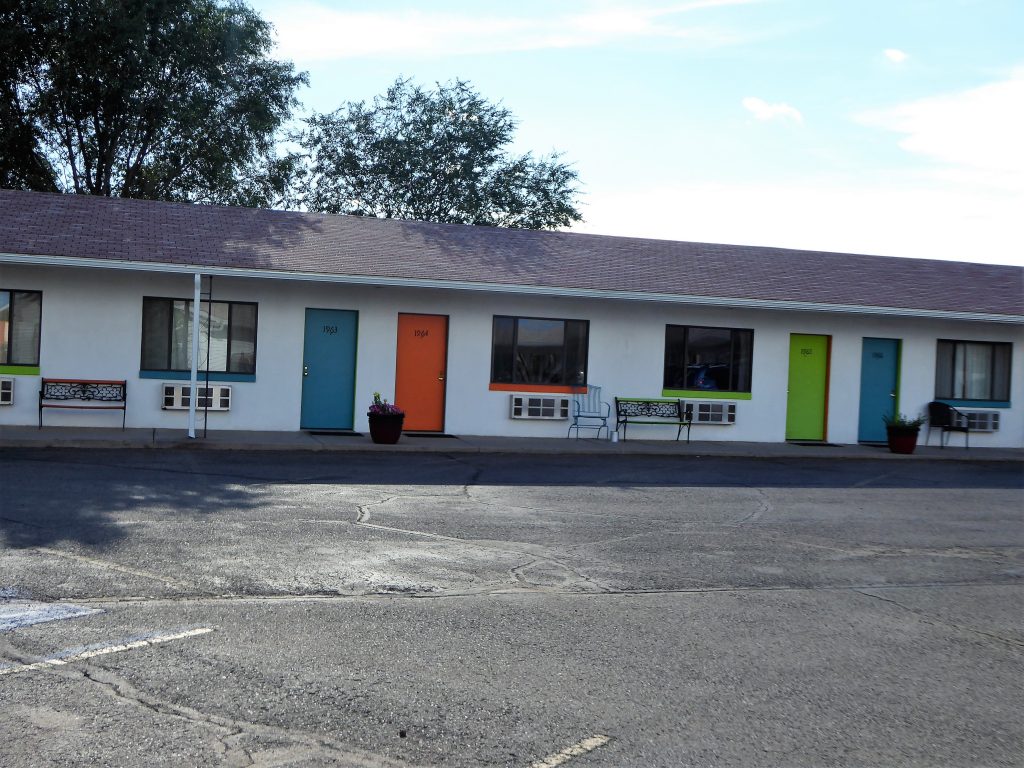 I enjoyed watching people sitting on the benches and enjoying a summer thunderstorm. We enjoyed the quad-like motel structure, where you could see your neighbor's car pulling in rather than listening to a hotel door slam in a more modern structure. I must admit that I enjoyed the vintage phone booth with a rotary phone and the travel trailer fitted with memorabilia from the 50s and 60s.
The Rooms at The Retro Inn
Each room at the Retro Inn gets a calendar year room number. We stayed in room 1972, bedecked with orange walls and pictures of Clint Eastwood in his spaghetti western heyday. My mother-in-law and father-in-law stayed in room 1974, with purple walls and framed pictures of 70s comedies like "Mary Tyler Moore Show" and "Welcome Back, Kotter."
During check in we received keys to our room. Yes, keys on key rings. Not a key card, but vintage keys.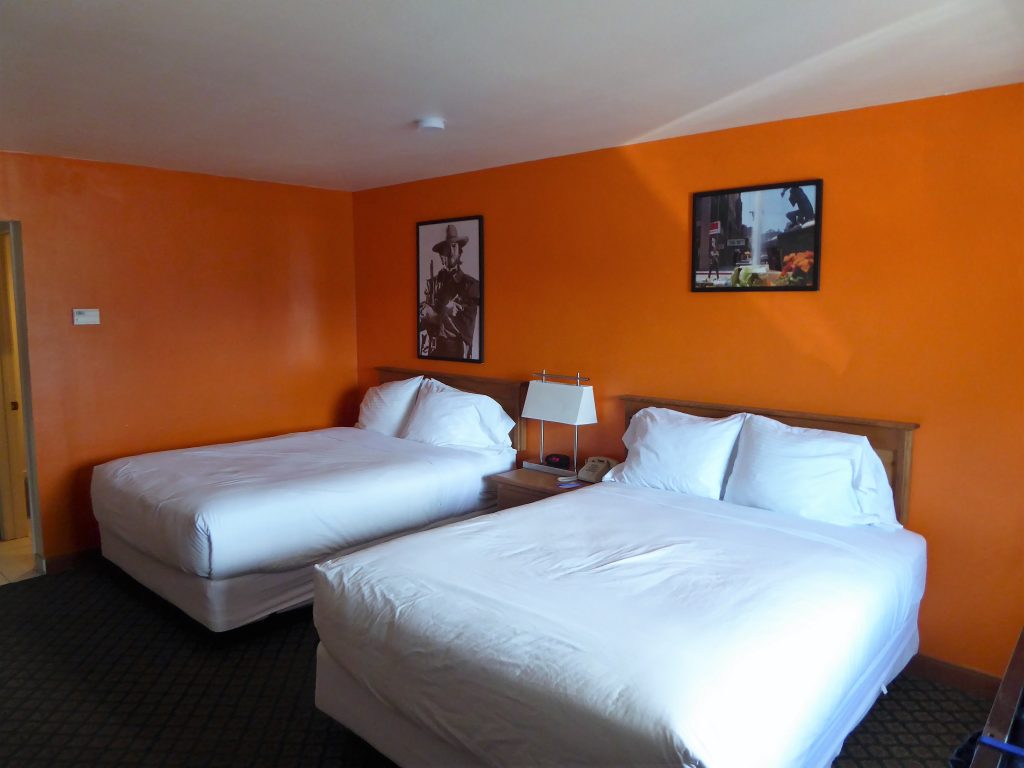 The room, while pedestrian, had plenty of space. We even requested a roll away bed so that our son and daughter could sleep in separate beds. There was plenty of room for us to get around once the roll away bed was set up.
Our room and bathroom were very clean, and it was obvious that the cleaning staff went to great effort to keep it clean. The bathroom tub was pristine, leaving no concerns or worry about bathing in the tub. The bathroom also had heated lamps — a nice touch.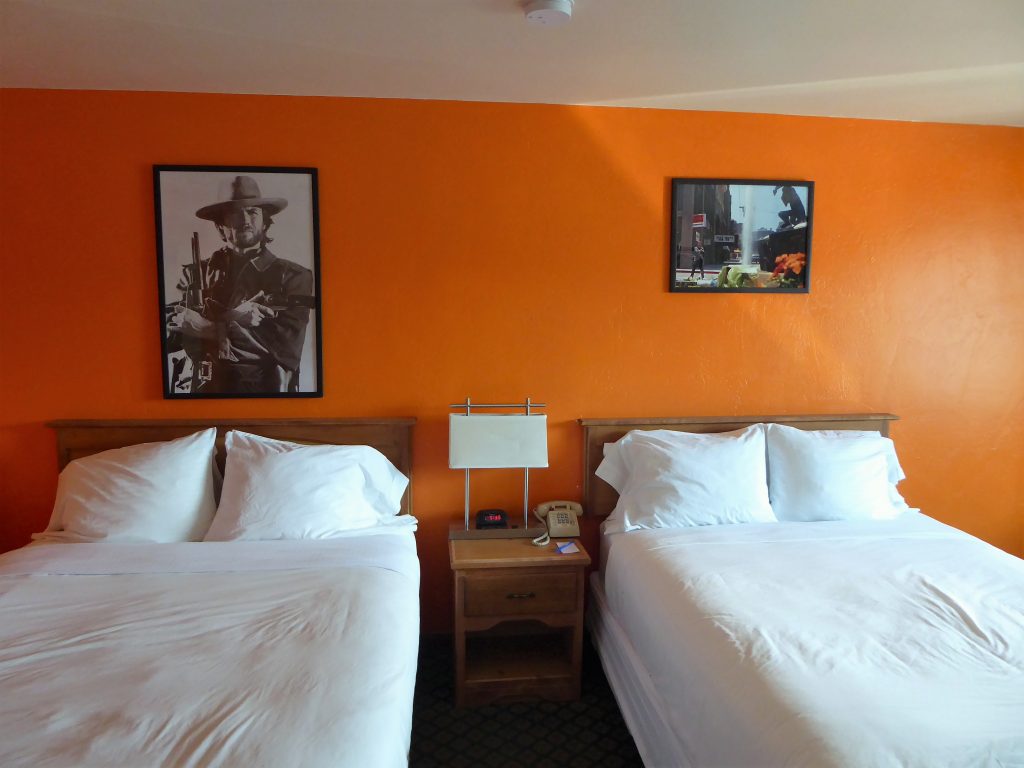 The room came with a good-sized travel refrigerator and separate freezer. We often pack snacks and fruit during our road trips and use the fridge for leftover food and freezer to re-freeze our ice packs. Most hotels have a small freezer space that is not very large or convenient. So, I appreciated the size of this refrigerator/freezer.
The room also had ironing board and iron, ample dresser space and cable television. It adequately met the needs of a family of four.
---
---
The Courtyard at The Retro Inn
The Retro Inn has a nice courtyard area with lawn, swing, seating and barbecue grills.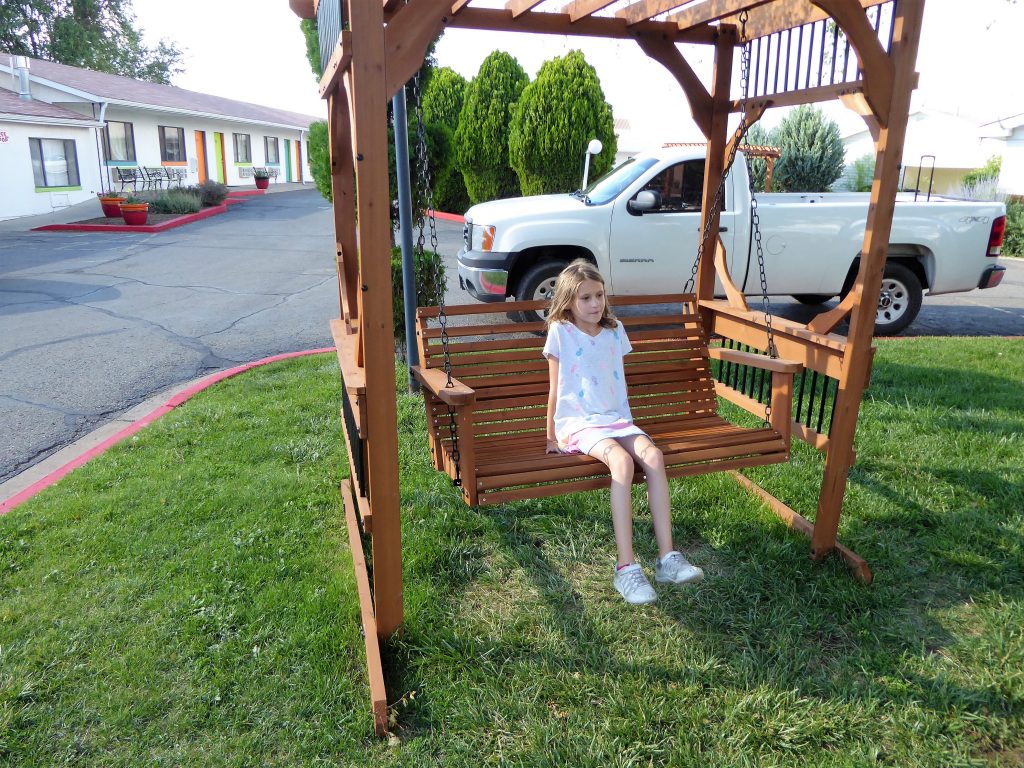 The lawn also has a large chessboard that the kids enjoyed playing with (if they only knew how to play chess). The front desk provides volleyball or badminton equipment upon request. A net is set up for play. Our kids enjoyed all of the extracurricular activities available.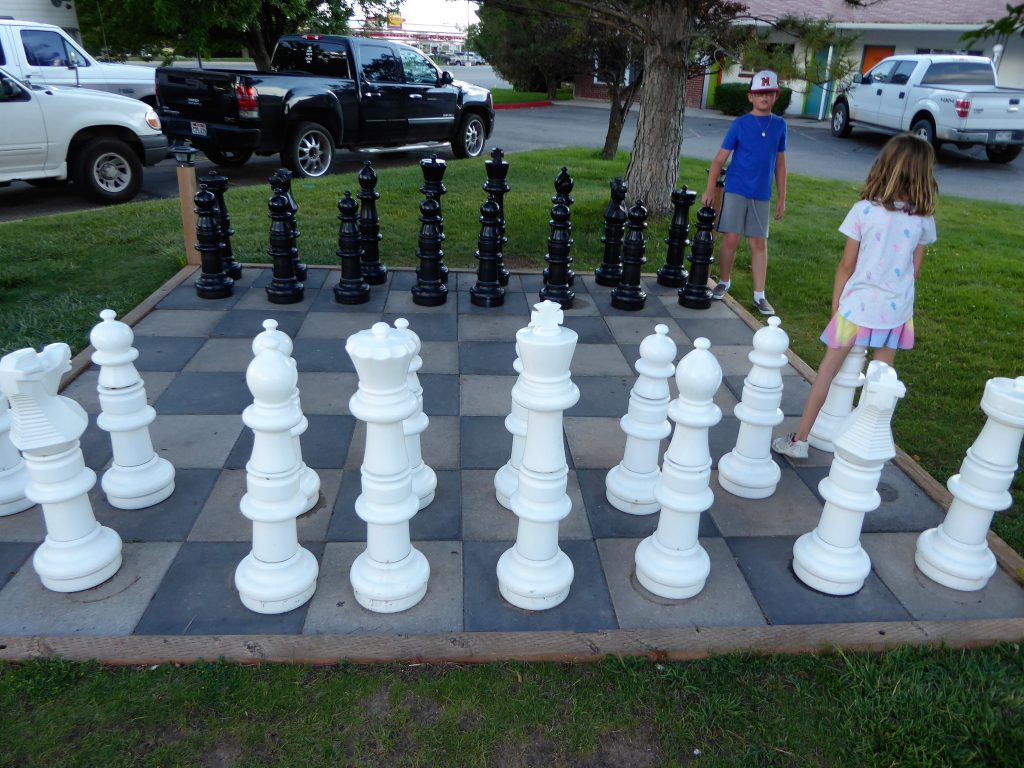 Of course, one of the more enjoyable features of the courtyard is the travel trailer/camper retrofitted for the 1950s and 1960s. The camper is decked out with drapes and decorations meant to transport you back to a bygone era. Our kids were amazed by the small bedroom area and wondered how people slept in such confined quarters. It's nothing like the monstrous-sized motor homes they see today. The kids even got to see an old-school Chinese Checkers board which peaked their curiosity. We're ready for our next family game night.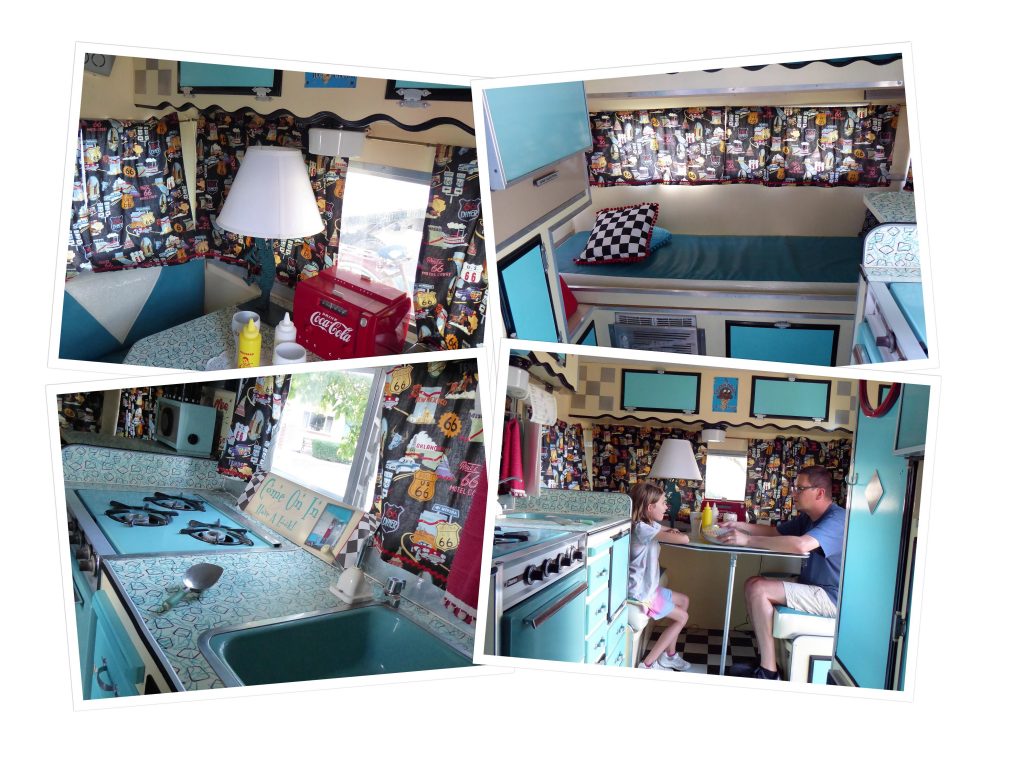 We love Elvis Presley. So does the Retro Inn. Next to the travel trailer the King sits on a bench and you can sit next to him for a fun picture.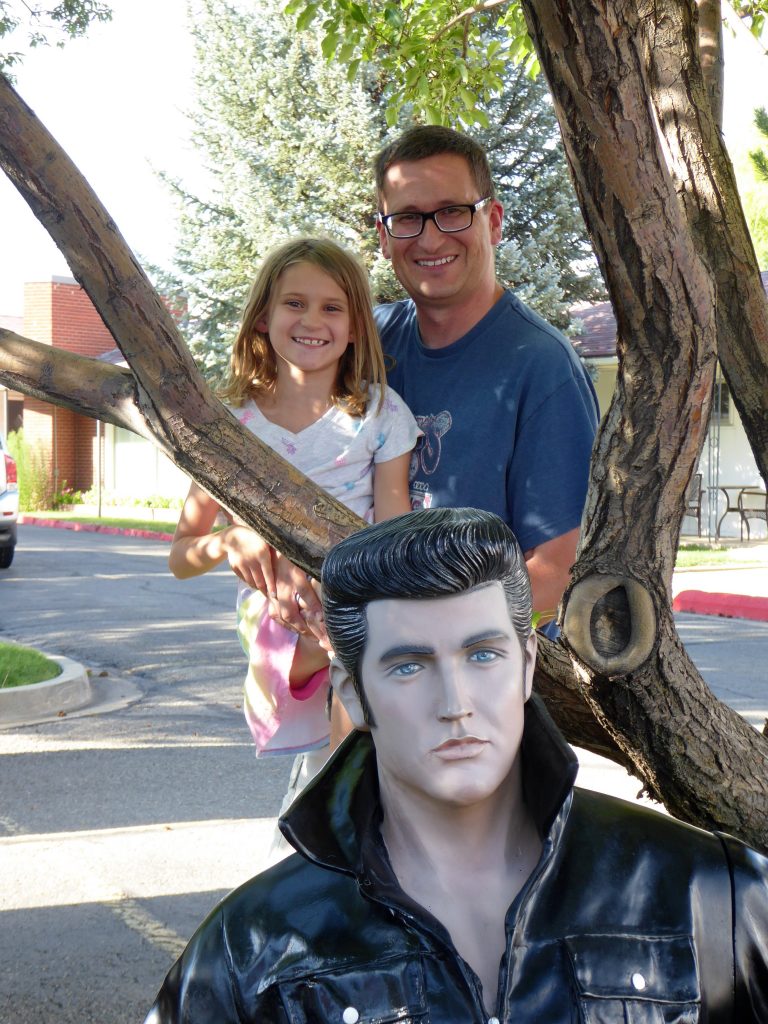 Finally, next to the Inn's office is an phone booth (!), yes, a phone booth with a working rotary phone. Just dial 8 for an outside line and you can make a call — old-school style — to friends.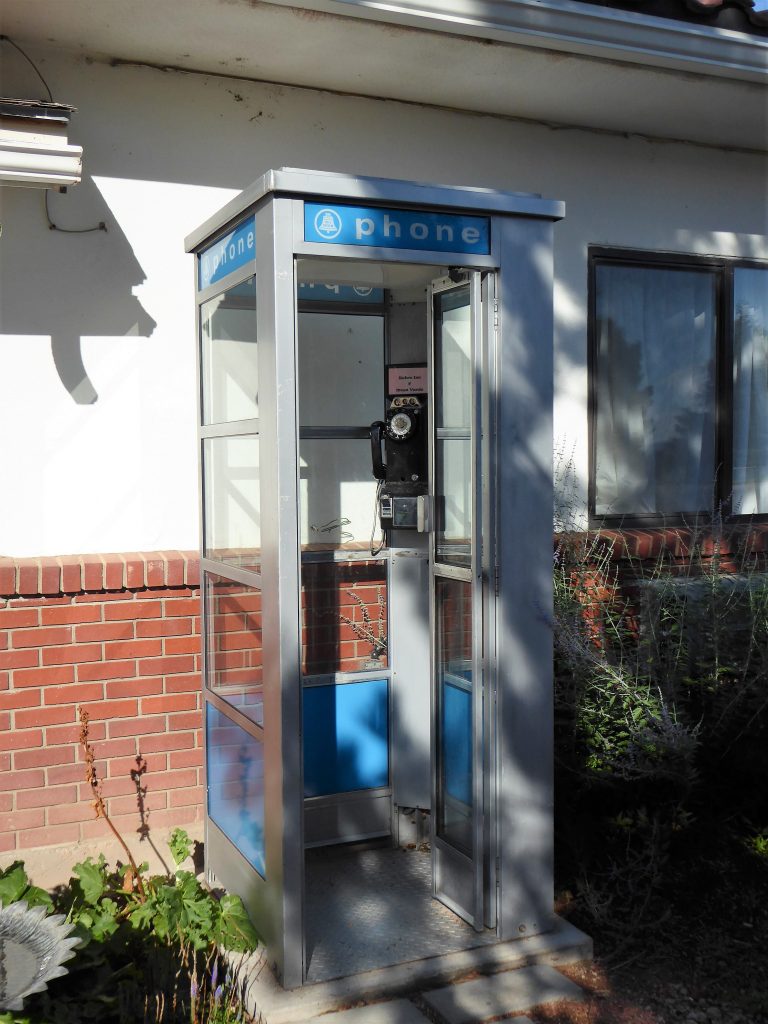 Amenities
Retro Inn serves a complimentary breakfast in a — you guessed it — retro-fitted dining area. Memorabilia representing everything from TV Guides to Marilyn Monroe to Route 66 adorn the walls. The breakfast options were adequate with plenty of yogurts, fruits, muffins, bagels, and pancakes, juices and coffees from which to choose.
Other amenities include:
Free WiFi
Free Parking
Special diet meals (upon request)
Pets allowed upon request.
Things We Liked
The service at the Retro Inn was top notch. My sister-in-law and her family were late checking in due to mudslides on their trip. The staff was professional and helpful in providing options for her late check in (the office closes at 10 p.m.).
Our room was almost soundproof. We were concerned that we would hear a lot of noise from the adjoining rooms or from the parking lot. The motel was full during our stay. Aside from some plumbing noises, we did not hear a peep. We never heard our neighbors talking, and we hope they did not hear us as we settled our kids in for the night.
One Thing We Wish the Retro Inn Had
While we enjoyed all of the outdoor and extracurricular activities at the Retro Inn, we still wished there was a pool. After a long day of travel our family enjoys a quick dip in a swimming pool.
Conclusion
I admit it. I was charmed by the kitsch of the Retro Inn. It may not have been my first choice of accommodation, but it was a pleasant, enjoyable place to stay. And, the Retro Inn is an affordably priced motel for those budget-conscience travelers. The next time we visit Mesa Verde National Park or the Four Corners Region, we would surely book another stay at the Retro Inn.
Ready to book a stay at Retro Inn? Book through our link here. Find the Best Deals at hotels.com!
Disclaimer: Our family was in no way compensated for our stay or our review of the Retro Inn in Cortez, Colorado. All opinions expressed are our own. This post may contain affiliate links. Clicking on the links may provide Family Well Traveled a small compensation at no additional cost to you.
What do you think? Would you stay at the Retro Inn? What other kitschy, quirky places have you stayed? We'd love to hear from you. Leave a comment or recommendation below.
---
You Might Also Enjoy:
Things to do and see at Mesa Verde National Park.
Another great National Park in Colorado is Great Sand Dunes National Park.
---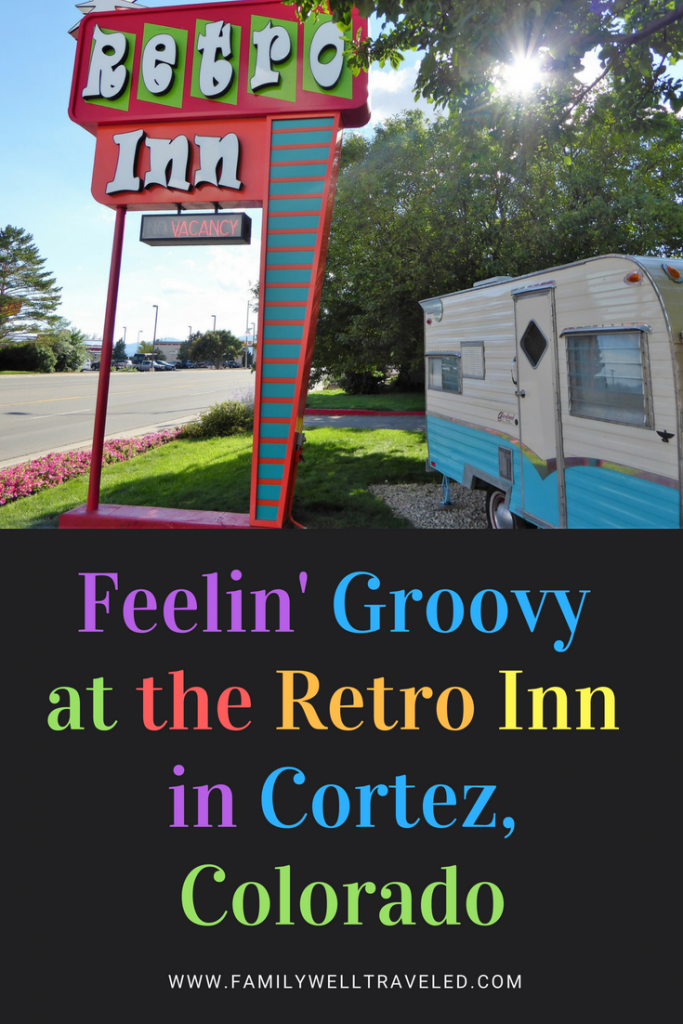 ---
---