A Guide to Lower Manhattan, Liberty Island and Ellis Island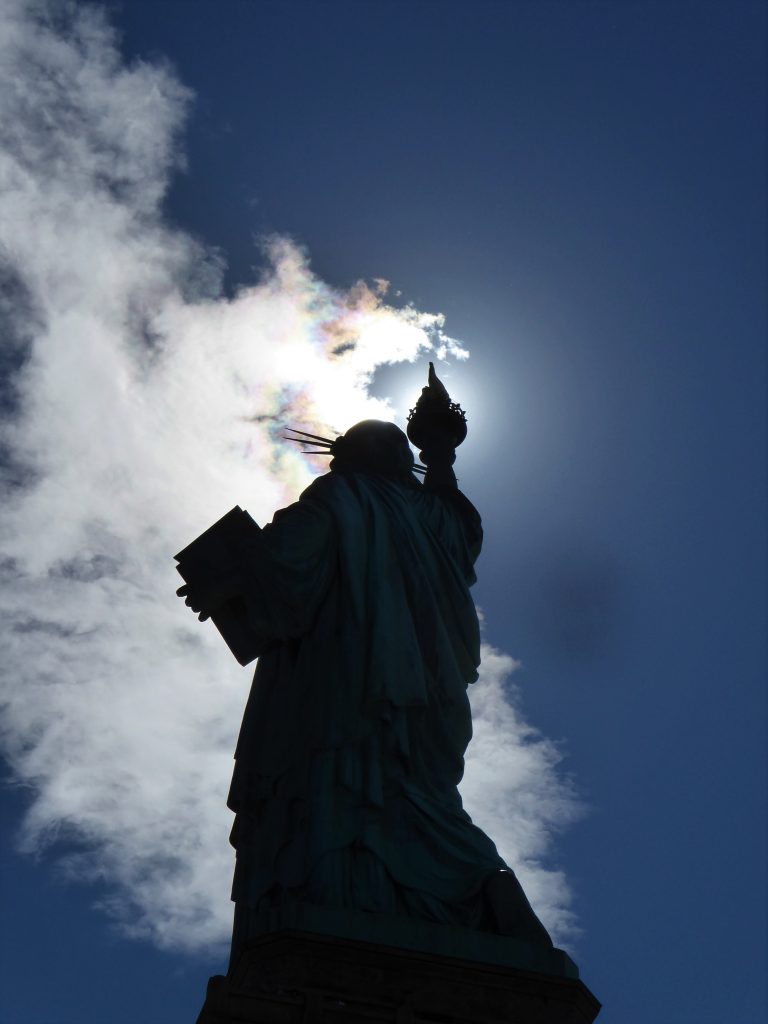 My Mom was so excited for this vacation to Manhattan. She spoke with me about it for weeks on the phone, and then finally booked tickets. We headed to New York City for an opportunity to connect with our past.
My maternal grandfather had emigrated from the Netherlands to the United States. My mom didn't know much about that time, but had assumed that his family had entered North America through Canada. However, when my sister moved to New York City, she researched and found out that the family had arrived through Ellis Island. My sister worked to get the family name placed on a plague on Ellis Island, and surprised my mom with the information and the plaque.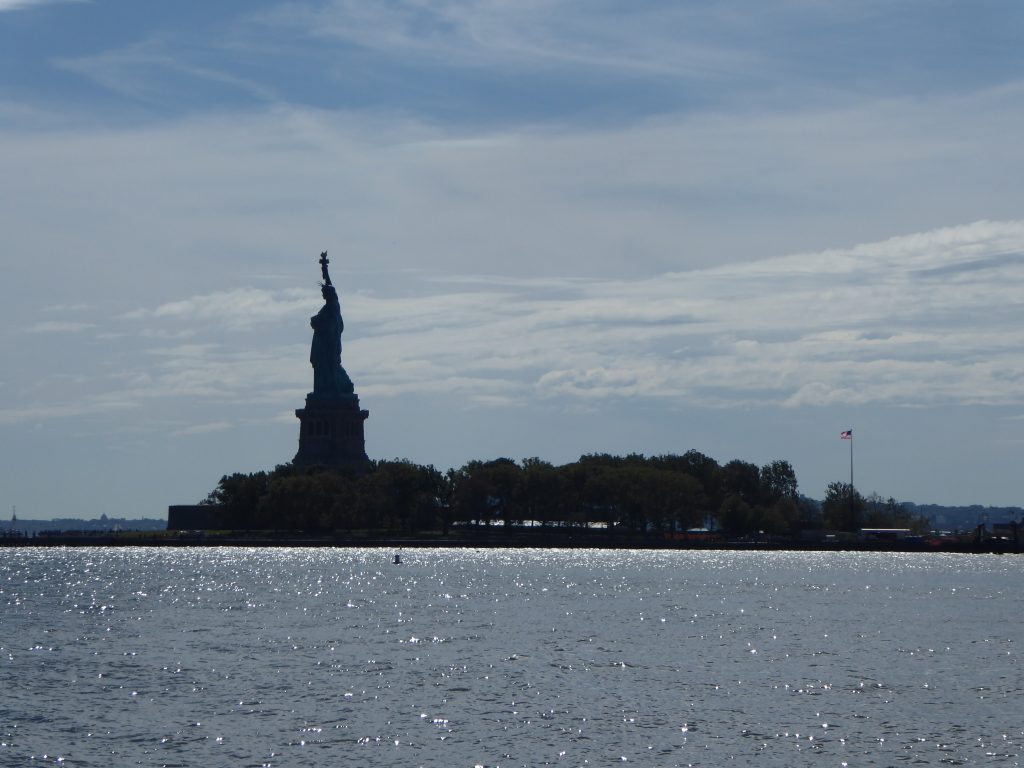 Our trip was made in honor of our family history and to see the place where our family started their lives in the United States.
Although this was a personal vacation for us, I know that many people visit New York City and want to know where to go and what to do. Here is what you can expect on a tour of Lower Manhattan, which includes a trip to Ellis Island and the Statue of Liberty.
Battery Park
We started our journey at Battery Park on the southern tip of Manhattan. It is the launching point for a ferry ride to Lady Liberty and Ellis Island. From the park, you can also catch a ferry to Governor's Island, Brooklyn, and New Jersey.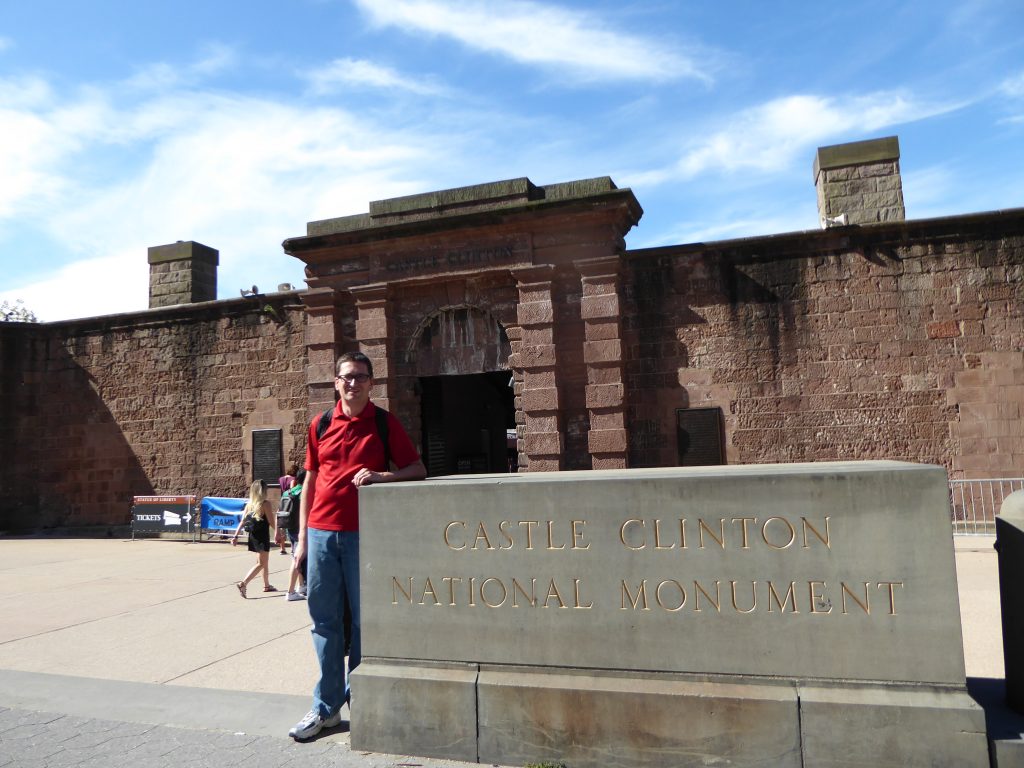 We headed to Castle Clinton, a National Monument and the location to purchase ferry tickets for your ride over to the islands. While my sister waited in line to purchase tickets, my Mom and I walked around the castle looking at the historical exhibits of the monument. Then, we headed to the ferry for our 10-minute ride to Liberty Island.
The Statue of Liberty
Once at Liberty Island, we were able to walk the circular path around the Statue of Liberty, snapping pictures from every angle. You can pre-purchase tickets for tours to the base of the Statue or to her crown. When we toured, these tickets were not available (I think because it was the week of the heads of state were speaking before the U.N. and security was heightened).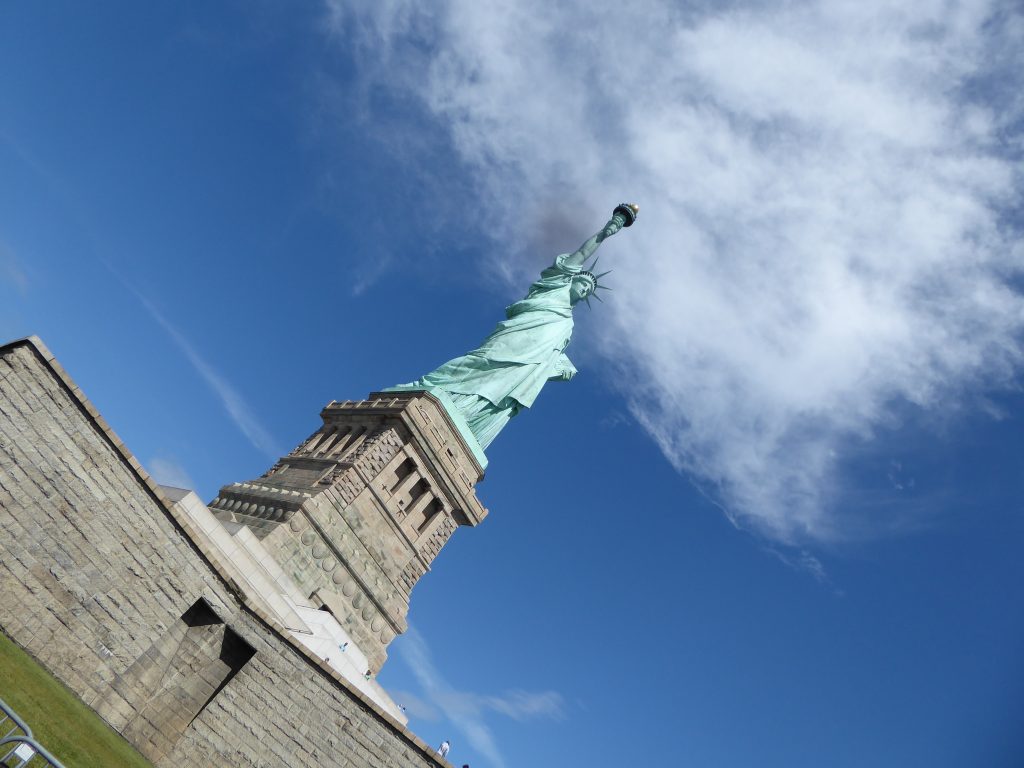 We spent one hour on the island, strolling the pathway, briefly checking out the gift shop, and getting our National Parks passport stamped. There also are some food and snack options available on the island.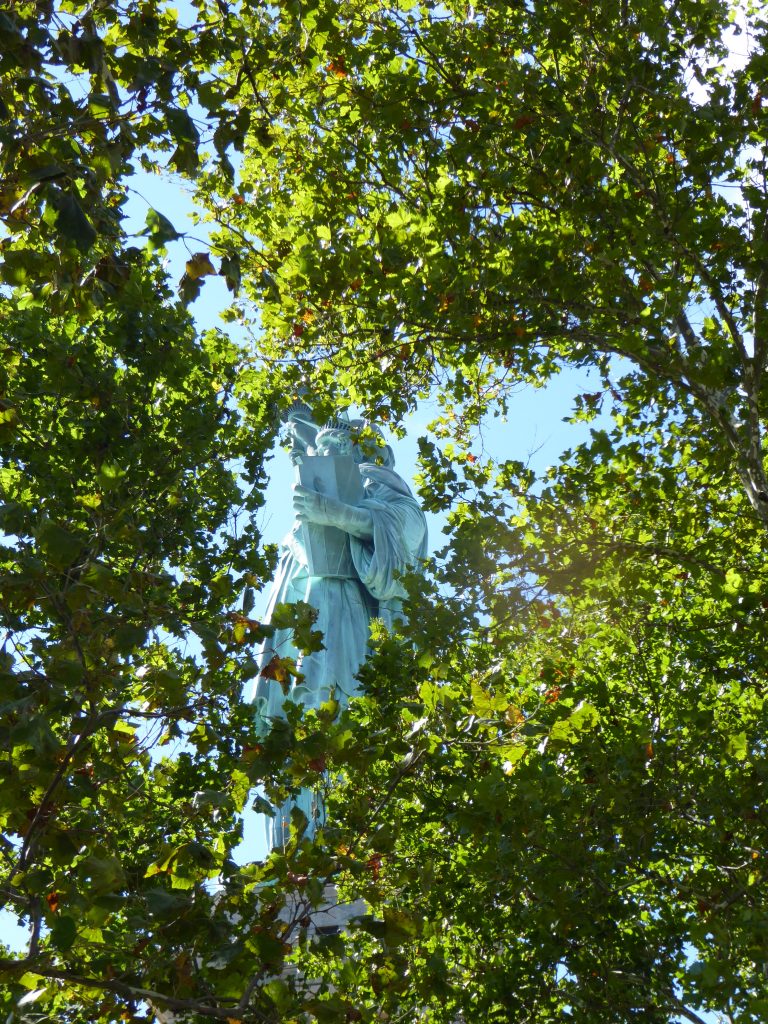 One of the more interesting features on Liberty Island are a number of sculptures telling about the artists who made Lady Liberty a reality.
We then headed back to the ferry to catch a five-minute ride to Ellis Island.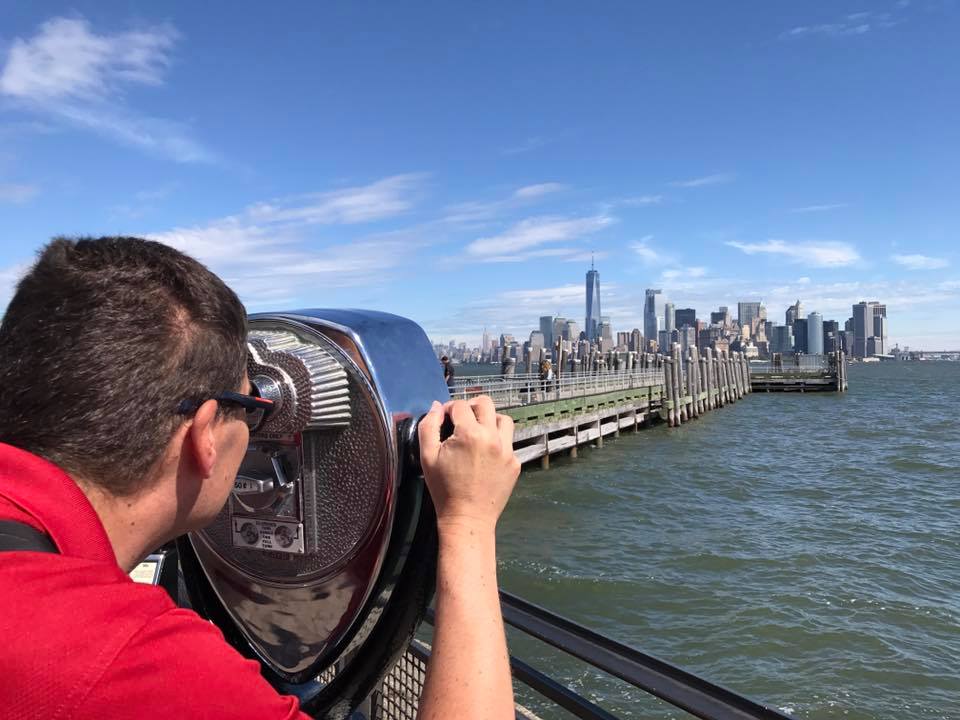 Ellis Island
This, of course, was our main reason for the trip.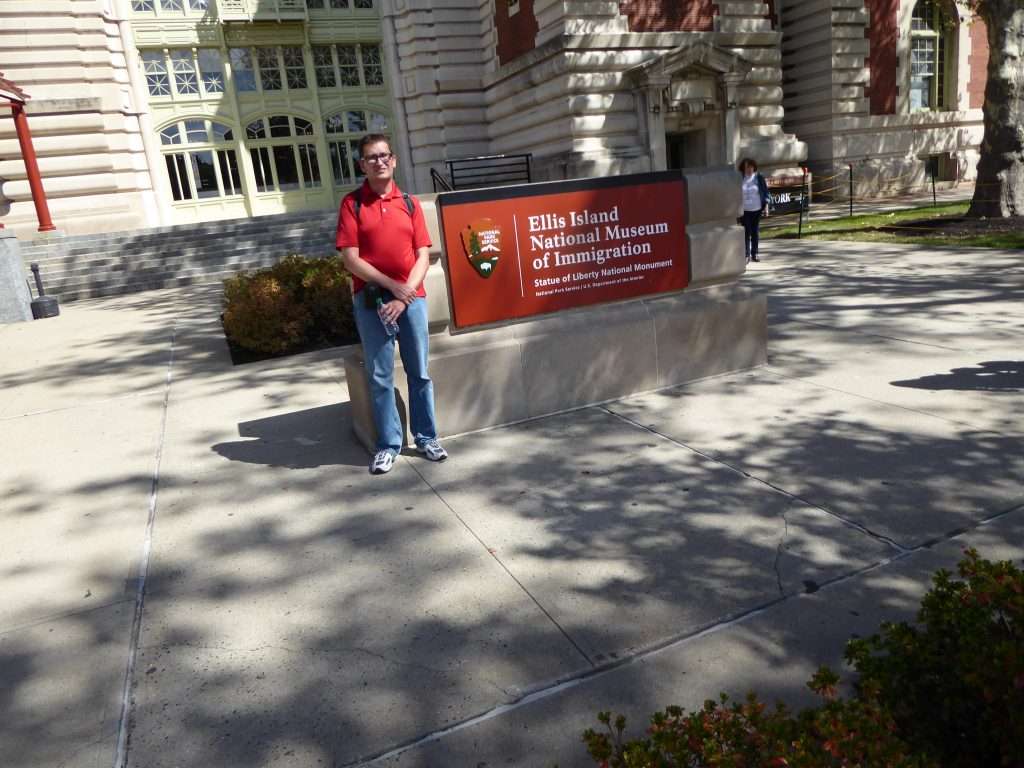 We knew the marker number for the American Immigrant Wall of Honor, where the family name is engraved. The wall is behind the main entrance to the building and it took us some time to find the marker. It was a very emotional time for us, as my Mom took it all in, reaching out to touch the engraved name of her father. Clearly, it was a moment that we'll never forget.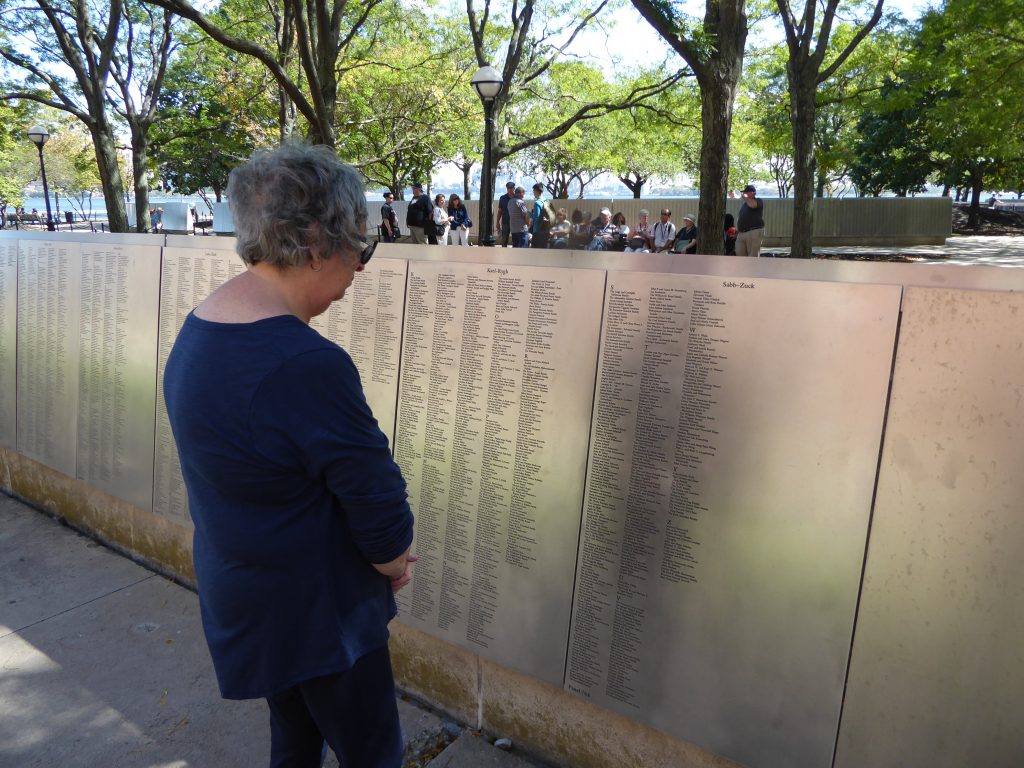 Then we went inside the building to look at the exhibits. On the main floor, there is an exhibit showing all the routes immigrants took once arriving in the United States. I was able to follow the journeys people took along the Santa Fe Trail, through St. Louis, or through San Francisco as they made their new life in this new world.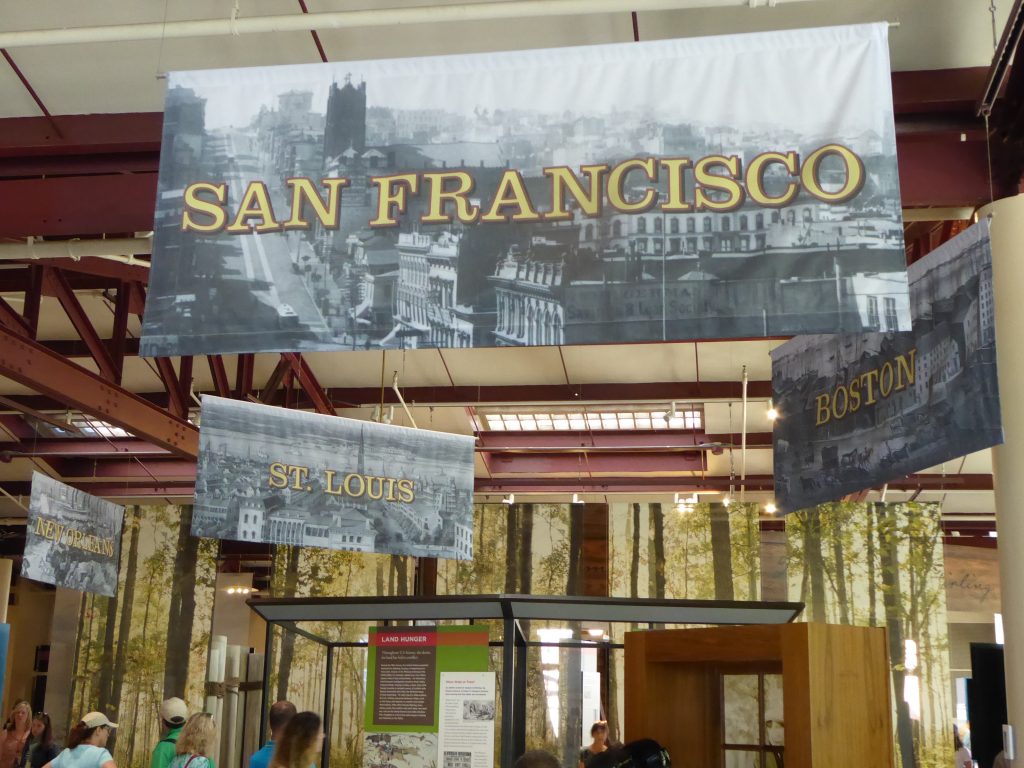 I then headed up to the second floor housing the registry hall. It was here that 12 million people signed their names to a ledger as they entered the country from 1892-1924. It is an impressive, large room which has the feel of bureaucracy. I got a real feel for what it would be like to arrive in the United States and then wait for 3-5 hours with my family in this officious room.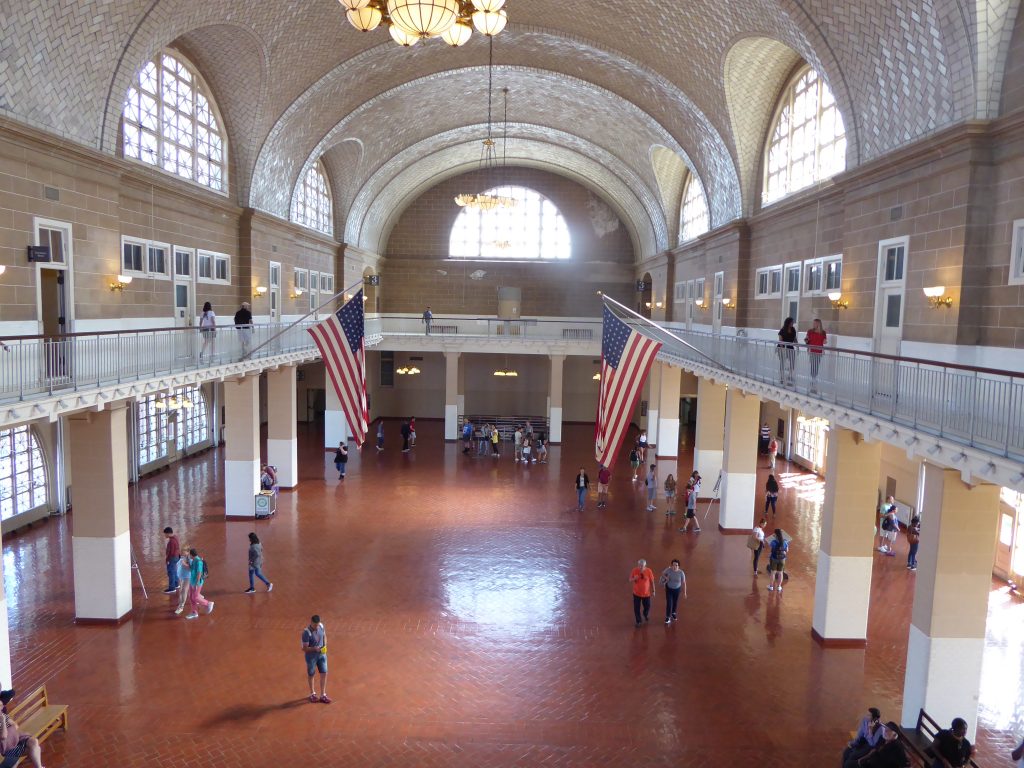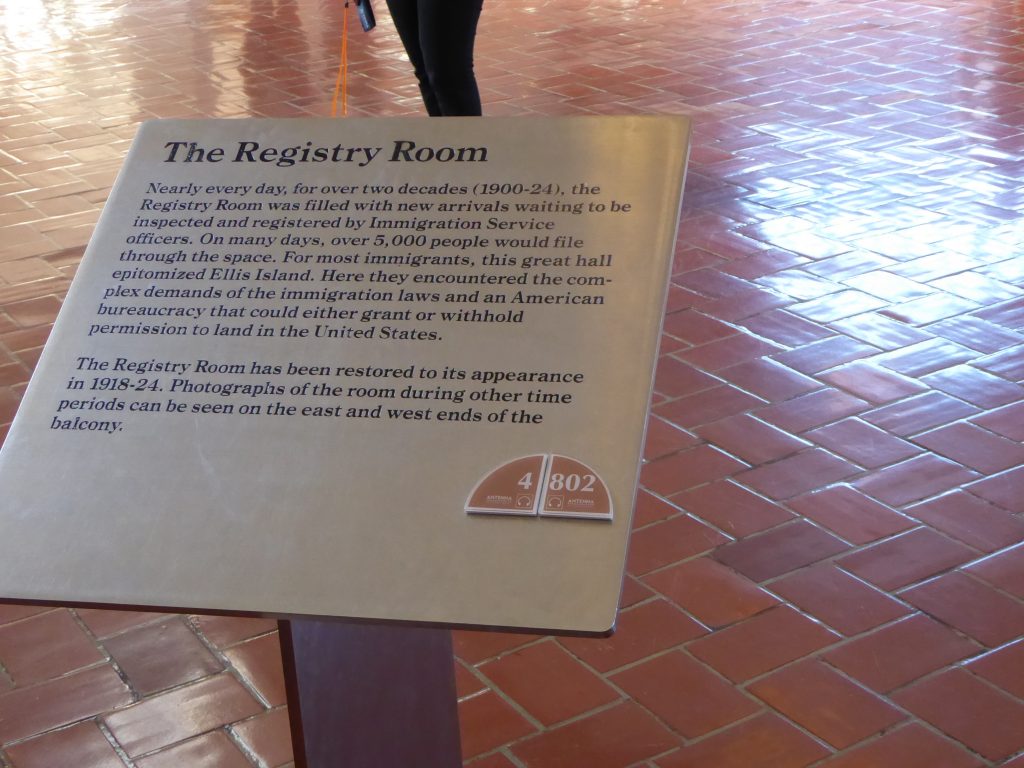 Finally, I headed to the third floor which contains a dorm room for the quarantined immigrants. Once registered, an immigrant would be quarantined on Ellis Island for a number of days before they could leave the island and start life in the new world. It is quite probable that my grandfather slept in dorm beds like these.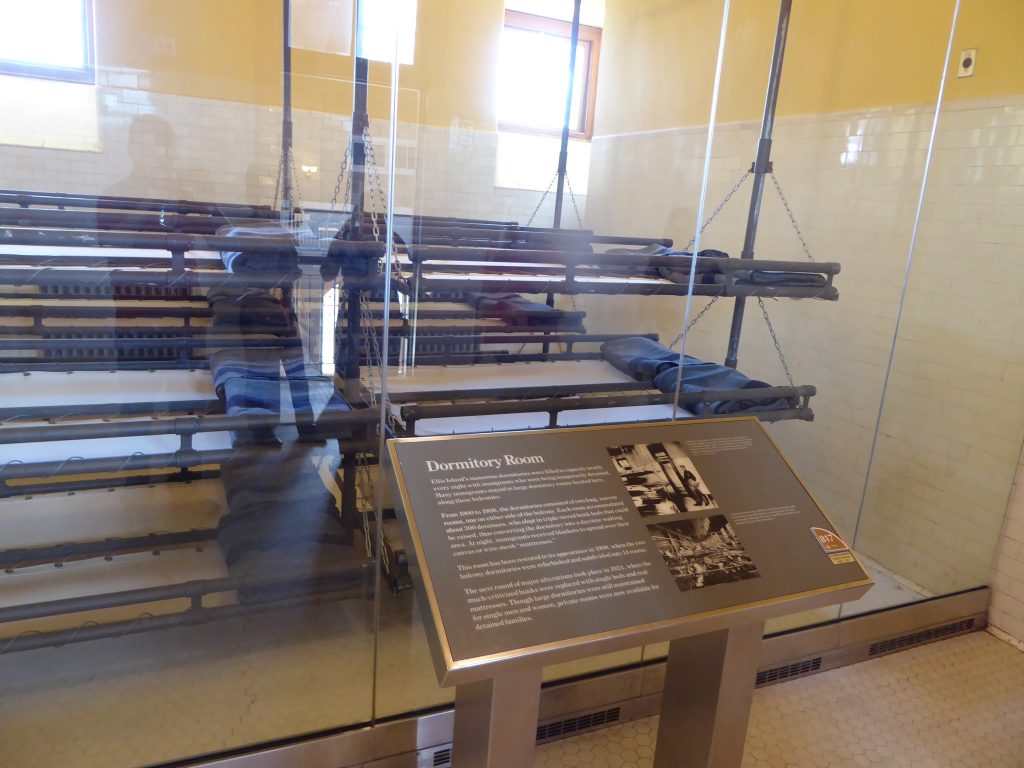 We then got in line for our ferry ride back to Battery Park. It's worth noting that the lines for the ferry can be long and the wait was about 20-30 minutes. The wait and standing was difficult for my mom.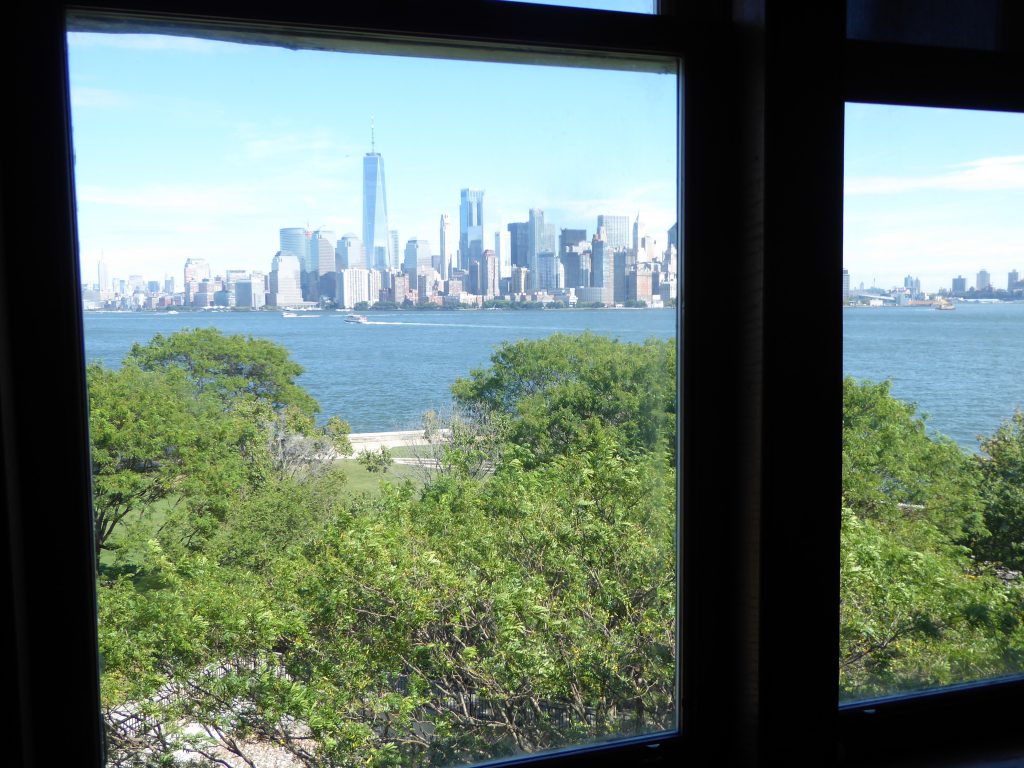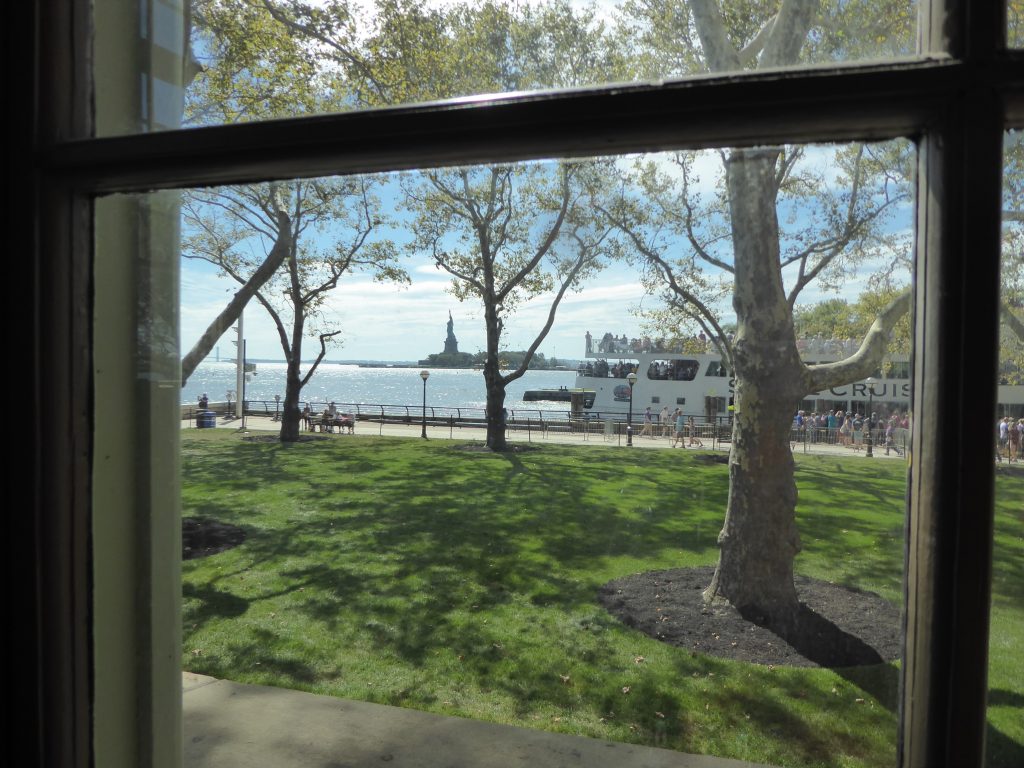 Looking for some great places to eat while in New York City? Check out this Greenwich Village Food Tour from our friends at DQ Family Travel.
Fraunces Tavern
A couple of blocks from Battery Park is Fraunces Tavern, one of the oldest structures in New York City. The Tavern, open since 1762, was the site where General George Washington gave his farewell address to his troops in 1781.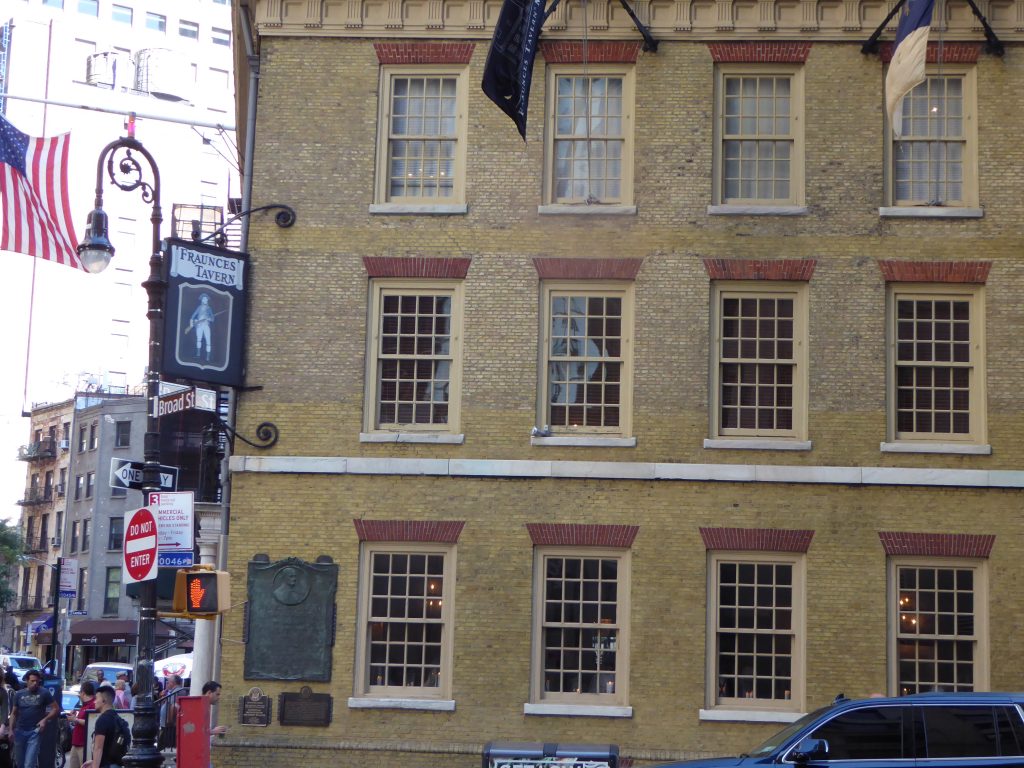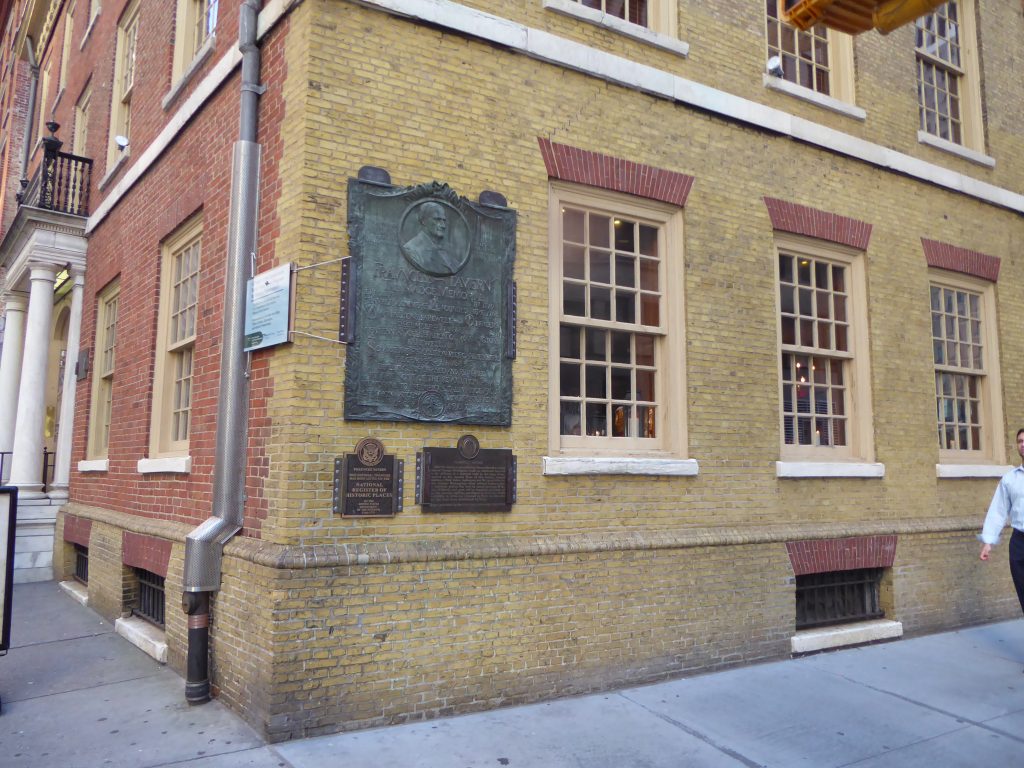 The tavern serves some great early American cuisine, and also has a large number of ales and draft beers. It was fun to eat here, looking out of those ancient windows into the very modern streets and buildings of present day New York.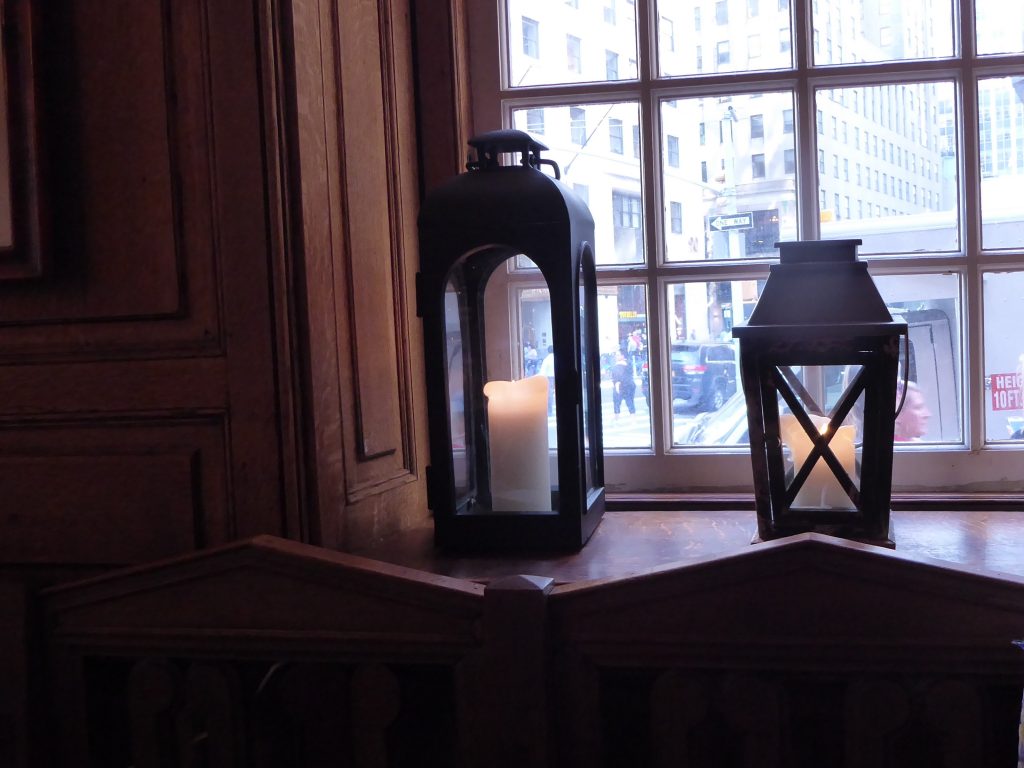 Above the tavern is a museum containing the original room where Washington gave his farewell address and the Clinton dining room, containing one of only 11 remaining handpainted wallpapers in the world. The museum houses nine galleries which contains flags of the early Americas and artwork representing colonial American history. It's definitely worth a stop.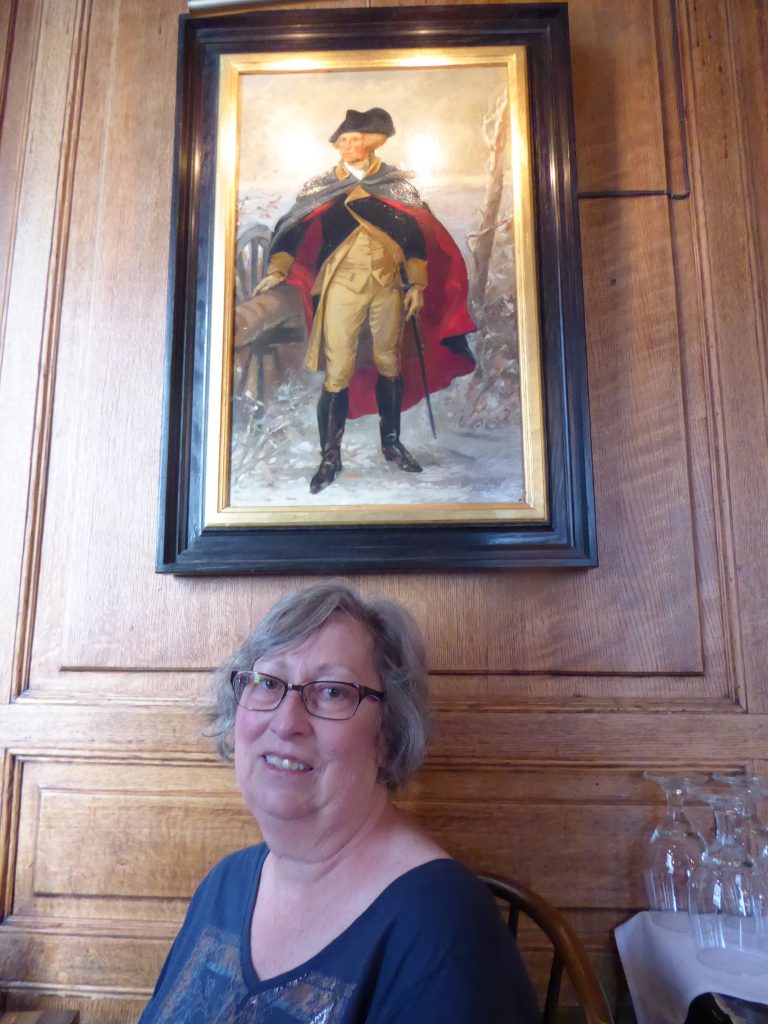 From the Tavern, it is a short walk north to Wall Street, Federal Hall, and the site of the World Trade Center.
My Epic Fail
I was so excited for the trip. It was my first time touring the Statue of Liberty and Ellis Island. Given the significance of the trip for my family, I wanted everything to be perfect. There was one problem, however. There was a smudge on my camera lens. I didn't know it. It was only later that evening after taking a couple hundred pictures that I noticed a black smear on all my great pictures. You'll see the smudge throughout these pictures. I hate it. The pictures mar an otherwise perfect and emotional day for my family.
---
You Might Also Like:
Our trip to New York's Ground Zero
Visit Morningside Heights and Harlem and see Alexander Hamilton's Home.
A visit to another iconic American landmark Mount Rushmore
---
Have you dined at Fraunces Tavern? Or have you been in the crown of the Statue of Liberty? Let us know about these  or other New York City experiences in the comments below.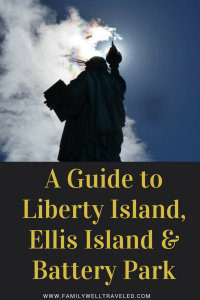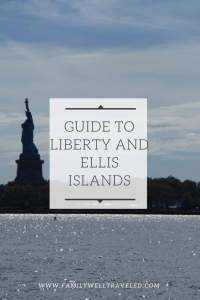 All photos and content are by Family Well Traveled and use of photos or content without permission will result in legal action.
---
---