What To Do On Your Disney Cruise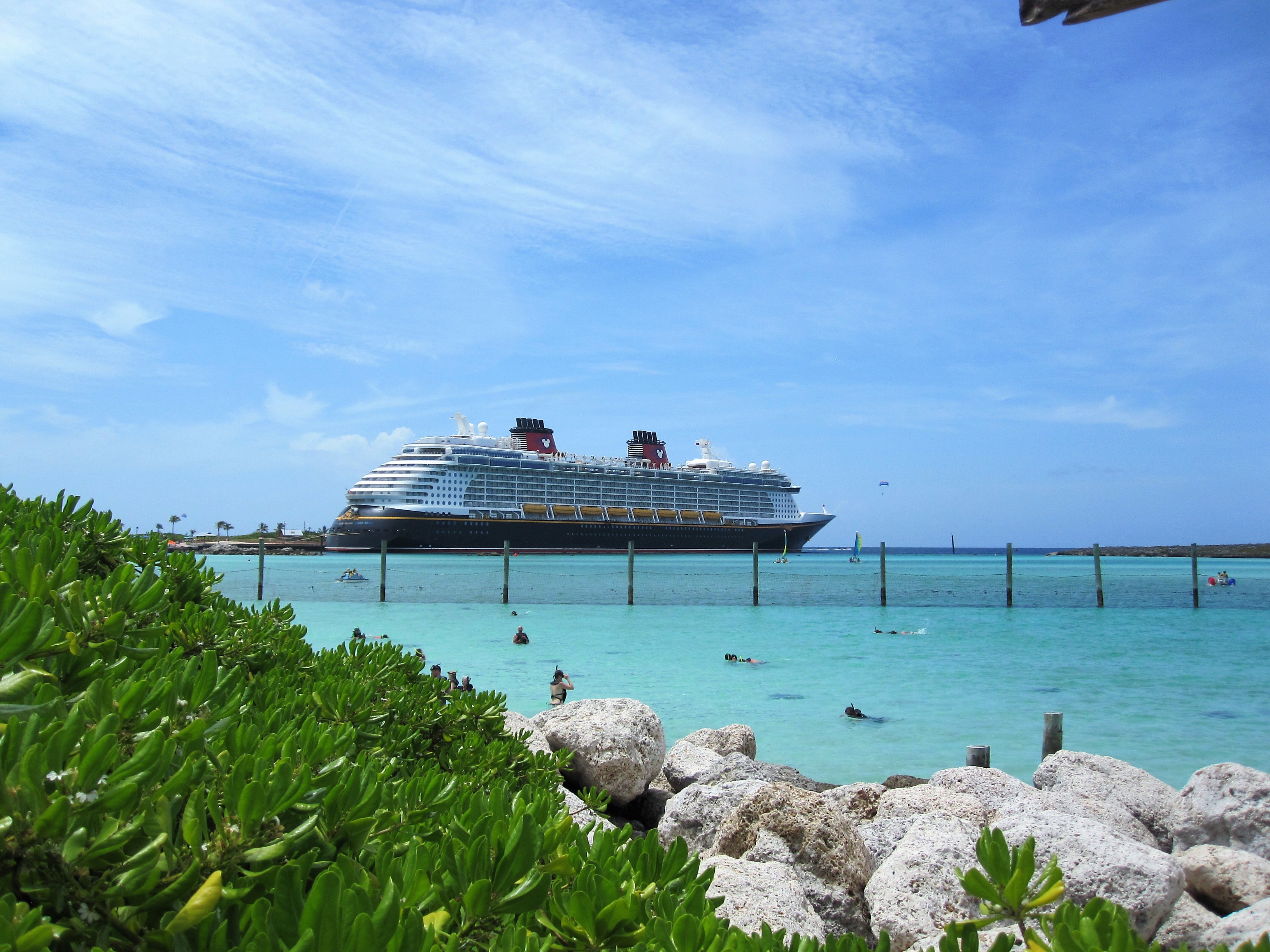 What to Expect on a Disney Cruise
You've booked your cabin and purchased your plane tickets. You're super excited about your first Disney Cruise, but you're not really sure what to expect? Luckily for you, we've been there and we've got you covered. Here's everything you need to know about what to do on a Disney Cruise.
Things to Do Once You are Onboard Your Disney Cruise Ship
You made it through the embarkation process. Your family is now onboard the Disney Cruise Ship ready for your journey on the high seas. You all look around in wonder, and grab a map of the cruise ship. You look at each other with trepidation and ask, "Now what?" Here's a rundown of some of the things you can expect while on your Disney Cruise and things you don't want to miss out on.
---
This Disney Cruise Line lanyard and is a must-have for your cruise.
---
Get Advanced Tickets to the Princess Meet and Greets
Anna and Elsa were a big deal when we were on our Disney Cruise. I mean a big thing. And there was only one way to see the princesses. You needed a ticket to a behind-closed-doors meet and greet. I got in queue as soon as we boarded the ship while my wife took the kids to the poolside buffet. We didn't want to tell our daughter about the meet and greet in case we couldn't secure tickets.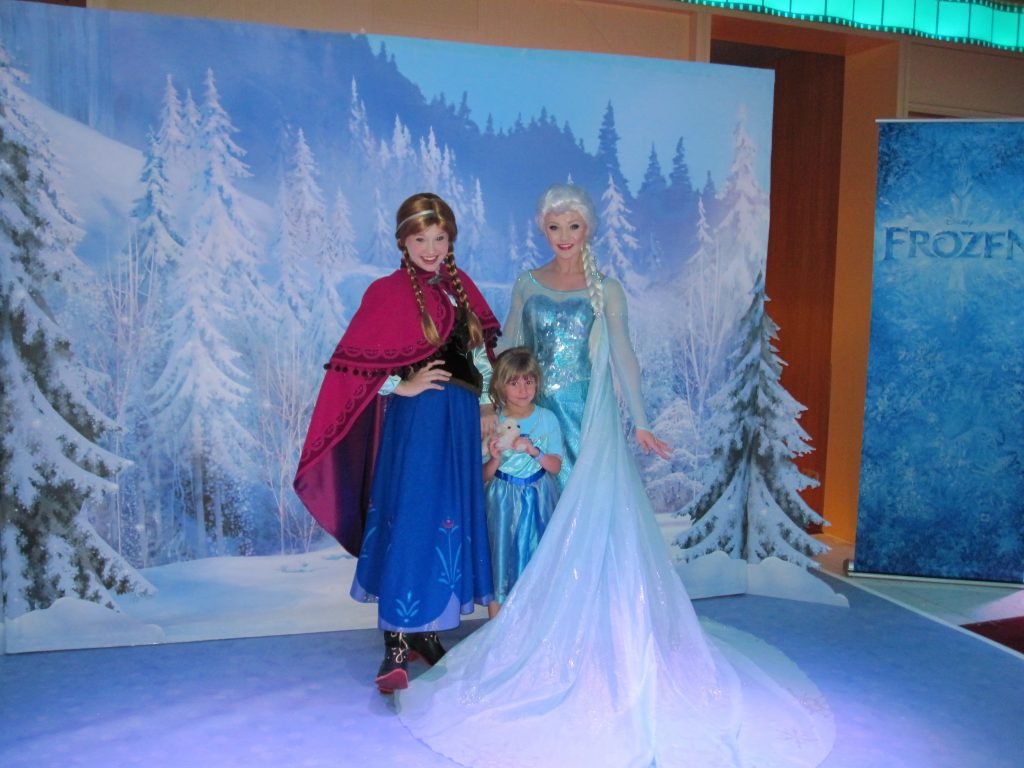 You'll want to do a little research before you board to discover if there are similar exclusive engagements with limited tickets. We were fortunate to get tickets, but that's because we had done our research.
Catch the Embarkation Deck Show
Every good Bon Voyage cruise party needs a show. Disney is no exception. As you set sail from your embarkation port, You can join Mickey, Minnie, Goofy, and Donald Duck for a poolside deck party including line dancing. This is Disney, so everything is timed to the second, including the captain blowing the ship's horn to announce the raising of the anchor and the start of your vacation at sea.
Delight in the Magic of Unique Family Vacations and World-Class Service on Disney Cruise Line! Book Disney Cruise Line Today, Only at CruiseDirect.com!
Character Meet and Greets
Throughout your cruise, your family will have opportunity to meet several Disney characters. You'll want to carefully check each day's agenda to find characters and times. Lines for the character meet and greets can be long, so you'll want to arrive early, especially if you have impatient young children. Some characters will have several meet and greet times, but other characters are more limited. For example, we were able to meet Jack Sparrow only on Pirate Night. Check with cruise staff for which characters are available multiple times to save yourself heartache later.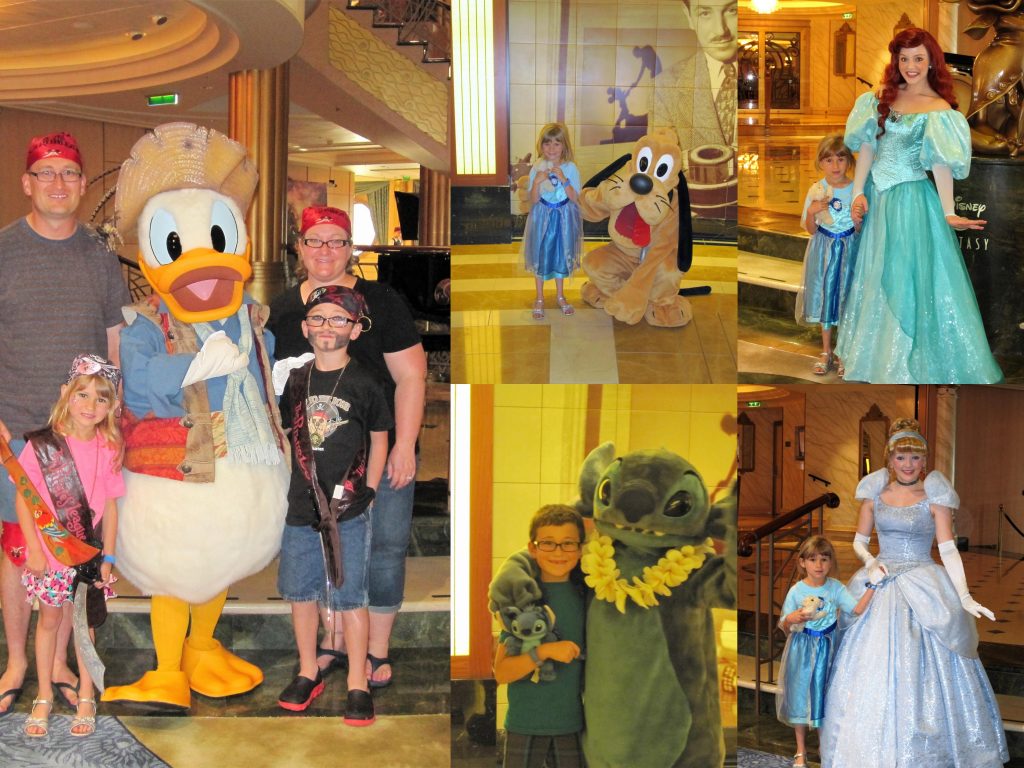 ---
During Your Meet and Greets, you'll love these autograph books.
---
Make Sure to See the Shows
This is Disney, so the evening stage shows are phenomenal. On our cruise, we saw Aladdin. Disney also brings world-class entertainers on board. We had a great time with family-friendly magicians and a balloon artist. But, the Disney produced shows are exceptional – the best we have seen on a cruise. The shows are no additional cost to you, so take advantage of the opportunity.
Get a Spa Treatment
While your kids are in the kids' club, it's time for you to take some time for yourself. There's no better way than spending some time at the spa. There are many spa treatments from which to choose. Also, you can purchase a day pass, which allows you access to the spa's relaxation room.
Get Your Kid Made Up as a Princess or a Pirate
The Bibbidi Bobbidi Boutique is the place to go for your child to get a royal makeover. The staff at the boutique work wonders preparing your princess's hair and makeup. But, boys can get in on the action too. During Pirate Night, the Princess parlor is turned into a nefarious pirate's parlor to get your rogue pirate in makeup and garb. The pirates even get a special pirate name and recite a pirate pledge.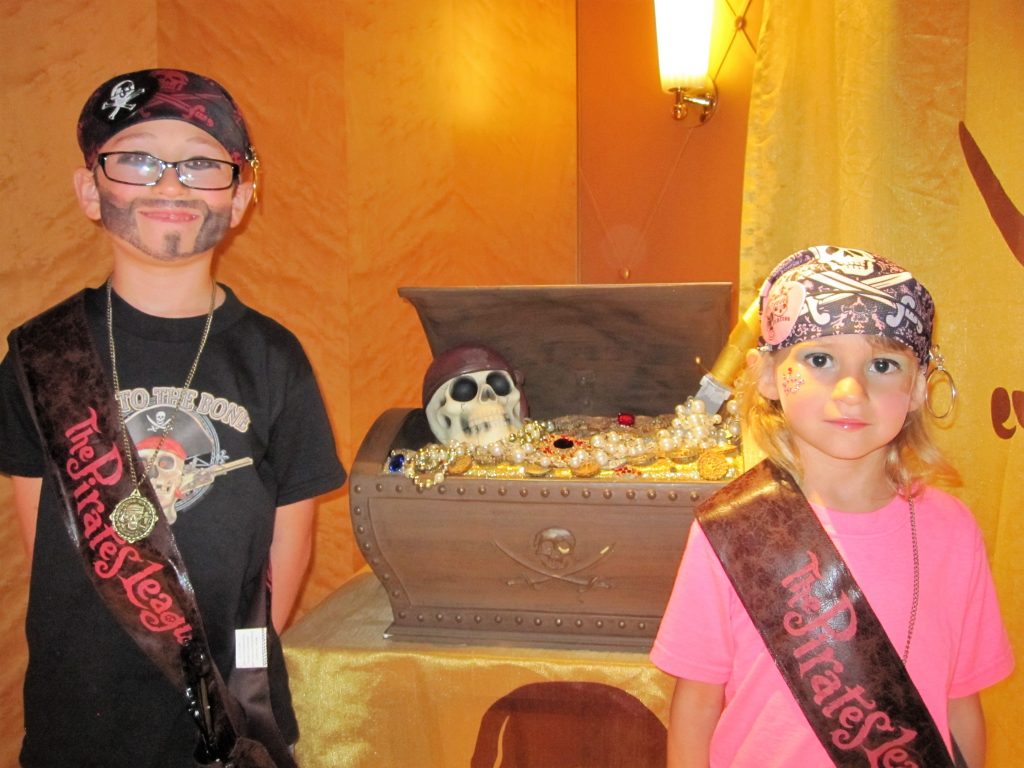 Our daughter had two appointments at the Boutique. She was given a princess makeover, and she and her brother both received the pirate treatment.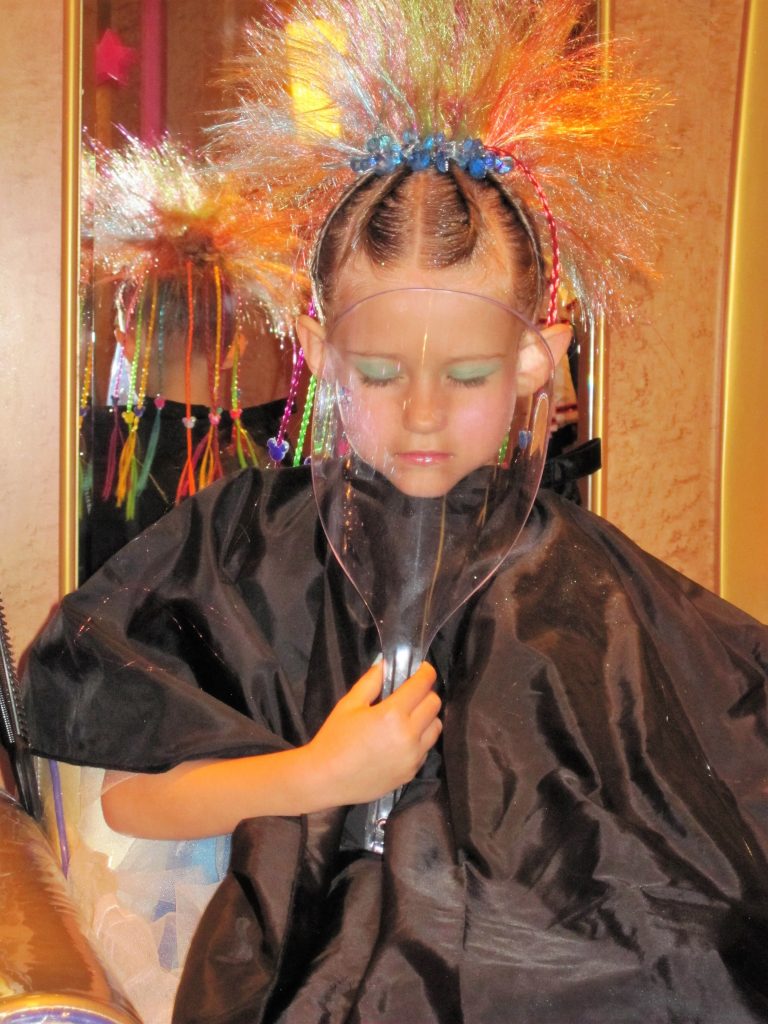 Eat in different dining rooms
Disney has rotational dining, meaning that your family will eat in a different dining room each night. On a Disney Cruise, you will rotate between three dining rooms – the Enchanted Garden, the Royal Court and the Animator's Palate, for example. Each has a different ambiance and dinner entertainment. Most everyone enjoys the Animator's Palate, where one evening you make have a lively conversation with Crush, the very hip sea turtle from Finding Nemo, or watch an animated feature created from artwork you design. Your wait staff also follows you to each dining room, and they are quick to discover your culinary likes and dislikes. Each dinner, our staff made sure that our kids had their desired drinks when we reached the table.
Additionally, there are other dining rooms that require advanced reservations. Of course, your family always can enjoy the buffets available throughout the ship.
Be a Part of the Midship Detective Agency
Disney has an interactive game on board that is perfect for families. Throughout the ship are a number of art pieces that become interactive and live. These are a part of the Midship Detective Agency. Basically, you become a detective and try to solve a mystery using the clues found in the art pieces. Our family participated in three separate mysteries – such as trying to find out which Disney villain stole a piece of artwork, or which Muppet character stole the show. The kids were hesitant at first to participate, but  by the end of the cruise they were begging for another mystery to solve.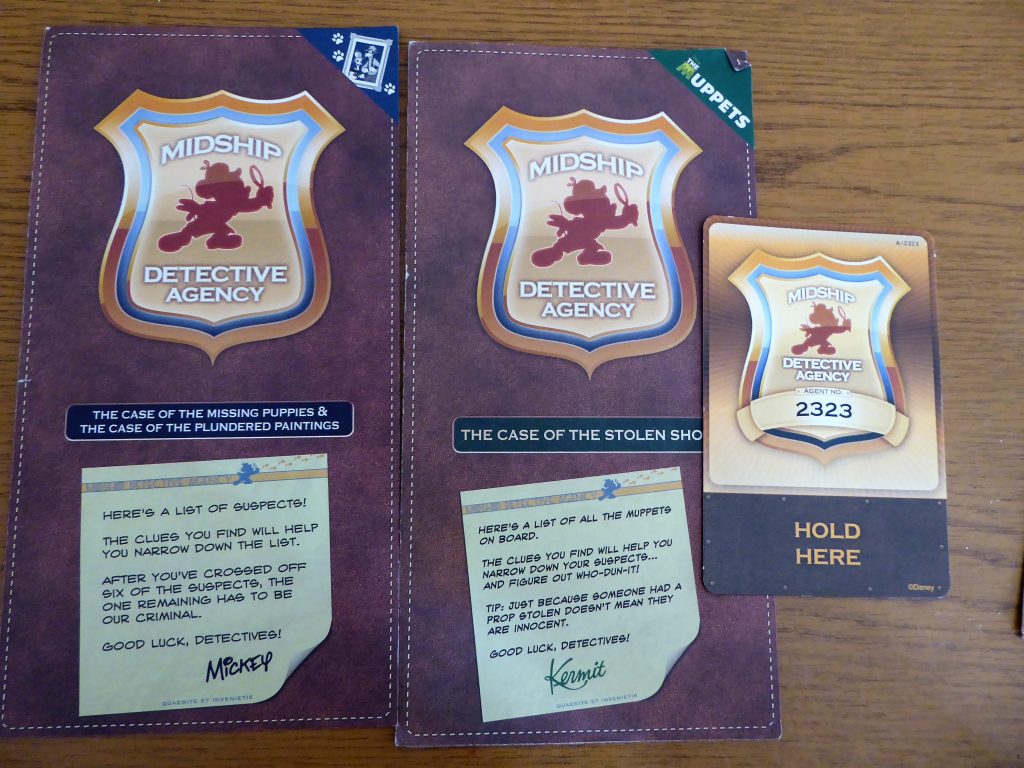 Catch a Movie
You can watch movies poolside on a big screen. But, Disney Cruise ships also have an indoor movie house, showing the newest Disney features. Showtimes are posted for both each day in your Navigator. Smart tip: concessions at the indoor movie house are an additional expense, so we suggest grabbing from snacks and beverage from the buffet to take into the theater.
Enjoy the Pools and Slides
This one seems obvious, but you will want to make time for it. Also, be aware that some of the pools and slides have posted hours. The main attraction is the over-water AquaDuck slide. The lines for the AquaDuck are long during the day, but we found the lines short after dinner before it closes for the evening. And a ride at night makes the AquaDuck extra special.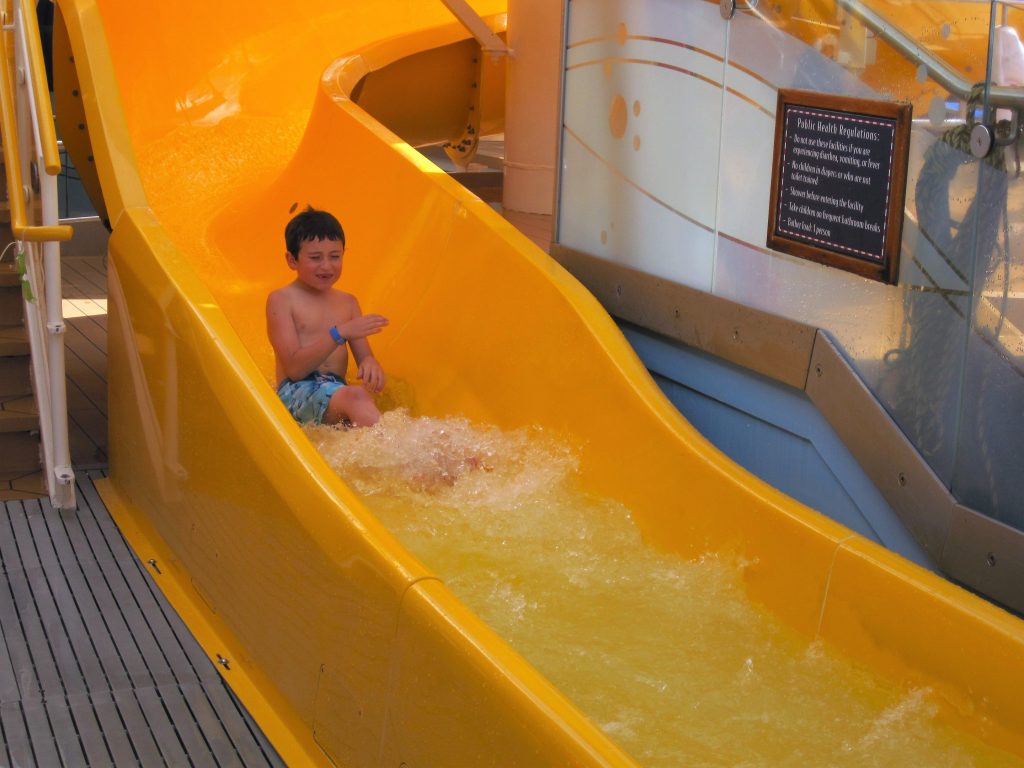 Keep up with Events with the Navigator
The Navigator, a newsletter that is delivered to your stateroom cabin nightly, contains a calendar of events for each day. Every activity for the day is listed in the Navigator, along with daily spa deals, dining room hours, and other tidbits.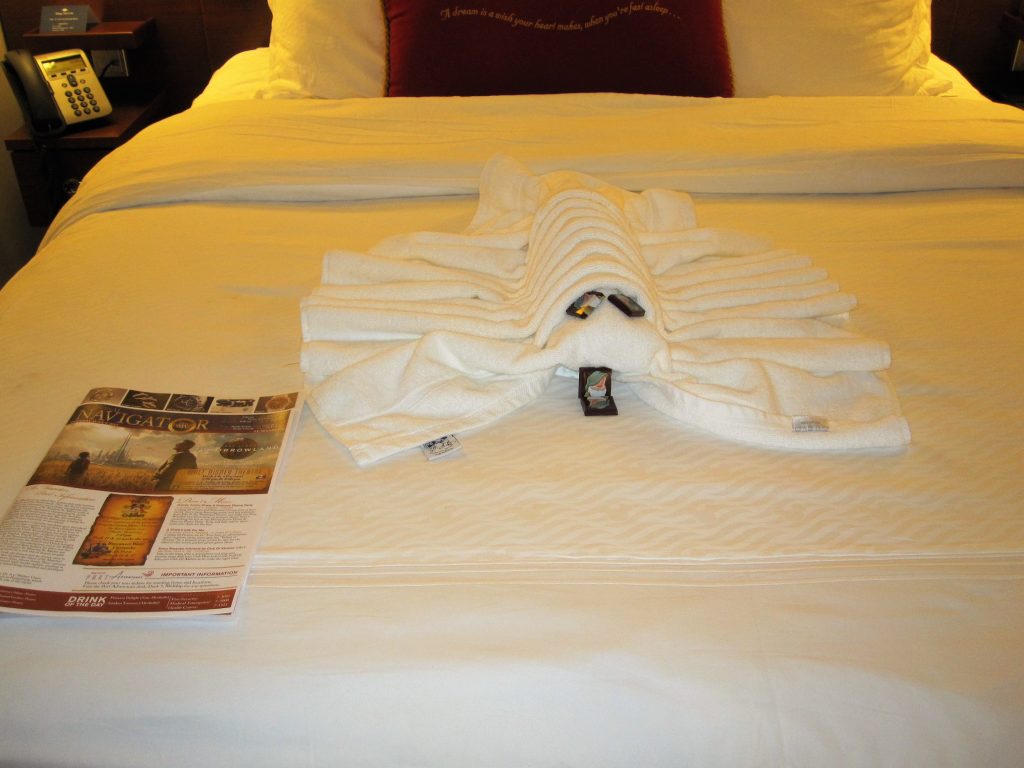 You will be lost if you don't carry your Navigator with you. It is your best resource for making the most of your onboard experience.
Goofy Virtual Sports Simulator
While our daughter met princesses or had a Bibbidi Bobbidi Boutique makeover, our son spent time at the Goofy Virtual Sports Simulator. Availability is very limited, so we booked his two one-hour play times before our cruise. He was able to golf, play hockey, and play baseball in the simulator. As a bonus, the room is air-conditioned, so it was a nice cool spot to spend some time.
Go to Themed Night Parties
Pirate night is the golden standard of Disney Cruise Theme nights. On Pirate Night, everyone goes to the pool deck for a rollicking pirate party filled with bad Shiver Me Timber puns and a lot of "Aaarghhs." The festivities are capped with a fireworks display. Don't worry, the fireworks are environmentally friendly so they will not harm the ocean life.
Disney now has Marvel Comics and Star Wars Themed nights. So depending on your cruise choice, you may get to be a matey on a pirate crew one night and fight against the Dark Side another night.
Make the Most Of It
Ultimately, your Disney Cruise will be what you make of it. If you enjoy lounging by the pool, enjoy. If you need to keep busy and meet every Disney Character, you will have ample opportunity to do so. And we haven't even mentioned the adventures you can have during shore days.
---
You Might Also Like
Read our tips for What to Know Before You Board Your First Disney Cruise.
Worried about cruising with kids? You can Cruise with Kids, and It's Easier Than You Think.
---
Disclaimer: This article may contain affiliate links. Family Well Traveled may be compensated, at no additional cost to you, when you click and make a purchase from these links. 
What is your favorite thing to do on a Disney Cruise? Did we leave anything out? Please, leave a comment and let us know.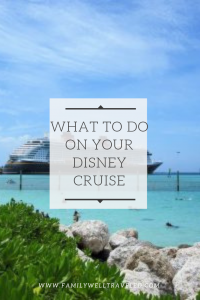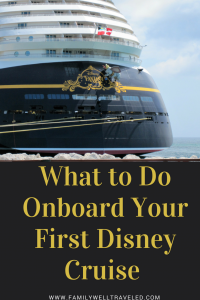 ---
---