The International Snow Sculpture Championship in Breckenridge, CO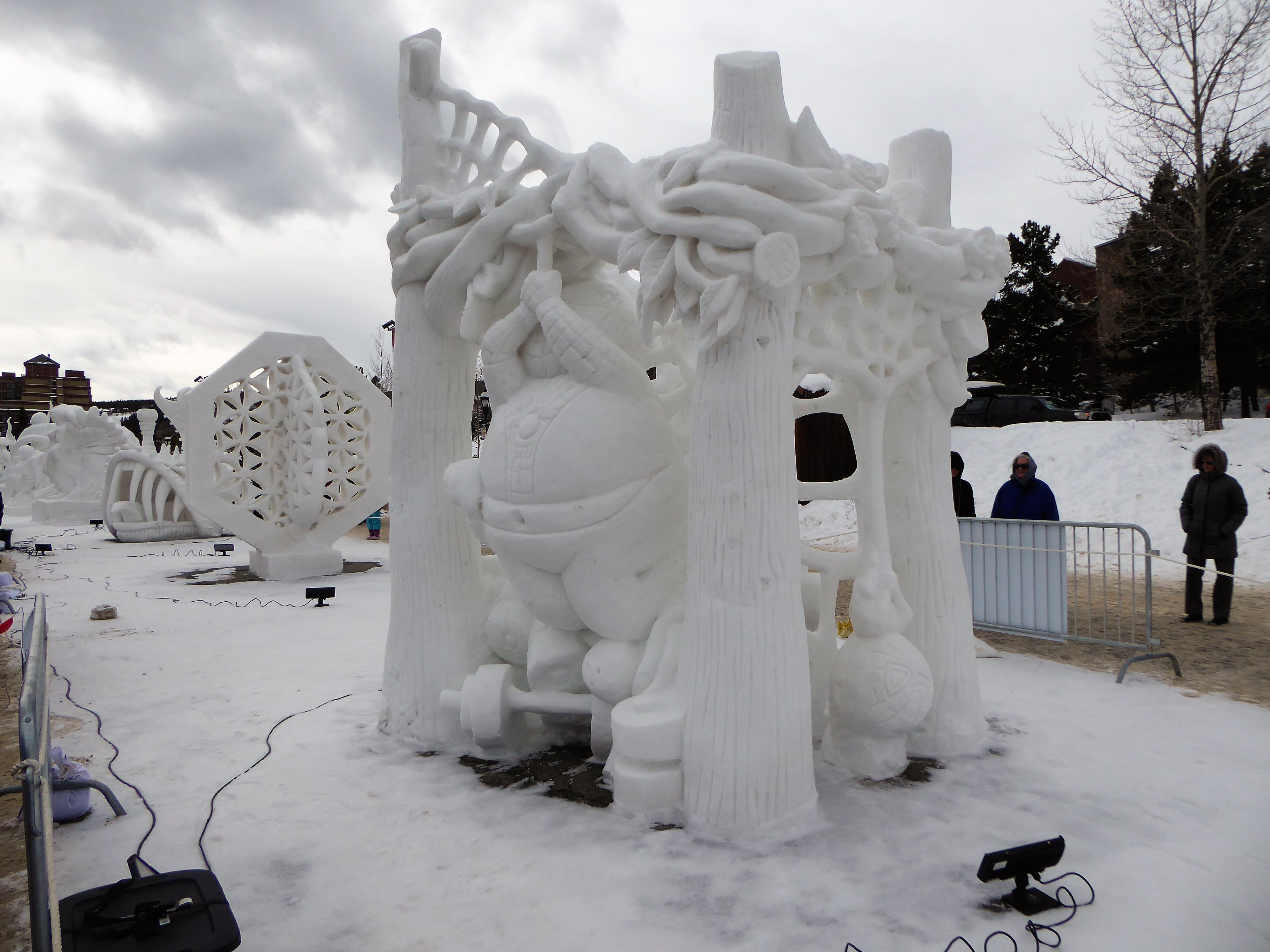 They start with a 40,000 (18,140 kg) pound block of snow. In a few days, they turn that weighty block into an artistic masterpiece. It's not all fun and games though. This is a competition, and bragging rights are on the line.  Family Well Traveled was fortunate to attend the 29th Annual International Snow Sculpture Championship in Breckenridge, Colorado. We saw 16 of the world's best snow sculptors going head to head, creating masterpieces that "oohed" and "aahed" the spectators.
The 16 competitors represented 12 countries including three U.S. representatives, two Chinese teams, two German teams, Ecuador, France, Great Britain, India, Italy, Japan, Mexico, Mongolia, and Turkey.
The sculptors have four days to complete their works. The works are on display for five days.
We attended the free viewing event during the daytime. However, the displays are illuminated at night. We'd like to make a return trip to see the sculptures lit up at night.
The competitors use home-made tools and internal supports are prohibited. That's right. These masterpieces are self-supported structures, which is pretty amazing.
Here's a look at most of the snow sculptures at the 29th International Snow Sculpture Championship. The popular competition takes places each January in the mountain ski town and draws large crowds.
Find out more about the International Snow Sculpture Championship.
The Gold Medal Winner
Mexico took first place in this year's competition with "Cenote Garden." The inspiration comes from the Yucatan legend of the cenote keeper, an underwater creature that is part eel, part fish, and part feathered serpent. Thousands of human remains have been found in one Mexican cenote, sacrifices to the underwater keeper.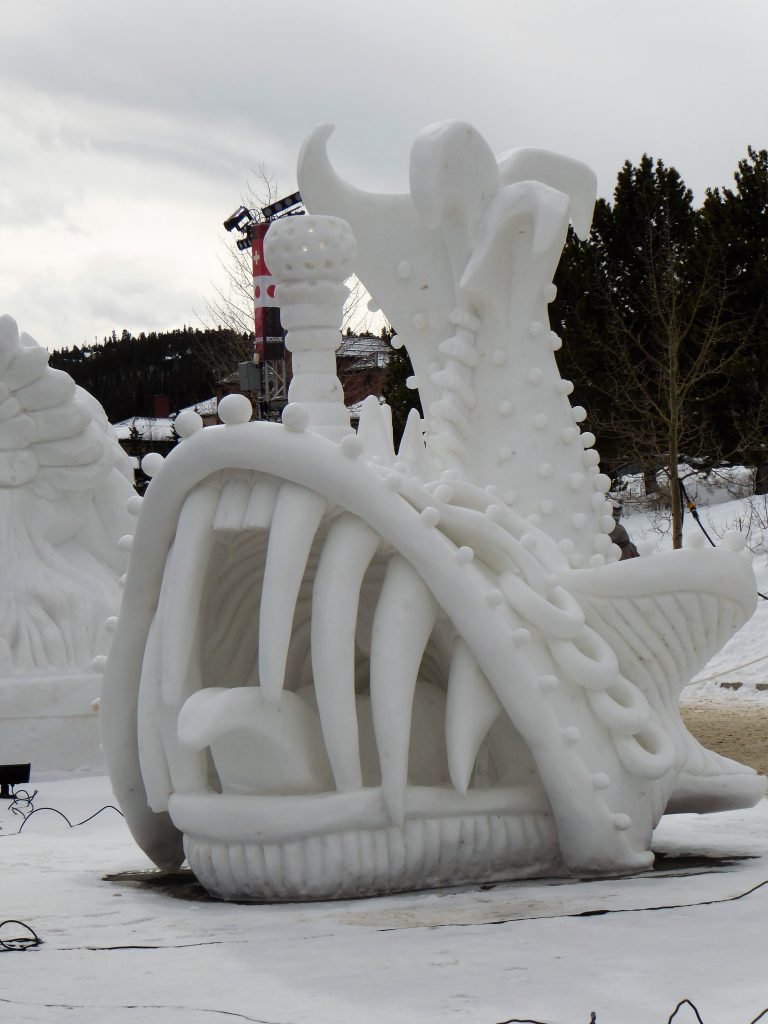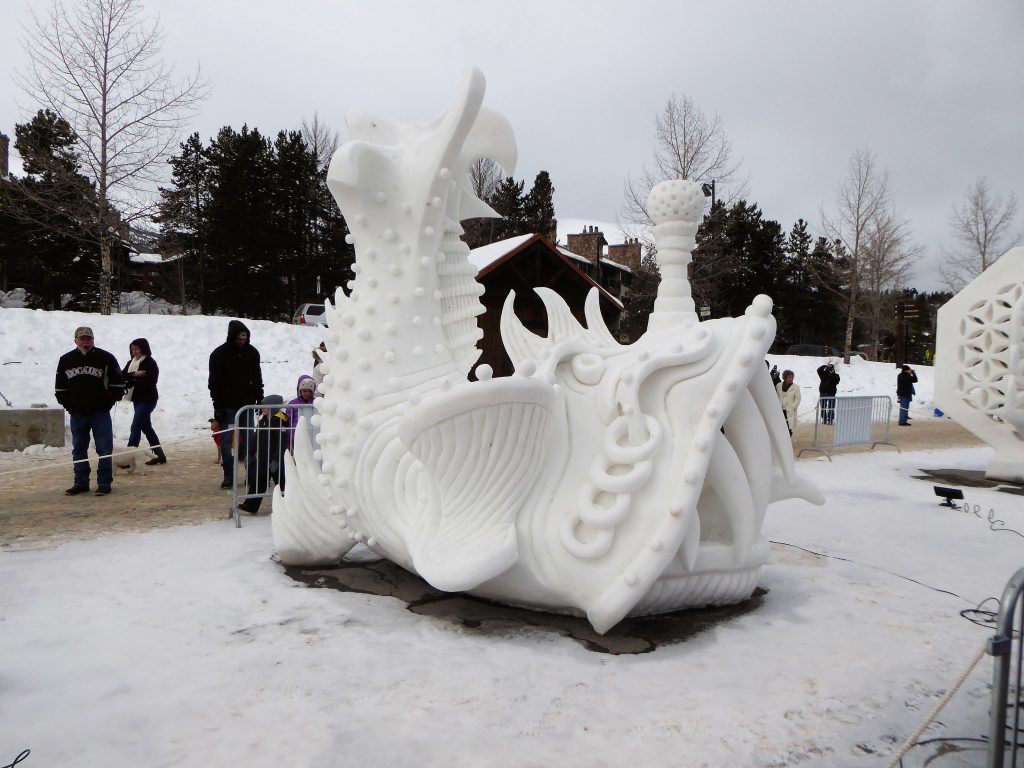 The Second Place German Design
Team Germany scored the silver medal with the structurally awe-inspiring "Walls with Holes." Remember, the sculptures are self supporting and internal supports are prohibited. So, who knows how Team Germany kept this one upright?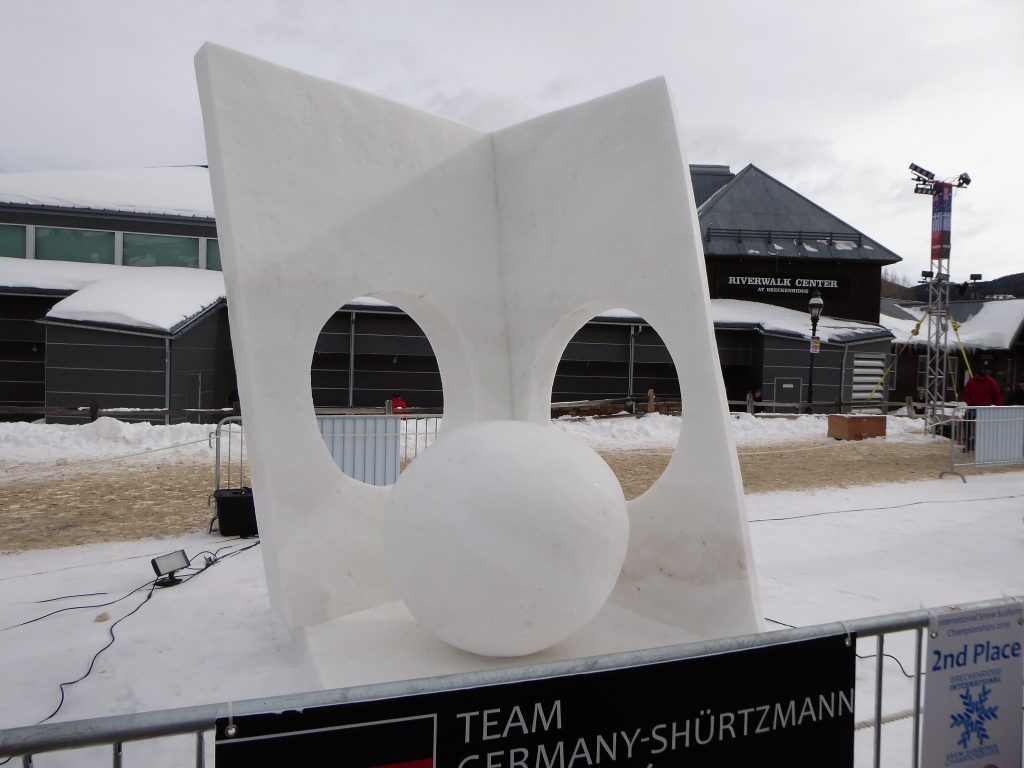 The Bronze Medal British Design
This one was a crowd favorite. Team Britain's "Hippo Ballet Dancers" drew a lot of attention from photographers and spectators alike.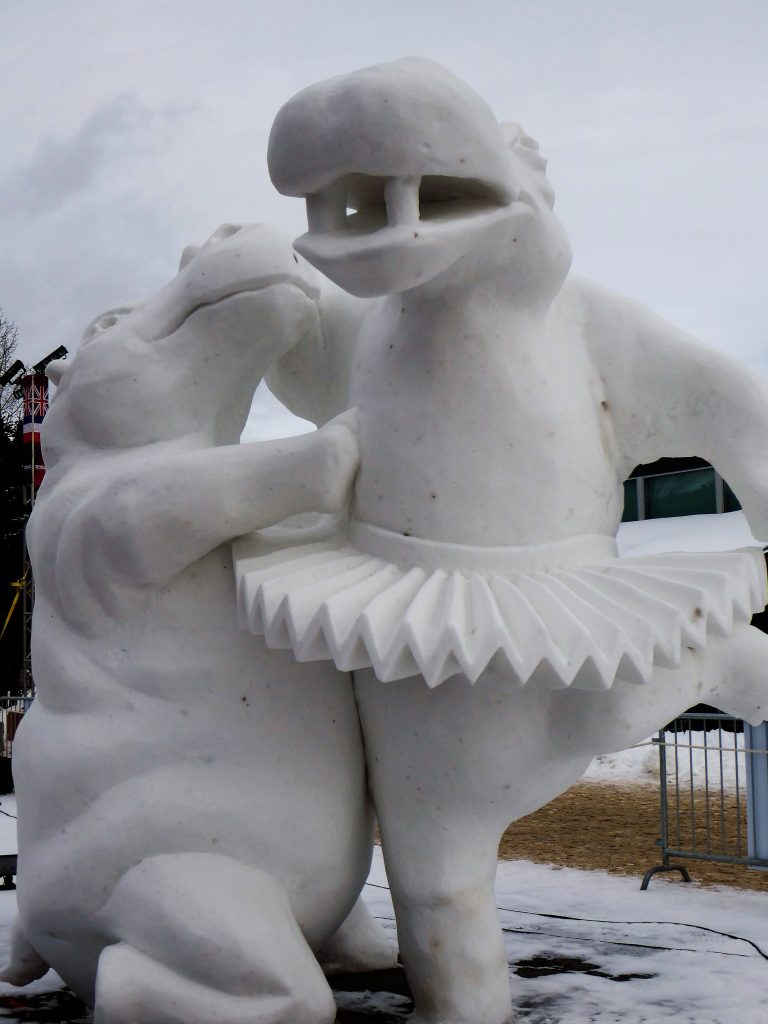 The People's Choice Award
The People's Choice gave the Breckenridge USA Team crowd-favorite honors with "Let It Snow." The sculpture depicts Ullr, the Norwegian god of snow, who graces the town of Breckenridge with snow for skiing, sledding, and other outdoor fun.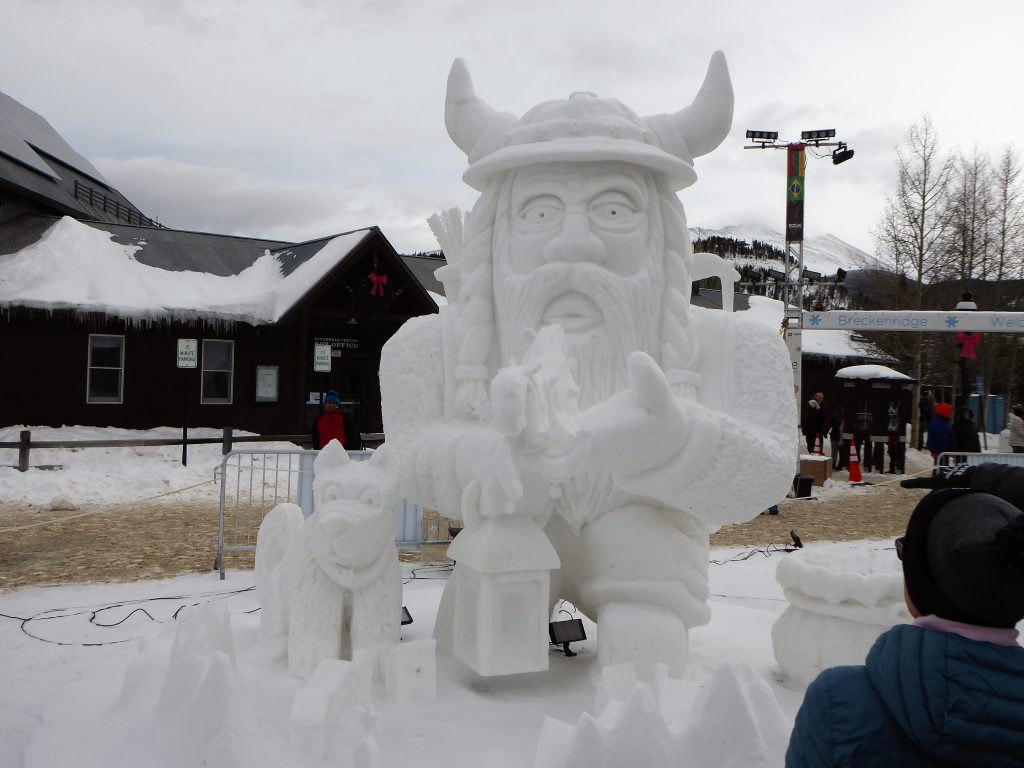 The Artists' Choice Award
Team Ecuador wowed its fellow artists, taking top honors in this special award, for "Organic Geometry." Once again, you simply wonder how they constructed such a piece.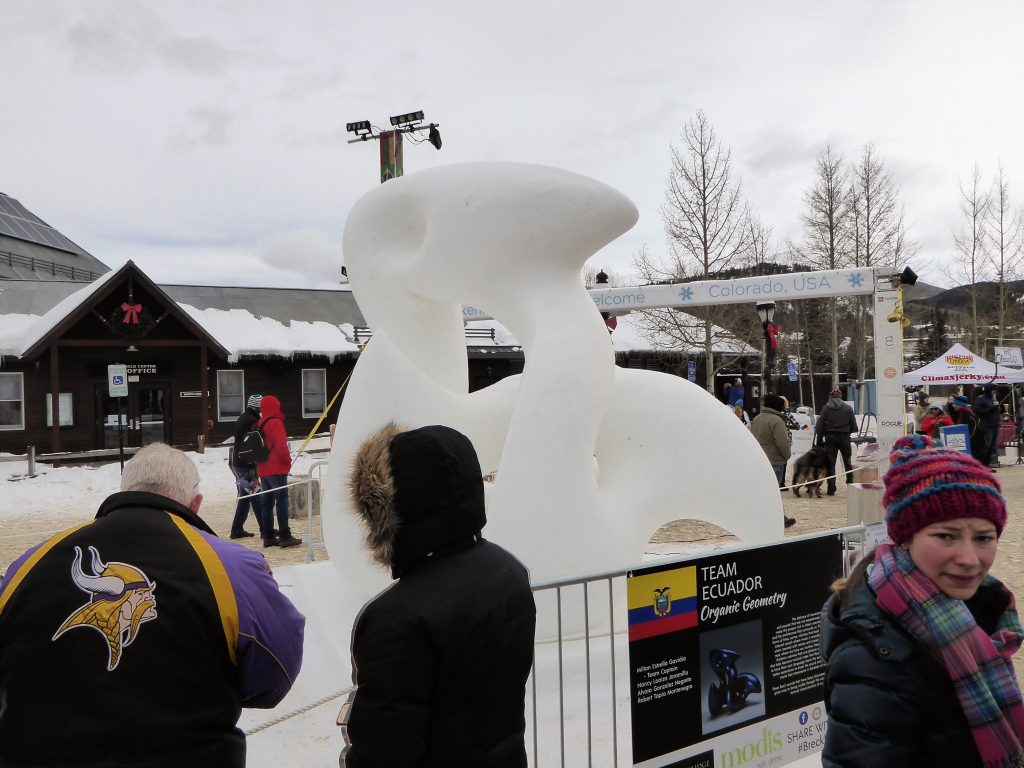 The Other Snow Sculpture Entries
Although these other competitors did not win prizes, their sculptures were still amazing and entertaining. Here were the other entries in the 2019 International Snow Sculpture Championships.
Team China – Eagle Woman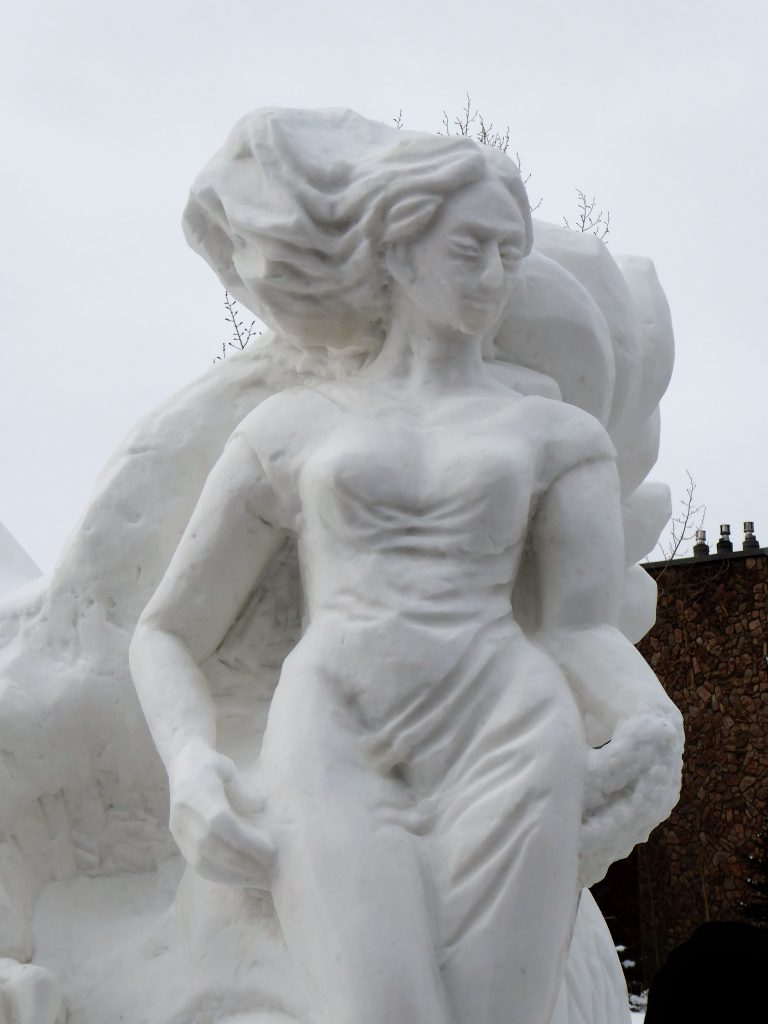 Team China – Super Hero
The story behind this one is the world has become more peaceful. Spider Man didn't have to save lives and grew increasingly fatter. However, new troublemakers have arisen, and Spider Man builds a sporting spiderweb to defend the planet.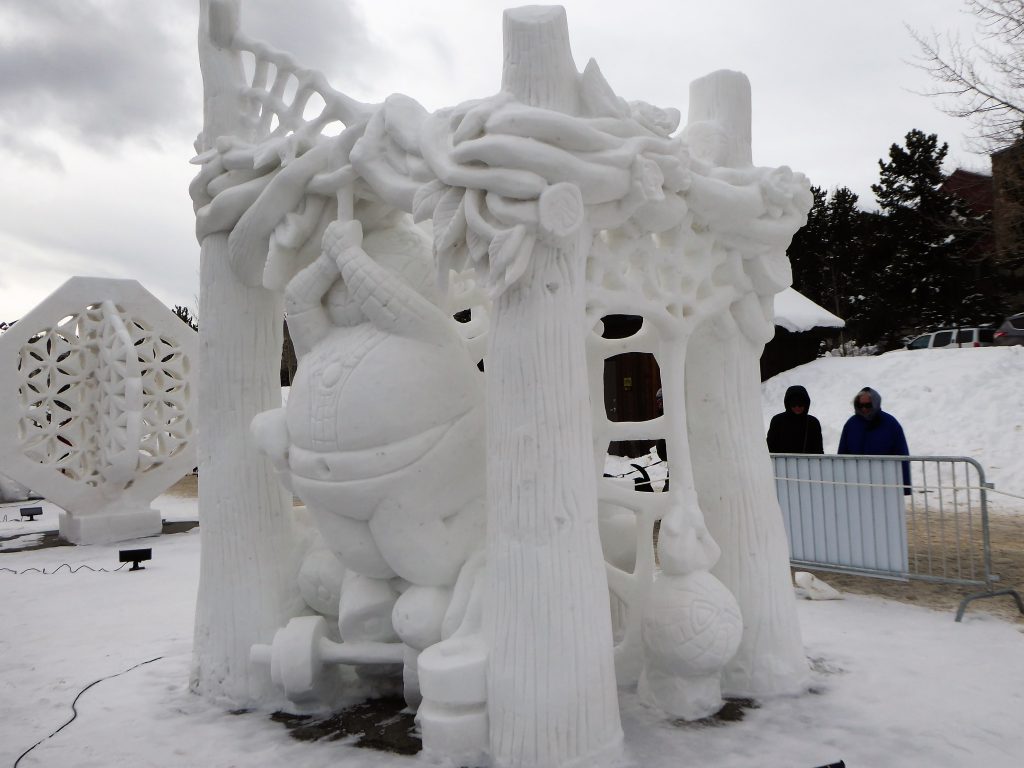 Team France – Mission
Space exploration was a recurring theme at this year's show. Team France showed the fraternity of humanity and the daring adventures of space exploration.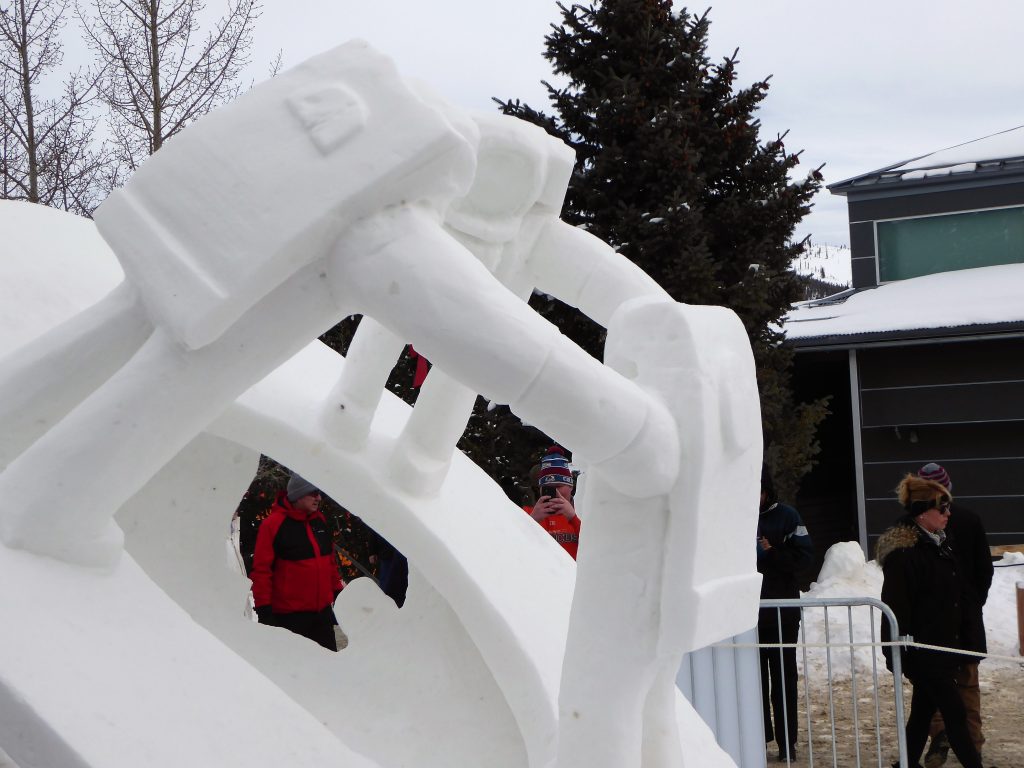 Team Germany – Folded II
Amazing balance preserved in this minimalist sculpture.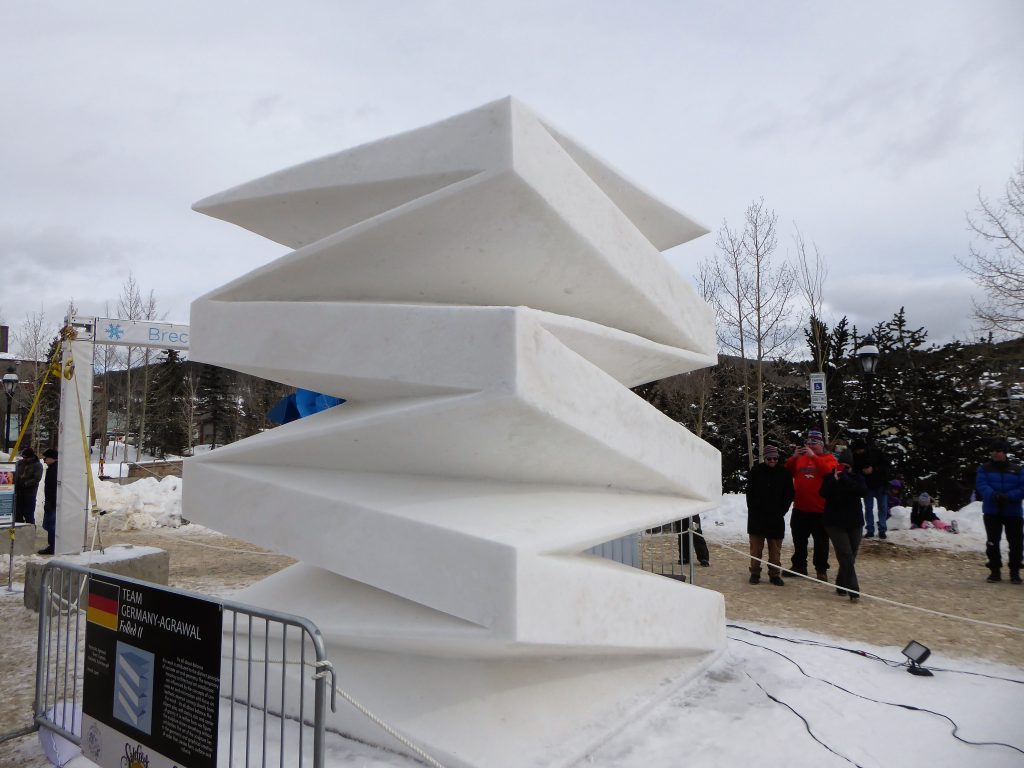 Team India – Unity in Diversity
Four world religions originated in India. The sculpting team represents those religions and some of their tenets in "Unity in Diversity."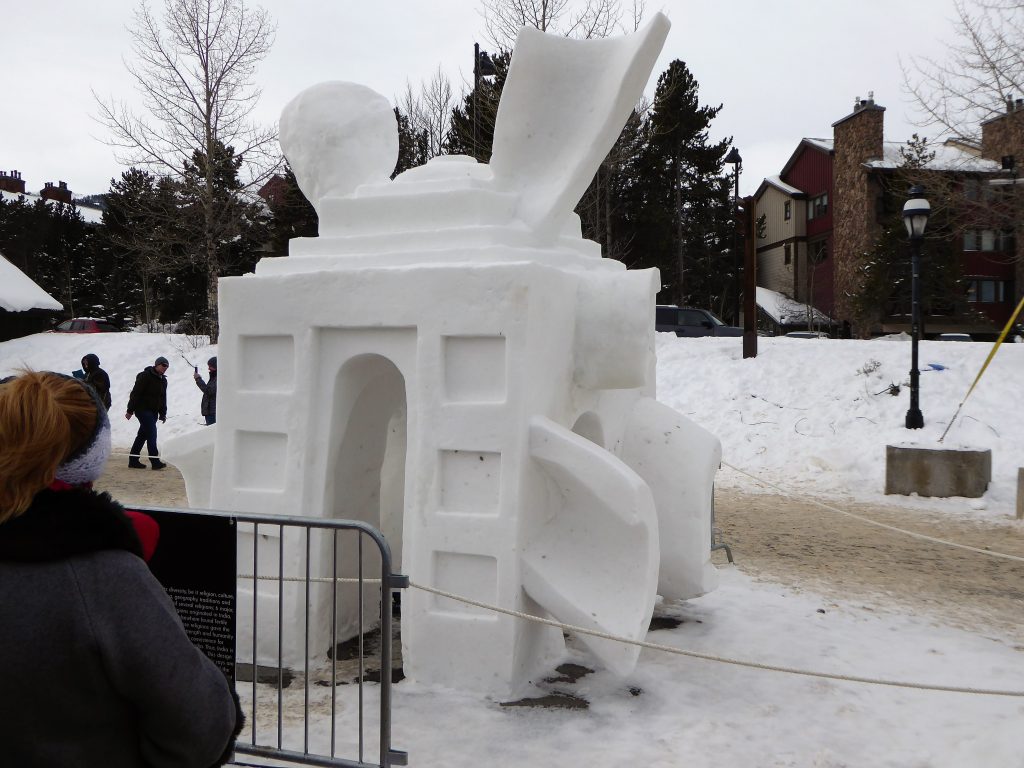 Team Italy – Snow Orchid
Italy sculpted the delicate orchid in snow form.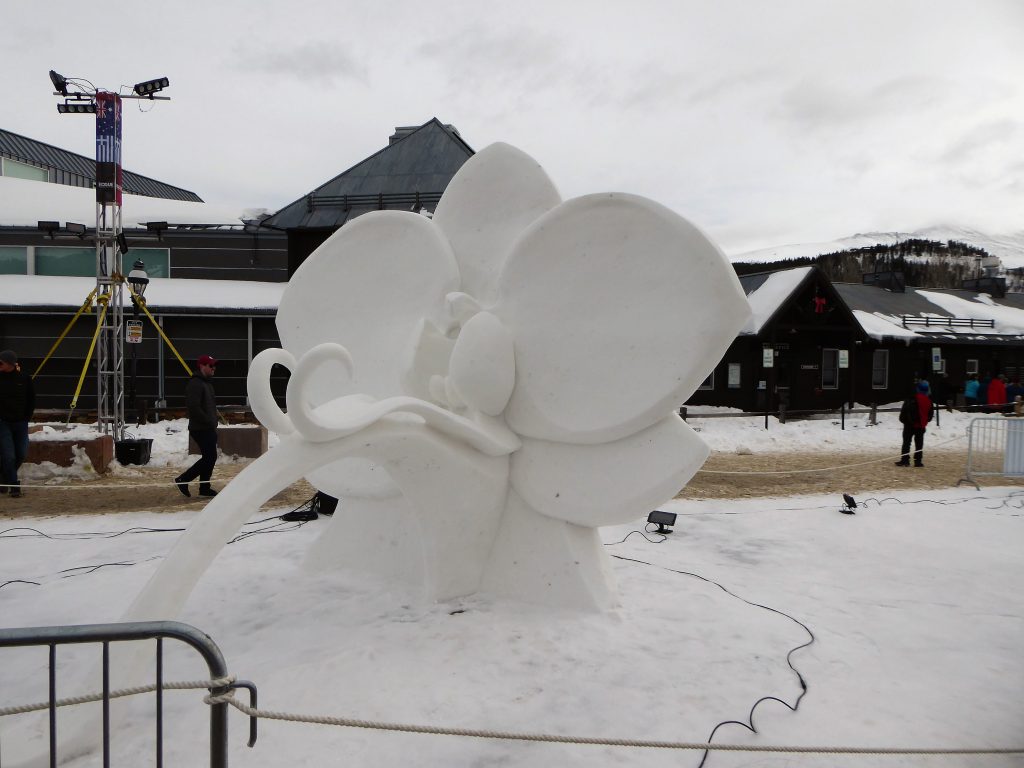 Team Japan – The Earth Tree
The earth is represented as an intricate tree in Team Japan's entry. The notes from Japan claim: "We pray that a pure song echoes forever so that our existence will not shorten the life of the earth."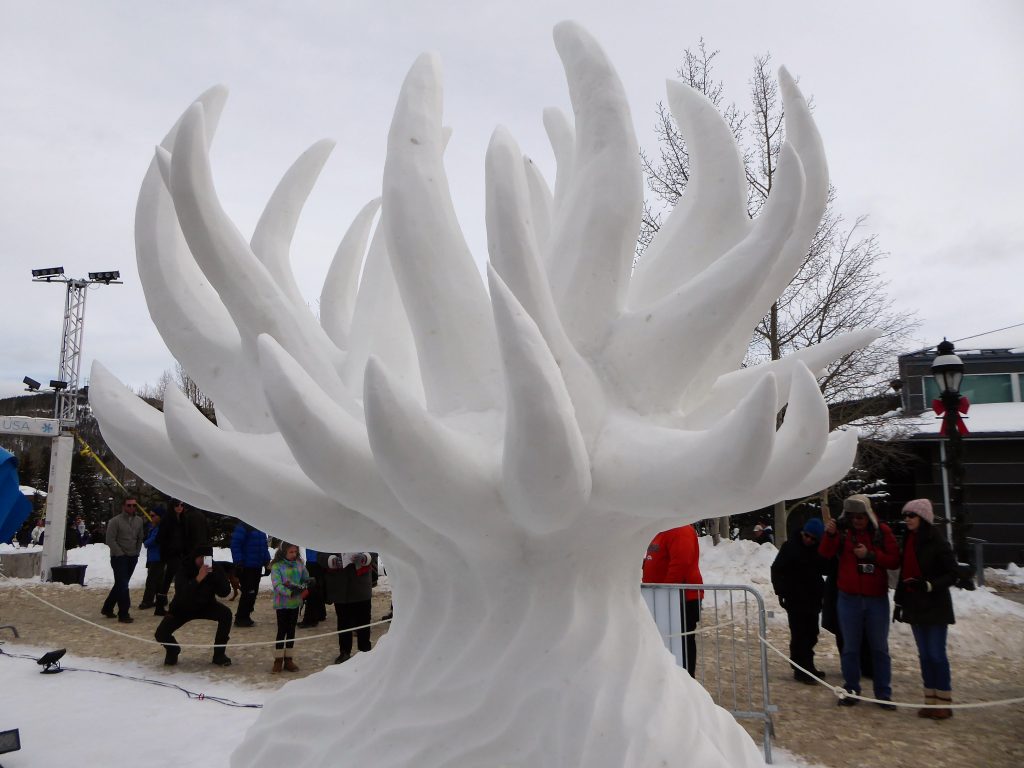 Team Mongolia – Discovery
Another space-themed entry from Mongolia. It's a look toward the future of science and innovation in space.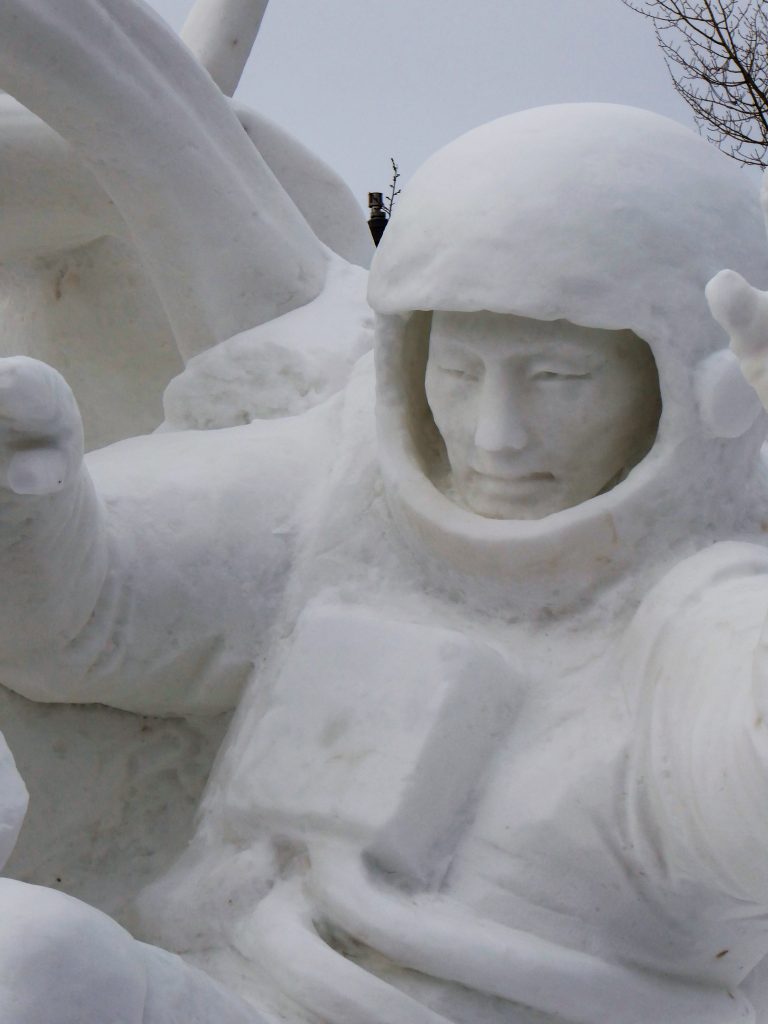 Team Turkey – Pawn's Dream
Simply stated pawn's dream is to become a king someday.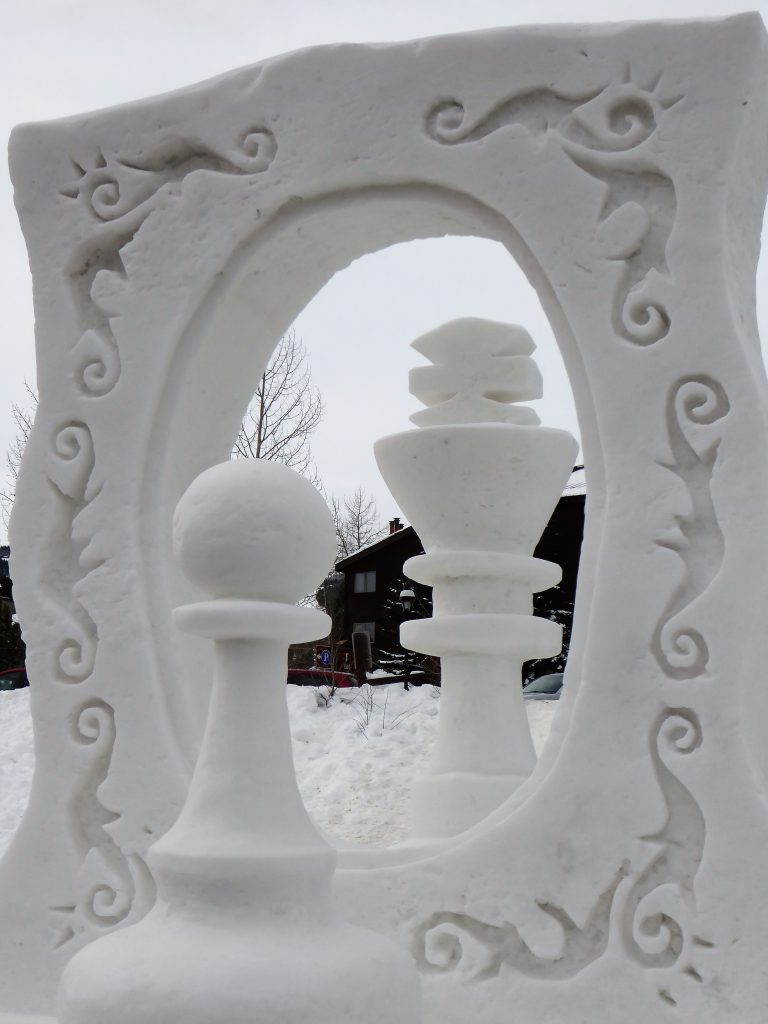 Team USA Colorado – La Fleur De Vie
The notes for Team Colorado's sculpture stated: "By examining the positive and negative space in our lives we can have a greater understanding of the world we live."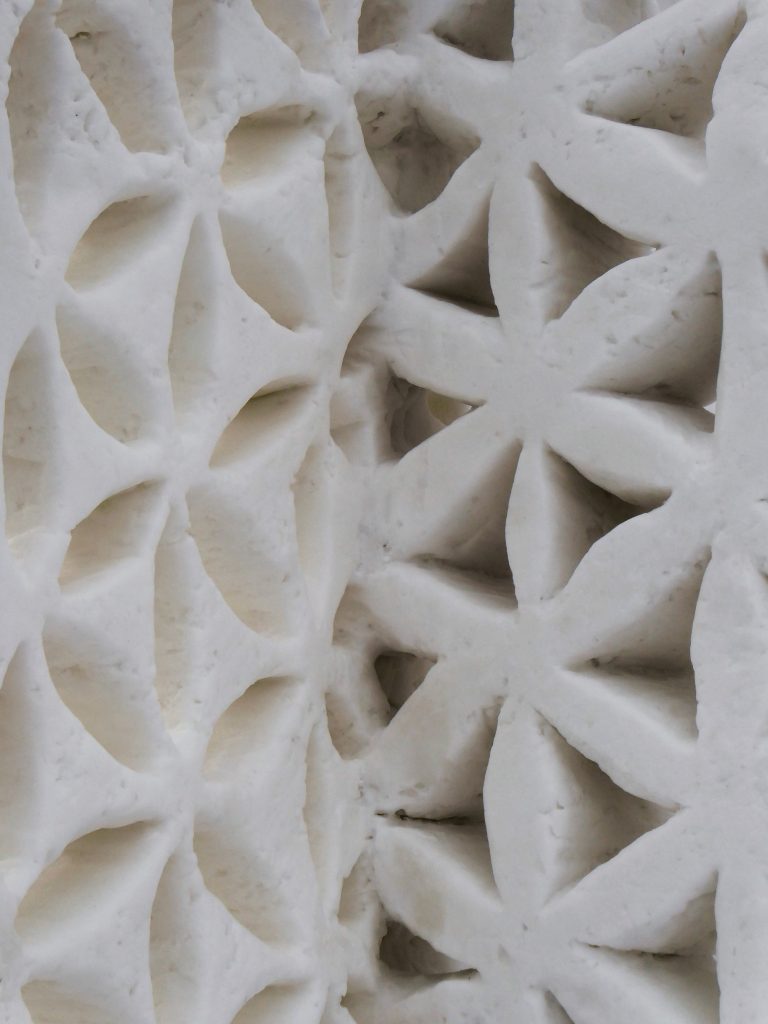 Team USA Wisconsin – The Hidden Dance
An aquatic dance of survival with octopus and jellyfish.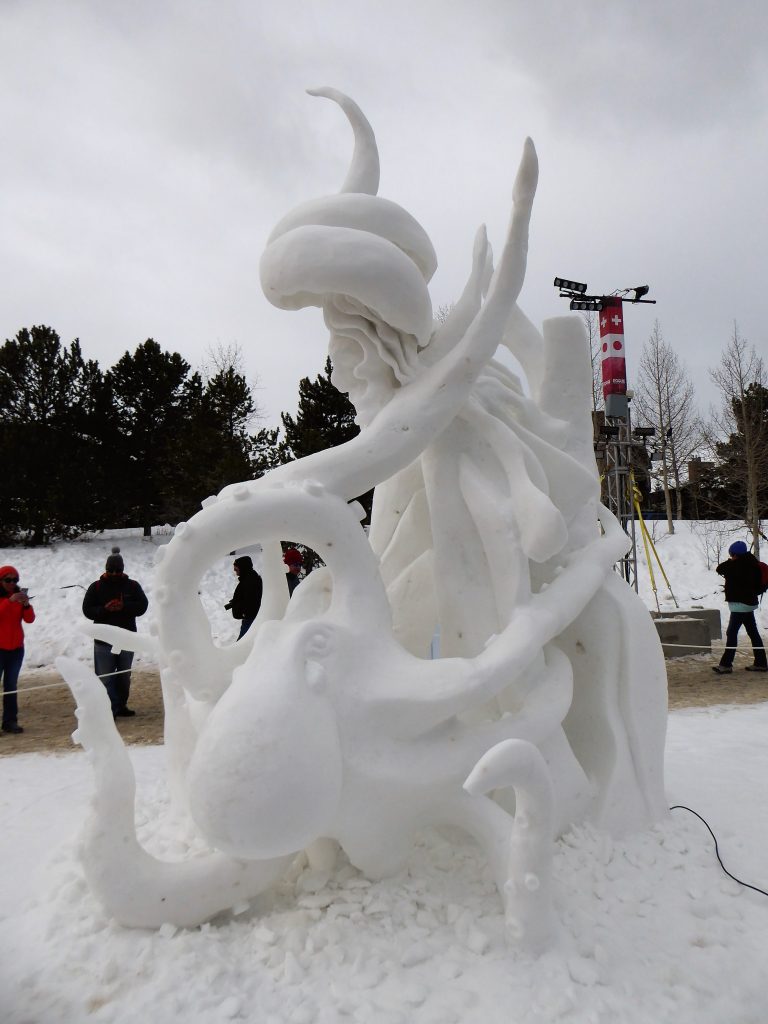 ---
You Might Also Enjoy:
The natural wonders of Paint Mines Interpretive Park in Colorado.
We like many forms of art. See what happened when we took our kids to a VIP art auction.
---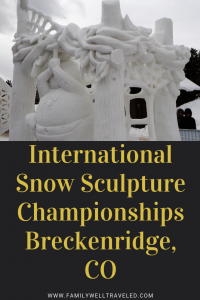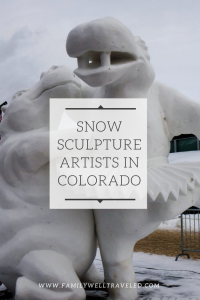 All photos and content are by Family Well Traveled and use of photos or content without permission will result in legal action.
---
---